Drew to rescue as Sox rally, win walk-off in 11
Among several heroes, shortstop caps 4-for-5 night with winning hit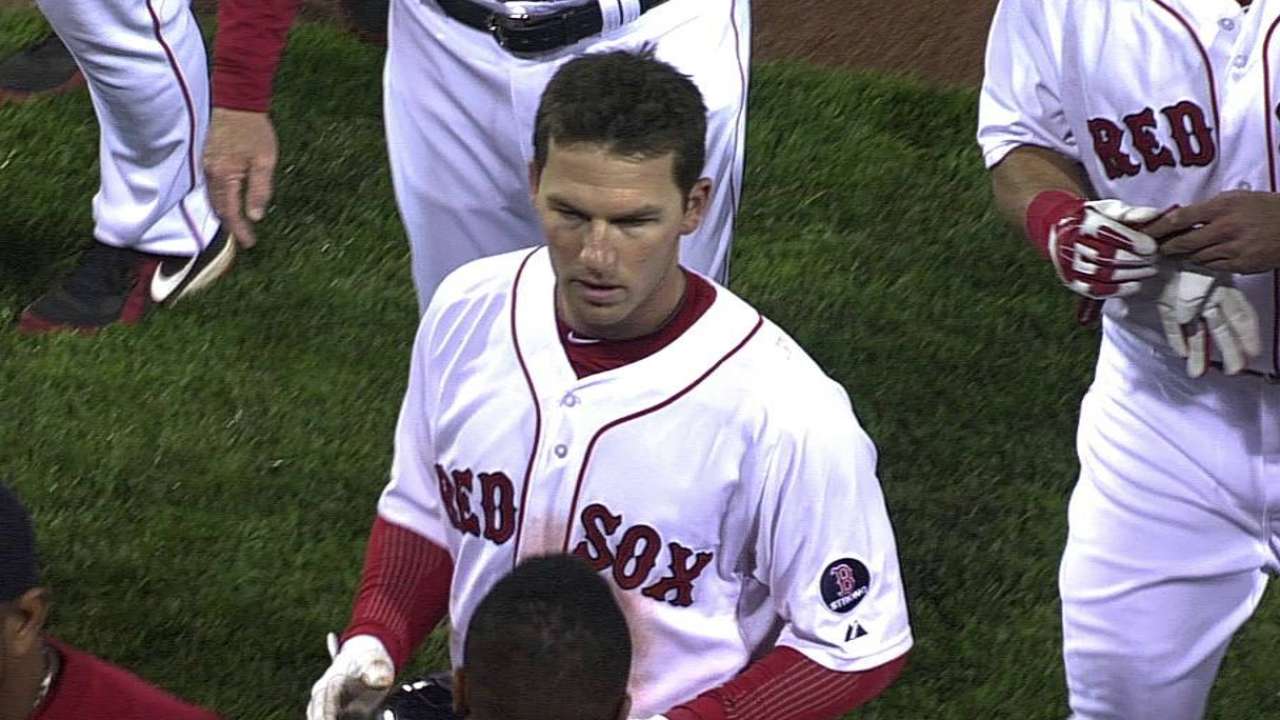 BOSTON -- By the time it all ended, just a few minutes before midnight, Stephen Drew was the walk-off hero who was piled on at second base.
With one flick of the wrist, Drew ended Monday's late-night thriller at Fenway Park with a double that hit low off the Green Monster's scoreboard, fueling the Red Sox's thrilling 6-5, 11-inning win over the Twins.
"I knew I hit it good," Drew said. "You never know here sometimes. I've hit balls good to right and they've been held up. It was just a good night. Everybody battled."
On most occasions, the guy who drilled four hits -- including a game-tying homer in the seventh and the game-ending double in the 11th -- would be the headliner who trumped everyone else.
But this was one of those nights the Red Sox had so many people contribute to a comeback victory, and in a variety of different ways.
There was Clayton Mortensen, fresh off a walk-off loss to the Rangers on Sunday afternoon, stepping in for 2 1/3 shutout innings. Not only that, but the righty was thrust in with no notice in the ninth, when Joel Hanrahan had to exit with a right forearm strain.
"That's huge tonight," said Red Sox catcher Jarrod Saltalamacchia. "As far as I'm concerned, the reason why we won is because of Morty. He went out there and he was gassed, but he still made his pitches as best he could and got us out of some jams and got us the win."
Then there was Saltalamacchia -- his legs gassed after catching 11 innings -- finding just enough hustle to beat out a two-out infield hit to start that winning rally in the 11th.
Will Middlebrooks, who has been slumping in recent weeks, belted a single to left-center, moving Saltalamacchia into scoring position. Then it was Drew's turn, and he got just enough of Jared Burton's 0-1 fastball to end the ballgame.
"As soon as I swung and saw it go right in front of me, I was pretty much positive I was going to be out because at that point of the game, my legs were done," Saltalamacchia said. "I was just trying to get down the line as fast as I could. That was probably the last little bit I got. I was hoping Stephen would hit the ball off the wall or something so I wouldn't have to run too bad."
There was also the man who almost hit the game-winner. Dustin Pedroia ended his 184 at-bat power outage at a perfect time. The star second baseman belted a solo shot off the light stanchion in the eighth to snap a tie and give the Red Sox a 5-4 lead.
"I was just trying to find a way to get on," said Pedroia. "He was throwing some tough pitches. His cutter, slider was breaking away from me. He was putting it in good spots, too. I just got one a little elevated, stayed on it. It felt good."
Pedroia's shot completed Boston's comeback from an early 4-1 deficit.
Two outs away from victory, Hanrahan surrendered a game-tying solo homer to Brian Dozier, silencing the Fenway faithful.
It turns out Hanrahan had felt something in his forearm three pitches before the home run pitch, but tried to work through it.
"It was a 3-2 count," Hanrahan said. "I saw the replay. It just came back over the middle. I felt like I was throwing the ball OK. I just didn't have the extra little bit at the end. Fortunately Mortensen, he stepped it up and dominated, and a big walk-off hit there. The guys finished it out."
The Red Sox are already short in the bullpen after placing Andrew Bailey (right biceps injury) on the disabled list before the game.
If the game had gone on to the 12th, Red Sox manager John Farrell would have gone to Koji Uehara, something the manager wanted to avoid given the righty's recent workload. Ryan Dempster, who is starting Tuesday night, also played catch in the bullpen at one point in the event Boston ran out of pitching.
Fortunately, it never got to that point.
"We did our best to stay away from [Junichi Tazawa] and Koji as well," said Farrell. "Had that gone into an additional inning, Koji would have been in that game. If we get past the 12th inning, we're probably looking at Dempster in that situation to go deeper. But you can't say enough about what Morty did tonight."
For Mortensen, this was a lot more fun than 24 hours earlier, when he uncorked a wild pitch and then gave up a walk-off RBI single to Adrian Beltre to complete Boston's lost weekend in Texas.
"It's huge," Mortensen said. "It's huge for our team to come off a tough series in Texas and to come home and win a late one like this. It's huge. We're all feeling pretty good in here now. Just try and switch that momentum back and get back on a roll."
The Red Sox improved to 21-11, the best record in the Majors.
"It was a tough one for us," said Twins manager Ron Gardenhire. "We threw just about everything we had at them."
Leading off the eighth, Pedroia capped a 10-pitch at-bat by mauling a 3-2 changeup by Twins righty reliever Casey Fien. Also in the eighth, David Ortiz doubled to extend his hitting streak to 26 games dating back to last season.
Pedroia's wasn't the only clutch homer the Sox had against Fien in the comeback.
Drew belted a game-tying solo shot against Fien with one out in the seventh.
"It felt good. I just got in a good count and got a pitch that I wanted and put a good swing on it," said Drew.
Thanks to Drew's equalizer, Clay Buchholz avoided the possibility of taking his first loss of the season. The righty went six innings, allowing seven hits and four runs. Buchholz, who won his first six starts, walked two and struck out nine.
"He was able to work his way out of that bases-loaded jam in the first to keep things from getting too far out of hand, but he had very similar stuff to what he had in his six previous starts," said Farrell. "In some cases, I thought he was even more powerful tonight. High number of strikeouts. He worked deep into the game. It was his highest pitch count [116] this year. His overall stuff was probably as good as he's had in any start this year."
The righty had his toughest inning of the season in the first, throwing 36 pitches and facing eight batters. Joe Mauer got the rally started with a one-out double to left. Josh Willingham followed with an RBI single up the middle. Justin Morneau drilled an RBI single up the middle and the Red Sox were down 2-0.
"For the most part, I felt good," Buchholz said. "I felt good with the pitches. I had some long at-bats there, a lot of foul balls. First inning, obviously, drew the pitch count up to where you don't want it to be."
In the end, though, a tough beginning for Buchholz didn't derail a Red Sox team that is already establishing a reputation for resilience.
"Overall, just a very tough win, a good comeback win," said Farrell. "We continued to grind all the way. The hustle play by Salty to extend the 11th inning; then we string together a couple of base hits for the difference here tonight. We didn't let down. We kept coming."
Ian Browne is a reporter for MLB.com. Read his blog, Brownie Points, and follow him on Twitter @IanMBrowne. This story was not subject to the approval of Major League Baseball or its clubs.