Shields flirts with no-no before Royals fall in extras
Holland blows save in ninth; Herrera allows go-ahead homer in 11th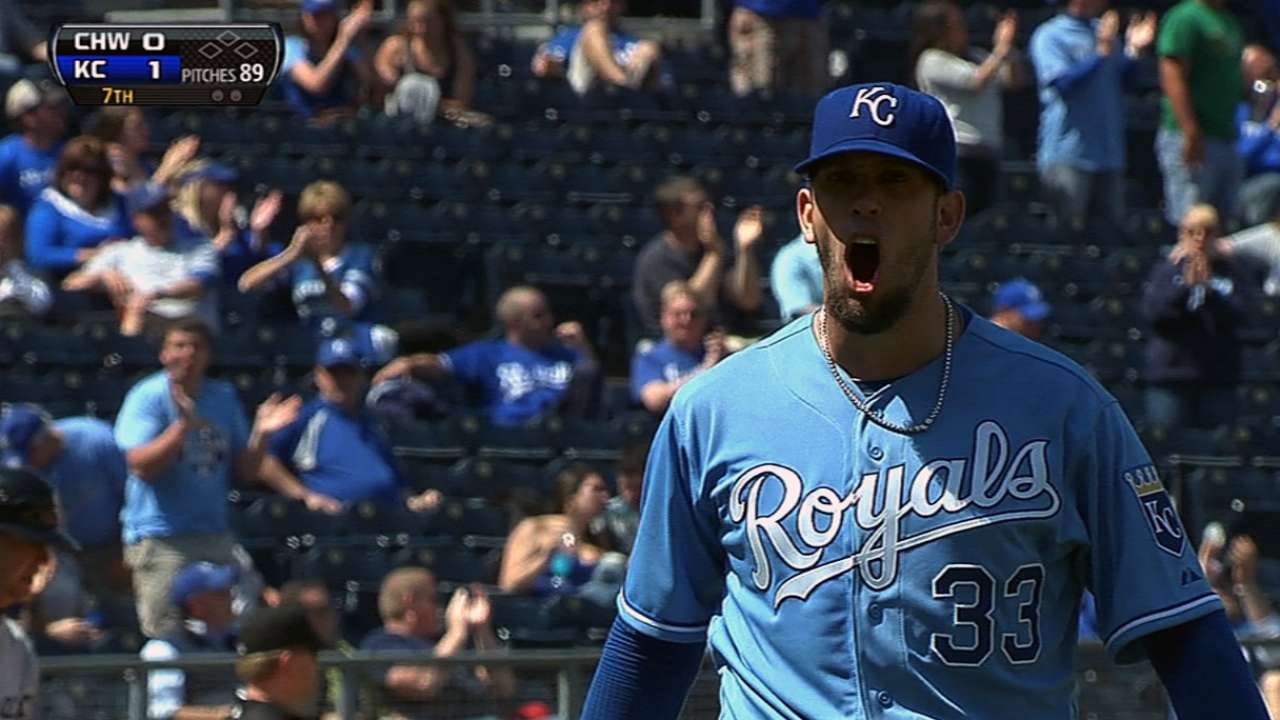 KANSAS CITY -- James Shields chased a no-hitter, a shutout and a victory. In the end, he and the Royals got none of the above.
Jordan Danks pounded a home run off reliever Kelvin Herrera in the 11th inning to give the Chicago White Sox a 2-1 victory over Kansas City in a makeup game on Monday at Kauffman Stadium. The loss snapped the Royals' four-game winning streak.
The Royals, however, took the series, two games to one, and finished their homestand with a 6-3 record.
Shields pitched eight shutout innings, giving up just two hits while coming close to reversing the 1-0 loss he'd taken from Chris Sale and the White Sox on Opening Day in Chicago. But closer Greg Holland yielded the tying run in the ninth.
Royals manager Ned Yost was asked if he was close to letting Shields pitch the ninth inning.
"No, not really," Yost said.
"Everybody's got their job to do, and Shields had done his," Yost said. "He got us through eight shutout innings. The runs make all the difference -- a two-run or a three-run lead, yeah, probably. Because his pitch count was at 103, and in a one-run game you send him out and he's either going to win it or lose it. So you let the closer go out and try to do his job."
But on this day, with sunshine finally breaking through the gray Kansas City sky, Holland couldn't get the job done for the 15,576 fans. Jeff Keppinger, Alex Rios and Adam Dunn each singled to load the bases with no outs.
"I didn't get ahead of the first three hitters," Holland said. "I gave up some hits. I felt like once the bases were loaded, I executed pretty well. It was just one of those things when you fall behind and load the bases with no one out, you're not going to get out of it as often as you like, obviously."
Paul Konerko bounced a ball back to Holland, who started a 1-2-3 double play. Now, suddenly, Mother Escape was smiling in Holland's direction. After three called balls to left-handed Conor Gillaspie, he was intentionally walked to give the right-handed pitcher a shot at righty Alexei Ramirez.
Ramirez singled up the middle on a ball that was stopped behind second base by Chris Getz, but Getz couldn't hang on and Rios scored for a 1-1 tie.
"I certainly wouldn't call it a routine play," Getz said. "My first thought on a play like that is keep it in the infield or keep it in control so they don't get two runs.
"If I could get an out of it, it's a bonus. Do I have the ability to get that out? I think so, but I didn't."
Even so, on the same play pinch-runner Danks rounded third base and was caught in a rundown to end the inning. So Holland got through a bases-loaded, no-out jam with just one run scoring.
Danks, the late-inning replacement for designated hitter Dunn, took that role very seriously. His drive over the right-field wall on Herrera's 3-1 pitch was his first home run this season.
"Any time you've got a guy throwing 97-98 mph, he's going to provide most of the power," Danks said. "You just have to put the barrel on it. With a hitter's count, you're looking in one spot. I took one bad swing, and then he was probably thinking I wouldn't be able to catch up to a fastball."
That's exactly what Herrera threw.
"It was a bad pitch," Herrera said. "A fastball up and in the middle."
Shields pitched five innings without allowing a hit, although the White Sox did have a baserunner in three of those innings -- a walk, a hit batter and an error.
However, the no-hit bid ended as Dewayne Wise hit a line drive that Jeff Francoeur charged and lunged after but couldn't catch as he dove into the grass. Wise got a single.
"I should've caught it," Francoeur said. "I had a chance coming in and dove but didn't get it. ... It hit my glove, but it just didn't happen."
The only other hit off Shields was Gillaspie's clean single to right field with two outs in the seventh. It immediately preceded a video replay controversy. Ramirez hit a high drive down the left-field line that was ruled foul. The White Sox took the view that it looked more like a two-run homer.
So the umpires adjourned to view the replay, decided the video was inconclusive and the foul call stood. Then Ramirez struck out.
Sale had a stressful first inning, even though the Royals scored just one run. He burned up 36 pitches, and Alex Gordon's single and Billy Butler's double produced a run.
But that would be it against Sale. Despite throwing 57 pitches in the first two innings, he made it through 7 1/3 with a total of 119.
"We had him working early and we got ahead early and we figured we might be able to work some more runs in there and we just couldn't get it going," Butler said. "It's unfortunate, because Shields pitched so good and deserved to have a win."
Shields didn't take issue with Yost's decision to lift him after eight innings.
"I think if we scored another run right there, he was going to leave me out there, but we're going to Holland all day -- he's been great all season long and that's the right move," Shields said. "Unfortunately, it didn't work our way."
Shields now has a glitzy 2.52 ERA in his seven starts, but just a 2-2 record to go with it. He's usually matched against the other team's top starter; so far he's faced a former All-Star in six of his seven outings. And three of them were Cy Young Award winners, too.
"When you're lining up with No. 1 guys, you're going to be in a battle every single game and grind it out," Shields said. "I feel I'm doing an all-right job of it, but sometimes it goes your way and sometimes it doesn't."
Dick Kaegel is a reporter for MLB.com. This story was not subject to the approval of Major League Baseball or its clubs.