Danks' go-ahead homer in 11th caps White Sox rally
Ramirez ties game with two outs in ninth after Sale's stellar start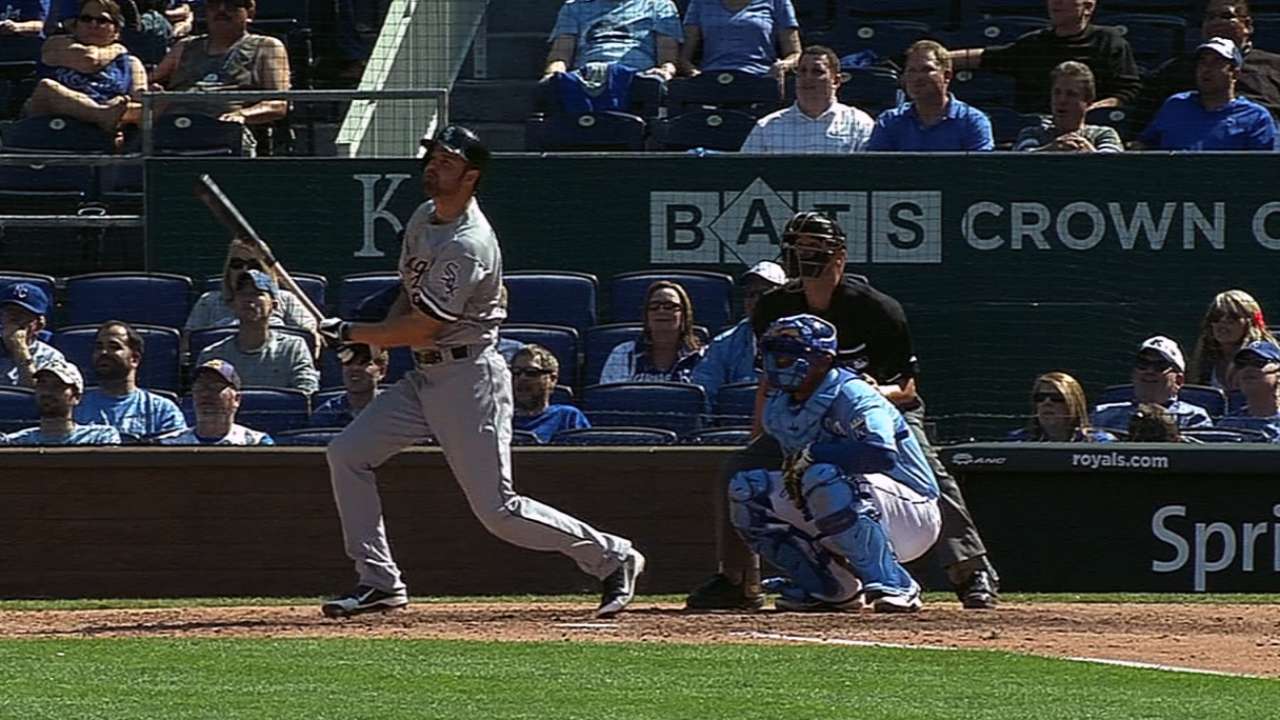 KANSAS CITY -- Jordan Danks entered Monday's game as a pinch-runner in the ninth inning. But in the end, it was his bat that provided the key contribution to a comeback victory the White Sox sorely needed.
Danks struck a big-time blow in the 11th inning with a 413-foot homer to right-center off Kelvin Herrera that lifted Chicago to a 2-1 victory over the Royals at Kauffman Stadium.
It was a sweet moment for Danks as he rounded the bases. With the White Sox rallying in the ninth, he had been caught in no man's land while aggressively rounding third base, and that cost Chicago an opportunity to potentially plate the go-ahead run after an RBI infield single by Alexei Ramirez with two outs had tied the game.
"Any time you've got a guy throwing 97-98 mph, he's going to provide most of the power," Danks said. "You just have to put the barrel on it. With a hitter's count [3-1], you're looking in one spot. I took one bad swing, and then he was probably thinking I wouldn't be able to catch up to a fastball."
On Sunday, the White Sox were one out away from victory and came up empty. On Monday, the Royals experienced the same frustration.
In an old-fashioned pitchers' duel featuring James Shields and Chris Sale, it appeared to be Shields' day. He had a 1-0 lead after eight innings when Kansas City manager Ned Yost went to closer Greg Holland. Shields had thrown 102 pitches.
"[Holland] has been great all season long, and that's the right move," Shields said. "Unfortunately, it didn't work our way."
The White Sox responded with three consecutive singles to load the bases with nobody out. But Holland roared back by getting Paul Konerko on a 1-2-3 double play. That left runners at second and third, and Conor Gillaspie drew a walk before Ramirez came through with the game-tying hit.
Ramirez had made a bid to put the White Sox ahead in the seventh with a towering shot that had home run distance with a man aboard. The umpires went to the replay monitor but told manager Robin Ventura they didn't have the proper angle to see whether the ball was fair or foul. Therefore, the ruling on the field of foul ball was upheld.
"They don't have a view of it, and I'm kind of confused with that," Ventura said. "It's not their fault. They want to see it, but somehow they didn't have a shot of it. I thought that's why we had [replay] in the first place."
When Danks homered in the 11th, it provided closer Addison Reed with an opportunity to get right back on the mound one day after suffering his first blown save this season.
This time, Reed worked a clean inning and the White Sox could all breathe a sigh of relief as they packed their bags for a flight to New York City.
"He doesn't suffer from a lack of confidence," Ventura said. "That's the No. 1 thing in being a closer."
Reed said he woke up Monday morning with hopes that he would have another save opportunity by late afternoon.
"You don't want to be sitting on a blown save for too long," Reed said.
Sale needed 36 pitches to get through the first, as Billy Butler's RBI double put Kansas City on top. Sale allowed five hits in the opening two innings, but he settled down to go 7 1/3 innings -- at one point retiring 15 straight batters -- while keeping his team within a run. He left after tying his Major League high with 119 pitches.
The White Sox (13-17) salvaged one game in the three-game set, while the Royals (17-11) had a four-game winning streak snapped.
"This win means a lot," Sale said. "Sweeps will kill you. If you can just take one, it builds up in the end. James Shields was tough on us today, but we kept grinding it out."
Sale couldn't have been happier after seeing Danks emerge as the 11th-inning hero.
"Emotions are high, it's tense and he goes up there and does that," Sale said. "We all went nuts. It was fun to watch and I'm very happy for him. He deserves it."
Robert Falkoff is a contributor to MLB.com. This story was not subject to the approval of Major League Baseball or its clubs.