Indians drill four homers to take opener from A's
Reynolds launches one into the bleachers; Kipnis, Cabrera also go yard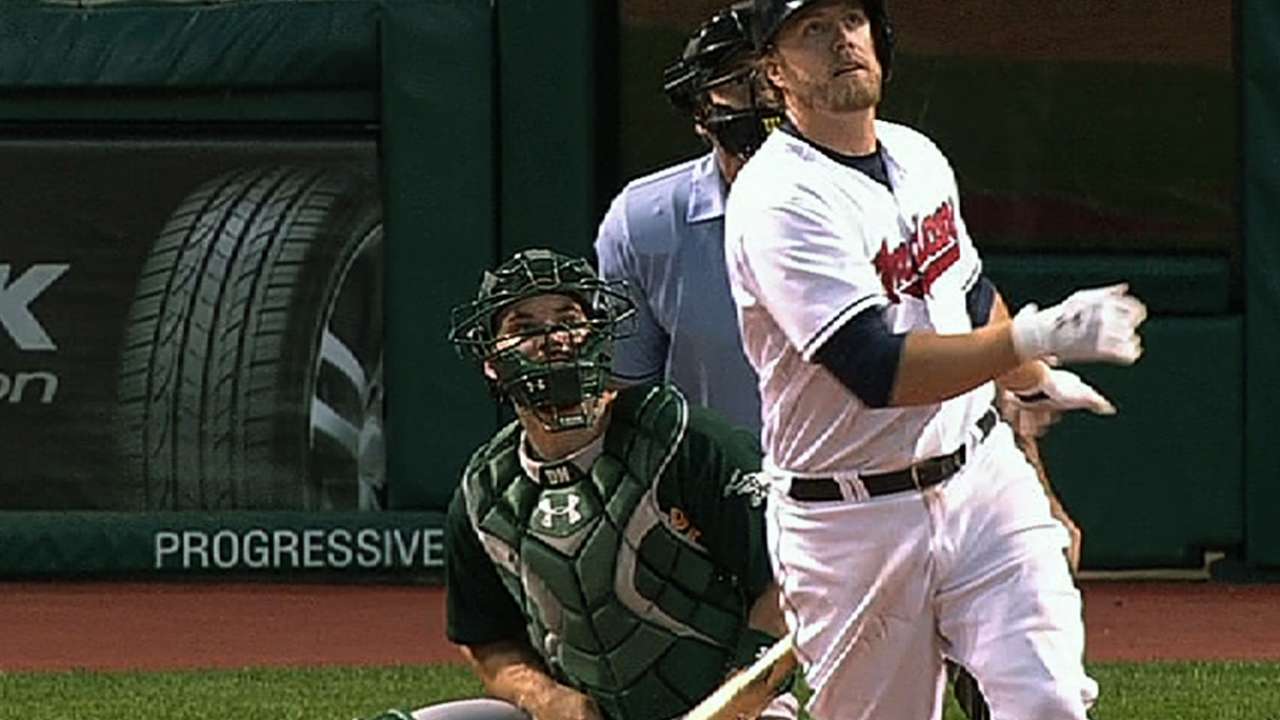 CLEVELAND -- Fans visiting Progressive Field this season should beware of flying objects. That also goes for longtime stadium drummer John Adams, who sits safely perched in the highest row atop the bleacher seats behind the left-field wall.

Adams might consider packing a glove to go along with his drum.

Mark Reynolds launched a pitch deep into the Cleveland night on Monday, sending a fifth-inning blast three rows shy of the top of the left-field bleachers. The jaw-dropping display of power highlighted a four-homer attack that propelled the Indians to a 7-3 victory over the A's in the opener of a four-game series.

"As long as it hits the seats, I'm happy," manager Terry Francona said.

Ubaldo Jimenez gave the Tribe a solid effort on the mound and shortstop Asdrubal Cabrera belted a pair of home runs, but it was Reynolds' shot that stood out. The blast, off A's starter Jarrod Parker, was measured at 460 feet, but it might as well have been a mile. Reynolds admired his work for a moment, taking a few slow steps out of the batter's box before shifting into a trot.

Down the tunnel, inside a video room, second baseman Jason Kipnis could not believe where Reynolds' home run landed.

"I almost fell out of my chair in there," said Kipnis. "I wanted to jump up to go run out there, and the chair almost gave way. I almost tipped over in there. I immediately ran out there. I've never seen people put them up there."

The home run was Reynolds' American League-leading 10th and moved the Indians' season total through 29 games to 44, which also paces the Junior Circuit. Last season the Indians did not reach 44 home runs until their 55th game (June 6). They have only had one player (Albert Belle in 1995) finish as the AL's leading home run hitter in the past 53 years.

But there's still a long way to go this season, and that's why Reynolds was not about to get too caught up in the moment.

"They all count. First row, back row, whatever," Reynolds said. "It's just a homer, guys."

Cleveland (15-14) wasted little time breaking through against Parker, who surrended a one-out solo home run to Kipnis in the first inning. Six pitches later, Cabrera pulled a pitch to left-center field, where it cleared the fence for back-to-back blasts, pushing the Indians to a two-run lead. Later in the first, Parker hit Reynolds in the back with a pitch, leading home-plate umpire Angel Hernandez to issue a warning to both teams.

Cabrera struck again in the fifth inning, when he led things off by sending an offering from Parker (five innings, four runs, seven strikeouts) arcing high over right field. The ball sailed down the line and carried just beyond the wall, giving the shortstop four long balls on the season.

Two batters later, Reynolds delivered the knockout punch on the first pitch he received.

Parker exited the game with a neck strain, creating an obvious punchline in light of the quartet of home runs he'd allowed. The right-hander said that he has been bothered by the injury for some time now, and A's manager Bob Melvin admitted that Parker did not look right on the mound.

"Well, it's not like him," Melvin said. "He's a guy that you don't expect to get hit. Sometimes he's a little bit wild, puts some guys on base via the walk, but I would say the amount of home runs he's given up is a little ... Well, it's not him."

The Indians added some insurance in the seventh, when veteran Jason Giambi drove in a pair of runs with a bases-loaded single off reliever Chris Resop. Ryan Raburn, who was named the AL's Player of the Week earlier in the afternoon, added an RBI double to push the lead to five runs.

Jimenez (2-2) picked up the win after limiting Oakland (18-15) to two runs on four hits in 5 2/3 innings. Yoenis Cespedes clubbed his sixth homer of the year on a 2-0 pitch in the fourth and added a sacrifice fly in the sixth. Jimenez ended the evening with a season-high eight strikeouts, including the 1,000th of his career, and turned in his second solid performance in a row.

"It feels good," said Jimenez, who has wins in consecutive starts for the first time since last May. "It feels good to be able to go out there and compete and give your team a chance to win."

Jimenez might owe lefty reliever Nick Hagadone a handshake.

In the sixth inning, Jimenez yielded a two-out single to Brandon Moss, then issued a walk to Josh Donaldson to load the bases. At that juncture the Indians turned to Hagadone, who was promoted from Triple-A Columbus shortly before the game.

With the bags full and Cleveland clinging to a two-run lead, Hagadone slipped an 84-mph slider by Josh Reddick for a called third strike. As Hagadone headed off the field following his crucial escape act, Reddick looked to the sky and flipped his bat in disgust.

"He's my boy," a smiling Jimenez said of Hagadone.

Jimenez also raved about the lineup, which has backed him with 32 runs of support across his six starts this season. Up and down the lineup, Cleveland has featured a blend of speed and power to form a potent brand of offense.

Reynolds has provided the bulk of the power, though is it nothing new for the slugger. Dating back to Aug. 31 of last year, he has led the Majors in home runs, with 21. He has also topped 30 home runs in a season three times in his career.

Plenty of those shots over the years have been of the tape-measure variety.

And Monday's blast to the bleachers came with a touch of revenge.

"He hit me," Reynolds said of Parker. "I normally don't [show off], but he hit me. A little gamesmanship. Having some fun."