Parker gives up four homers in loss to Tribe
Persistent neck strain could be behind right-hander's latest struggles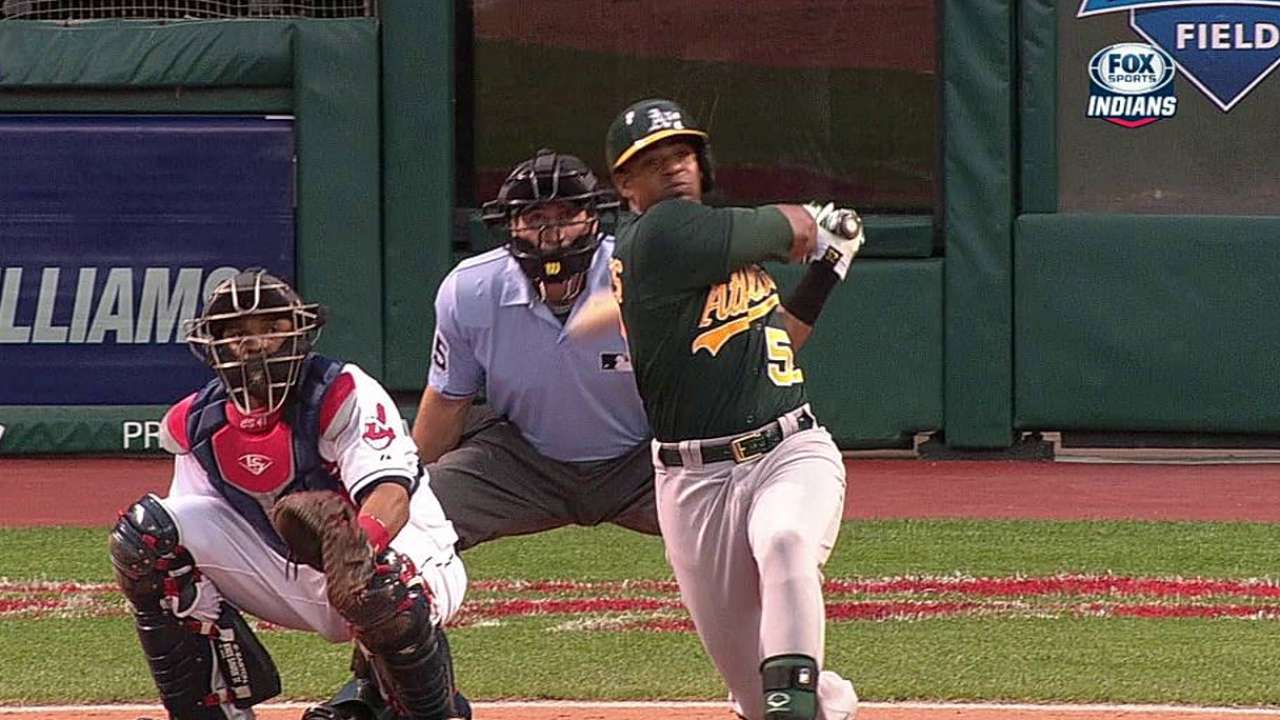 CLEVELAND -- Jarrod Parker entered Monday's start against the Indians having given up four home runs all season. The next four came much more swiftly, as the Tribe took him deep exactly that many times in the series opener at Progressive Field.

Consider the last one, a 460-foot bomb from Mark Reynolds, an exclamation mark on the righty's latest disappointing outing.

But a neck strain -- something he's been dealing with "for a little bit" -- might have something to do with Parker's struggles, and that's what kept him in the dugout after five innings. Either way, Parker (1-5) picked up another loss and the A's dropped the game, 7-3.
Most of the A's offense came from Yoenis Céspedes, who hit his sixth home run of the year.

"He just got some balls up," manager Bob Melvin said about Parker. "They had good swings on them and hit them out of the ballpark."

Parker gave up seven hits over his five innings, striking out seven and walking two. With the effort, his ERA actually dropped, from 7.36 to 7.34.

"I don't think we see him hitting his top velocities like we did last year, and maybe the neck strain has something to do with it," Melvin said.

Added Parker: "It's definitely affecting extension, being able to get the ball in to lefties and get to the glove side with the heater. I think that's the biggest thing right now."

Prior to Monday, Parker had never given up four home runs in one game. The last A's pitcher to do so was Dan Straily, who accomplished the dubious feat against the Angels on Aug. 8, 2012.

"Obviously, those are pitches up in the zone," Parker said. "They're semi-uncharacteristic. I don't think, feeling 100 percent, they would be at that location."

Parker said that the strain has bothered him for a few starts.
"I think we'll get it resolved," he said. "It's something that we don't want to continue and snowball and build into something worse."

Cespedes' homer came in the fourth inning. He plated another run in the sixth with a sacrifice fly. The A's added their final run when Josh Donaldson singled in Brandon Moss in the eighth.

Parker's counterpart, Ubaldo Jimenez (2-2), gave up two runs in 5 2/3 innings. He recorded a season-high eight strikeouts while walking three.

"Tonight he worked ahead. And they're a very patient team," Indians manager Terry Francona said. "He threw strike one, and then he stayed ahead in the count. They had to respect his fastball enough, and his offspeed was tremendous.

"I thought he was pitching well the whole time. I don't think there was ever any point where he was out of sync or anything like that."

Parker's torments began early. He served up back-to-back shots to Jason Kipnis and Asdrubal Cabrera in the first, then plunked Reynolds in the shoulder. Cabrera came back for seconds, going deep in the fifth inning, which also featured the blast by Reynolds. Reynolds was looking for revenge, and he got it.

"He hit me. I normally don't [show off], but he hit me," Reynolds said. "A little gamesmanship. Having some fun.

"The only good thing about it was, he hit me in my first at-bat, and I was able to get him."

Home-plate umpire Angel Hernandez warned both benches after Reynolds was drilled. Parker said the plunking was unintentional, and Melvin said Hernandez told him he took action because the errant pitch looked bad coming after two home runs.

Cleveland padded its lead in the seventh inning. Chris Resop allowed two runs when Jason Giambi singled up the middle with the bases loaded and the count full. Resop made way for Evan Scribner, who let up a run-scoring double to Ryan Raburn.

The last run was charged to Resop, whose ERA rose, from 4.73 to 6.00, after he was charged with three runs in 1 2/3 innings of relief.

But the pitcher people were most interested in after the game was Parker.
Said Melvin: "The amount of home runs he's given up is a little ... Well, it's not him.

"He's continually working on things to try to get better for each and every start. He's had a couple of good starts. He's had some bad starts. He hasn't gotten to where he's consistent yet. A lot of that can be confidence, too."
Mark Emery is an associate reporter for MLB.com. This story was not subject to the approval of Major League Baseball or its clubs.