Dodgers nearly come back before falling to SF
Mattingly, players see positives despite getting swept by Giants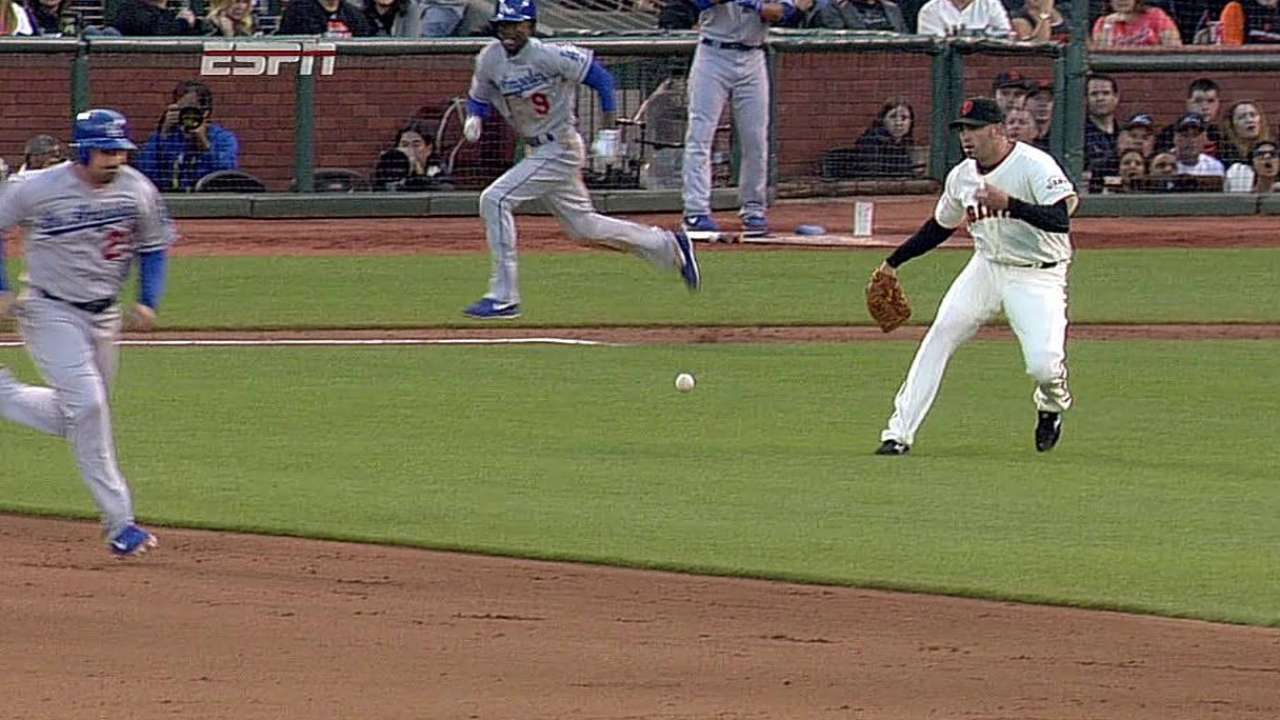 SAN FRANCISCO -- Dodgers fans suffering through the anguish of yet another one-run loss to the Giants Sunday, 4-3, have it all wrong, according to the Dodgers.
"I feel better about our club walking out of here than I did walking in," manager Don Mattingly said after the Giants completed a three-game sweep.
Before you conclude Mattingly has lost more than baseball games during his Bay Area visit -- contributing to a four-game Dodgers losing streak while the Giants have won their last six -- hear him out.
"Coming in, I didn't think we were playing that good," he said. "But we played tough all series. I know we got swept. But I can't sit here and be all mad. I'm disappointed in the way we played tonight."
Mattingly points to the fact that the Dodgers, down by four Hunter Pence RBIs, fought back with a three-run eighth inning that included a two-out, two-run pinch-single by Adrian Gonzalez with the bases loaded after the Dodgers sandwiched walks to Matt Kemp and Juan Uribe around an A.J. Ellis single.
Gonzalez completed a sweep of sorts by scratching from the starting lineup all three games with a strained trapezius muscle. He took himself out for a pinch-runner following Dee Gordon's RBI infield single because he said running and fielding are still too painful. He will have an MRI on Monday, and Mattingly suggested that utility man Jerry Hairston could use one too.
"Maybe they have a 3-for-1 package deal," he joked.
But what the Dodgers are seeing from Hairston, while admirable, is no joke. He appeared to pull up lame again on the bases during a pinch-hit appearance to end that eighth inning, as he pulled up limping while scoring Saturday night. And as he did Saturday night, he said he's fine.
The Dodgers aren't so sure, especially with the memory of Hairston silently suffering through a torn hip labrum last year until he couldn't play anymore and had surgery. Hairston knows the club is playing shorthanded, with management carrying an unplayable Mark Ellis for an eighth game.
Getting back to Mattingly, he got defensive about his offense after the game. He was asked about going into that eighth inning 0-for-9 with runners in scoring positions and quickly concluded his questioners were ignoring the seven outs his team lined into.
"Really? Did you watch the game?" he responded. "We were fine today. I'll take those at-bats all year. This could have been one of those days we came out flat after last night, but we swung the bats good all day long."
Gonzalez saw the game the same as Mattingly.
"Our guys did an incredible job," he said. "All those line-drive outs, sometimes baseball doesn't go your way. We had hard-hit balls right at them. We easily could have scored 10 runs. It was impressive seeing the guys square the balls up. Unfortunately, a lot were outs."
Mattingly said the Sunday comeback that fell short, coupled with the offense erasing a five-run deficit Saturday night before losing in extra innings, was more pertinent than his club's 5-13 record within the division.
"We're OK," he said. "I'm not disappointed in the way we played today. Really, we didn't do anything wrong."
They did fall behind by four runs with Hyun-Jin Ryu on the mound, for the first time this year facing a club that had already seen him. On April 2, Ryu held the Giants to three runs (one earned) on 10 hits in 6 1/3 innings with five strikeouts and no walks.
This time he was charged with four runs on eight hits and a pair of two-out walks that preceded Pence's pair of RBI doubles, which Ryu said put him in a "really bad situation." In their previous meeting, Pence was 2-for-3 against Ryu.
"It's perfectly normal that the more they play against me, they find out the way I pitch," said Ryu. "It's the nature of the game. Same for me, this is the first time I've seen the same team twice."
Previously winless Matt Cain outpitched Ryu, who followed his 12-strikeout dazzler against Colorado by striking out only two Giants, as San Francisco aggressively swung earlier in counts. Ryu was charged with four earned runs in six innings and made 85 pitches.
Ryu, who allowed three hits in six innings of his previous start, gave up hits to the first three Giants he faced, although one exploded past shortstop Gordon, another bounced under the glove of third baseman Luis Cruz and a third was a fisted blooper. Despite bases loaded and no outs, Ryu held the Giants to one run on Pence's forceout grounder.
"He gets out of that with only one [run allowed], you're feeling pretty good about that," said Mattingly.
San Francisco scored again in the third inning on a one-out single by Marco Scutaro, a four-pitch walk to Buster Posey and Pence's RBI double.
The Giants added to the lead with a two-out rally in the fifth on a four-pitch walk to Pablo Sandoval, a single by Posey and Pence's double off the right-field bricks that bounced past right fielder Andre Ethier and plated two runs.
Ken Gurnick is a reporter for MLB.com. This story was not subject to the approval of Major League Baseball or its clubs.