Cain, Pence lead Giants to sweep of Dodgers
Right-hander gets first win of season, while outfielder drives in four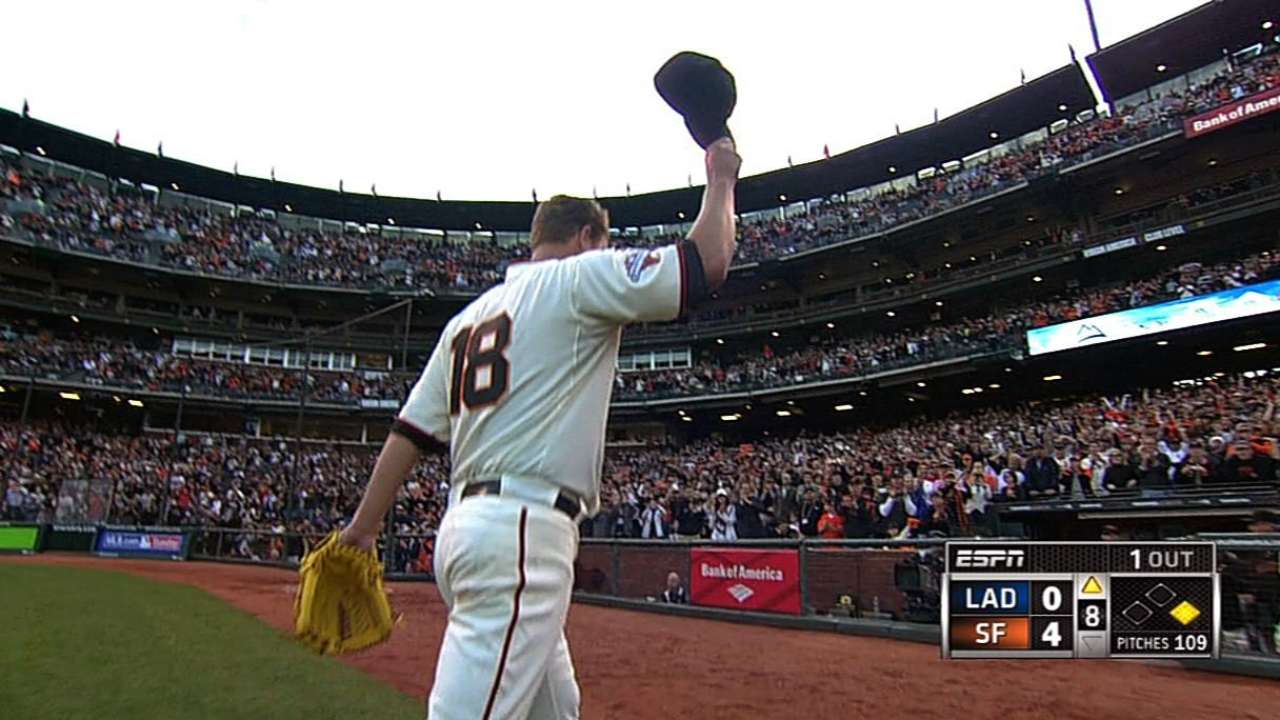 SAN FRANCISCO -- To those at AT&T Park for any of the 180 consecutive sellouts, or who have watched the Giants win nine one-run games already this season: As loud and dramatic and thrilling and crazy as it repeatedly gets, that is when the Giants find calm.
And a way to win.
A typical Matt Cain start against the Dodgers led to an equally typically tight victory for the Giants, this one 4-3 on Sunday at AT&T Park behind Hunter Pence's four RBIs for a sweep of their rivals.
The Dodgers were down 4-0 heading into the eighth and rallied for three runs before Sergio Romo's 12th save in a 1-2-3 ninth.
"It literally feels like it's been three weeks of one-run ballgames, win or lose," Pence said. "It builds character. It builds strength. We as a team feel like we play good as a unit. We're kind of getting numb to that close game, where you can really just focus on the task at hand."
San Francisco (19-12) extended its season-high winning streak to six and, unlike Friday and Saturday's walk-off endings, this one went the way Cain started his season: with a strong outing against Los Angeles (13-17). After a no-decision in his season debut, it took Cain (1-2, 5.57 ERA) six more starts to notch his first win of the year, tossing 7 1/3 innings, allowing one run, five hits and three walks and striking out four.
A Giants starter had not won since April 21.
"It wasn't something I was proud of," Cain said of his and the starters' struggles. "I didn't pitch well for the guys. I needed to step it up. ... I got better as the game went along. I made better pitches and got ahead in the count."
His two best starts in an otherwise rough year thus far have come against the Dodgers. Cain received a standing ovation and tipped his cap in the eighth when he walked off the mound and exited the game following a walk to Matt Kemp with one out. Cain entered Sunday with a 4-0 record and 2.00 ERA in his previous 10 starts against Los Angeles.
After Javier Lopez relieved Cain and struck out Andre Ethier, George Kontos loaded the bases with a single and a walk. Lefty Jeremy Affeldt came in to face pinch-hitter Adrian Gonzalez, the left-handed slugger whose start was scratched just before the game for the third time because of ongoing neck stiffness. Gonzalez swung on a first-pitch changeup for a two-run single up the middle, then the left-handed-hitting Dee Gordon followed with an RBI single to close the gap to 4-3.
Righty Jean Machi relieved Affeldt with runners on first and second to face the right-handed Jerry Hairston, who worked him to a full count but grounded out to shortstop Brandon Crawford. Sergio Romo, who was the subject of a gnome giveaway for fans on Cinco de Mayo, allowed three hard-hit outs but nothing more.
"As usual, our boys are entertaining," manager Bruce Bochy said. "They made it close again. But I was happy for Matty, the way he threw the ball."
Pence (2-for-4 with two doubles) was part of a fine San Francisco offensive effort against Dodgers starter Hyun-Jin Ryu (3-2), who entered Sunday averaging 10.99 strikeouts per nine innings but only struck out two, including one against Cain. The Giants got eight hits, four runs and two walks off Ryu.
With the bases loaded and no outs in the first inning, Pence plated Marco Scutaro on a fielder's choice grounder. In the third, Pence legged out an RBI double that scored Scutaro for a 2-0 lead.
In the fifth, Pence smacked a high fastball off the right-center wall, bouncing at an unexpected angle for right fielder Ethier and scoring Pablo Sandoval and Buster Posey to make it 4-0.
Cain cruised, and the recurring tension ensued.
"All of us starters, we hadn't been pitching the way we wanted to as starters," Cain said. "We wanted to get us off that little skid we were on. It just took some time."
For the Giants, suspense is just time, which preferably ends with a win.
Often, it does.
Willie Bans is a contributor to MLB.com. This story was not subject to the approval of Major League Baseball or its clubs.