Power at plate not enough against Rays
Chacin allows six runs (five earned) in return from disabled list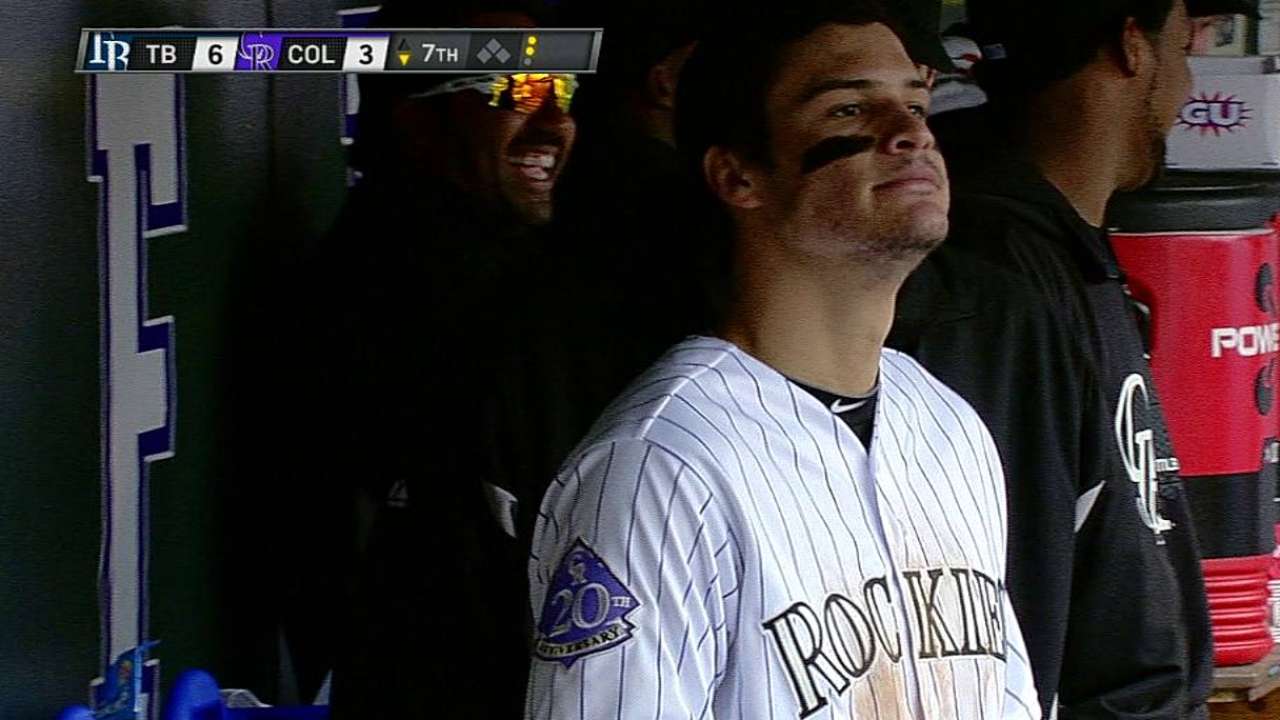 DENVER -- Opening Day starter Jhoulys Chacin rejoined the rotation Sunday for the rubber game of the series with the Rays and pitched a season-high seven innings for the Rockies. He had been their best starter by far before a back injury put him on the 15-day disabled list, and he showed some of the form that had enabled him to take the mound with a 3-0 record and a 1.46 ERA.
Chacin had to overcome early rust in the first before his defense betrayed him in the sixth, both three-run innings that helped the Rays beat the Rockies, 8-3. He limited the Rays to two singles from the second through the fifth and set them down in order in the seventh, but the Rockies were unable to get their offense cranked up against Ray starter Alex Cobb.
The Rockies hit three solo home runs but went hitless in nine at-bats with runners in scoring position, six of those at-bats coming against Cobb. Indeed, they hit two homers while going 0-for-9 with runners in scoring position in an extra-inning loss Friday night. The Rockies were 4-for-12 in those situations while winning Saturday night.
"Other than the middle game of the series, we struggled with runners in scoring position," manager Walt Weiss said. "We hit some homers, but if you don't get any hits with runners in scoring position, it's tough."
Cobb pitched in a National League ballpark for the first time -- in the hitters' paradise that is Coors Field of all places and against a powerful Rockies lineup. He gave up a career-high three home runs among the eight hits he allowed, to Michael Cuddyer, Troy Tulowitzki and Nolan Arenado, and pitched 6 2/3 innings, shrugging off the effects of altitude.
"I'm always angry when I give up a home run," Cobb said. "We train ourselves that it happens, get over it and focus on the next batter. That was my approach. Two were leadoff home runs, and I was able to clear it and move on to the next guy. When home runs are hit, you don't let it become a big inning."
The Rockies made it hard on themselves Sunday as catcher Wilin Rosario was charged with two passed balls, leading to one unearned run in Tampa Bay's three-run sixth and another in a two-run eighth. Second baseman Josh Rutledge reached for a line drive by James Loney in the sixth, but the ball went off his glove, putting runners at first and third with one out.
Asked whether his team had played a sloppy game, Weiss said, "It certainly wasn't real clean. Yeah, it wasn't real pretty. The game kind of got away from us a little bit later."
Chacin had not pitched since April 19 because of a back strain that caused him to go on the 15-day disabled list and miss two starts. He fought his way through a 23-pitch first when the Rays parlayed three singles, a walk and a wild pitch into three runs.
"Maybe I was trying to throw a perfect pitch than go right at them," Chacin said. "I get behind in the count and you get bad counts and then you walk guys. Just a couple things, I didn't make that good pitch to get out of the inning and get a long inning."
But Chacin rebounded with a nine-pitch second and began to sink the ball better. He ended the second and third innings with double-play ground balls, getting help before Cobb grounded into a double play in the second when Rosario picked Jose Lobaton off second base.
Chacin walked Matt Joyce to open the sixth. With one out, Loney hit a hard liner off the glove of Rutledge, who had made an error in the second, for a hit on a catchable ball. Kelly Johnson followed with a broken-bat single to short right-center, scoring Joyce to put the Rays ahead, 4-2.
"It was a knuckleball," Rutledge said of the liner Loney hit. "It was coming down, but it ended up staying up."
Rosario was charged with his first passed ball with Ryan Roberts batting, putting runners on second and third, and both scored when Roberts doubled to left past a drawn-in infield.
Josh Outman issued a leadoff walk and a single in the eighth before Rosario had a high pitch glance off his glove, moving the runners into scoring position. Both came home on Lobaton's single.
Referring to the passed balls, Rosario said: "The pitchers tried to overdo a little bit with the pitches, so the ball moved more than I expected. They got me, but it's part of the game. Tomorrow we got a day off and forget about it. That game is over already."
Cuddyer belted his seventh homer in the second, giving him at least one hit, one RBI and one run scored in five straight games. Tulowitzki led off the fourth with his seventh homer, trimming the Rays' lead to 3-2.
Arenado, who hit his first career grand slam Saturday night, connected in the seventh, ending Cobb's workday at 107 pitches, 71 of them strikes. It was the third homer for Arenado in his seventh Major League game.
By that point, Chacin's 86-pitch effort, which included 54 strikes, was over. After two weeks off, he could take a small measure of satisfaction about how he regrouped after wading into immediate trouble against the Rays.
"I felt really good about my pitches I was throwing after the first," Chacin said, adding: "I feel good throwing my changeup and slider for a strike. Maybe I could get better command with my fastball, especially the beginning of the game. Things happen, but, anyway, I'm real happy to be back with my team and happy to throw seven innings and help the bullpen also."
Jack Etkin is a contributor to MLB.com. This story was not subject to the approval of Major League Baseball or its clubs.