Rays start fast, keep heat on against Rockies
Tampa Bay takes series as Cobb limits damage to three solo homers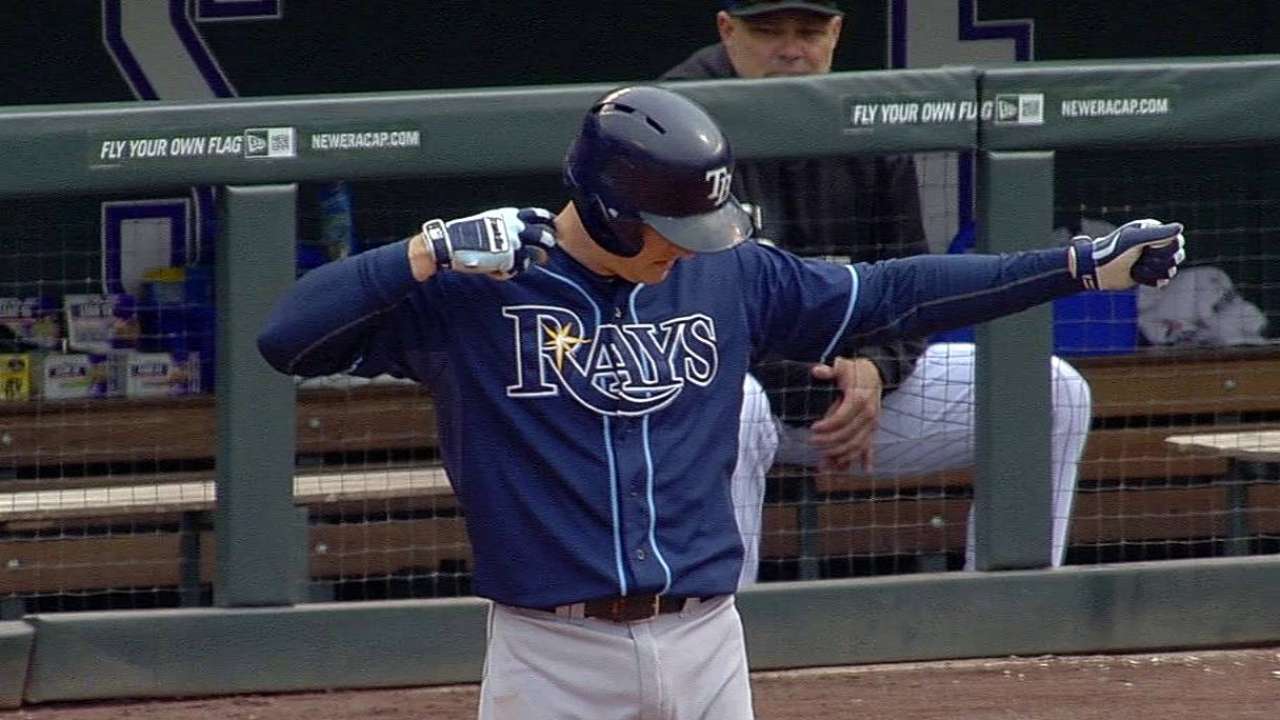 DENVER -- A big first inning was the perfect antidote for a Rays squad that had been ailing on the road. The team's short-staffed bench benefited from building an immediate lead and adding to it throughout the afternoon as Tampa Bay defeated Colorado, 8-3, on Sunday to take the three-game series.
"It was a must-win game for us to close out this road trip," starting pitcher Alex Cobb said. "It feels like we've been on the road for a whole month. We've been through some tough times. But the offense has been helping us pitchers out a lot. Whenever you put those numbers on the board, it makes our job a lot easier. We get to attack guys and pitch aggressively."
The Rays' lineup immediately jumped on Rockies ace Jhoulys Chacin, welcoming him back from the 15-day disabled list with a three-run rally in the first frame. Desmond Jennings started it off with a single up the middle, and Matt Joyce followed with a walk. After Evan Longoria flied out to right, James Loney got his fourth hit of the series with a run-scoring single to left. A wild pitch allowed Joyce to score from third, and Kelly Johnson plated Loney with a single to right for the 3-0 lead.
"The way we came out of the chute was really good," manager Joe Maddon said. "And James, boom, first pitch, base hit, drives in the run."
Loney went 3-for-4 with an RBI and three runs, improving to .338 (68-for-201) with 54 RBIs in Coors Field.
"He's hitting with a lot of confidence right now," Maddon said. "He is on time. He's so willing to accept where the ball is pitched and not try to force the action on the pull side, and that's beautiful. This guy can drive in 100 runs without hitting a ton of homers, because he plays with the whole field so well. With runners in scoring position, he's a tough out."
The Rockies attempted a slow comeback against Cobb with leadoff homers in the second and fourth innings -- Michael Cuddyer launched a no-doubter over the 390-foot marker in the second, and Troy Tulowitzki sent a dinger into the seats to make it a one-run game in the fourth.
"You can give up solo shots; that's not a big deal," Maddon said. "It's going to happen, especially in this ballpark. When you're playing in zero gravity, you cannot let that bother you. Accept it and move on."
The Rays put up another three-spot in the sixth to give Cobb some breathing room. Chacin walked Joyce to lead off the inning, then struck out Longoria. Loney knocked a single to right off the glove of leaping second baseman Josh Rutledge to put runners on first and third.
"It was a knuckleball," Rutledge said of the liner from Loney. "It was coming down but ended up staying up."
Johnson collected his second RBI with a bloop single to center, and Ryan Roberts cleared the bases with a two-run double, extending the Rays' lead to four runs.
"He tried to keep the ball down, used his two-seamer for a lefty backdoor kind of a cutter/slider, and his changeup," Johnson said of Chacin. "When he keeps the ball down really well and he's throwing strikes with his two-seamer, it's tough to want to offer at a pitch down and away that he throws like that."
Colorado touched Cobb for one more run with a two-out blast from rookie Nolan Arenado. All of Cobb's runs came on solo homers, a Coors Field version of minimizing the damage. He gave up eight hits and a walk while striking out six in 6 2/3 innings.
"Pitching in this environment is probably the toughest challenge I've faced so far with that lineup up and down the lineup," Cobb said after his first start at Coors Field. "It's a really good team. A lot of power hitters, and with these elements the ball's carrying. I'm obviously upset that I gave up three home runs, but I couldn't have asked for better situations for those home runs to be hit in."
Cobb's length and the steady offensive support was just what the Rays needed on a day when two of their position players were unavailable. Yunel Escobar is day to day after being hit with a pitch on his left hand Saturday, and Ben Zobrist left the team for two days Sunday following the death of his grandmother.
"I really didn't even want to do a switch with putting Sam [Fuld] in the game late, because that would restrict any kind of movement," Maddon said of his short bench. "Had an infielder been hurt, there was nobody else to play in the infield other than Johnson, so I had to keep him in the game longer. But Cobber kept any kind of chicanery from occurring because he pitched so well."
The Rays kept adding to their lead, getting to reliever Josh Outman immediately upon his eighth-inning entrance. Outman walked Longoria to open the inning, then gave up Loney's third hit of the game, a single to right. The runners advanced to second and third on a passed ball, and with two out Jose Lobaton dinked a two-run single over the second baseman's head to score two more.
"Lobo's base hit towards the end was big," Maddon said. "The two add-on runs from 6-3 to 8-3 were spectacular."
The win gave the Rays a 4-5 road stretch, with one game snowed out, as they head home for an 11-day homestand.
"We played well enough to win other games, but obviously they scored more than we did," Maddon said. "We're playing right on that cusp, that verge of getting over the top and playing like we're capable of playing. You got to be pleased with the effort. Sometimes a wounded dog is more dangerous."
Winning heals all wounds, and the Rays' momentum should help their mending.
Owen Perkins is a contributor to MLB.com. This story was not subject to the approval of Major League Baseball or its clubs.