Hechavarria plates seven; Marlins drub Halladay
Slam, triple complement Ozuna's four hits, back Slowey's gem, first W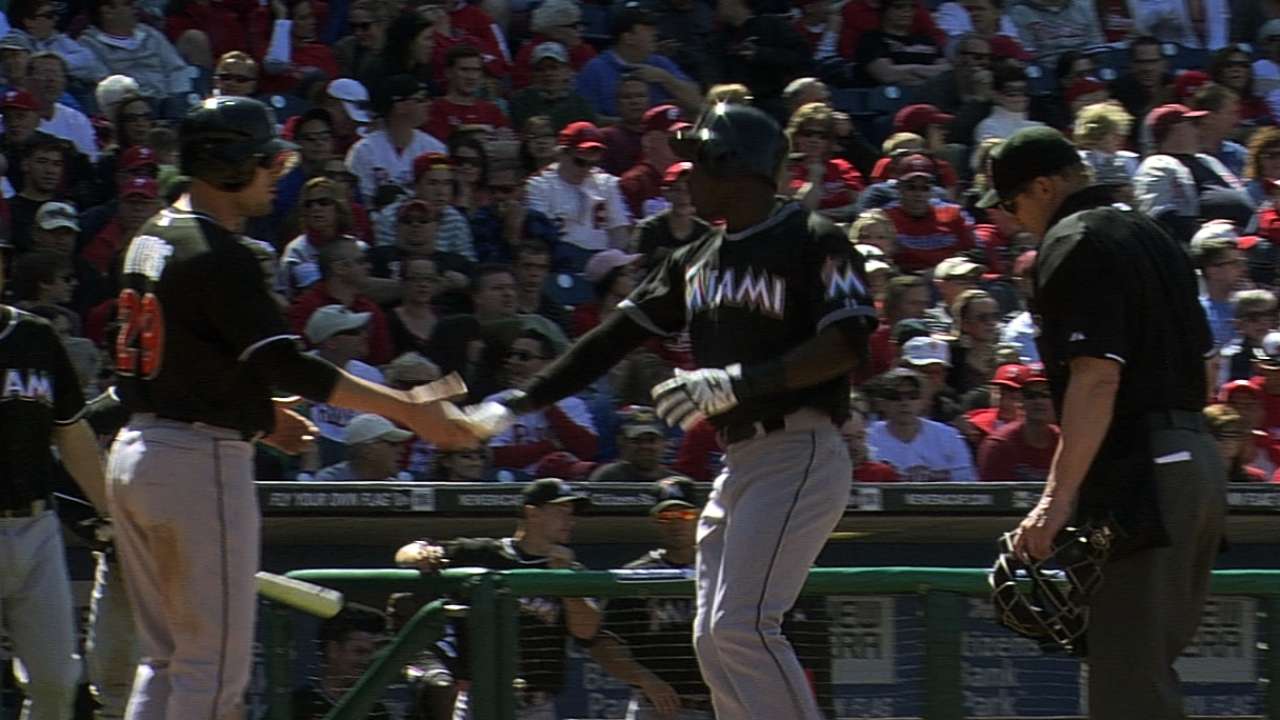 PHILADELPHIA -- All season, Kevin Slowey was in need of just a little support. On Sunday, the Marlins right-hander received plenty of it -- primarily from two rookies.
Adeiny Hechavarria belted a grand slam and matched a club record with seven RBIs, Marcell Ozuna knocked in three runs on four hits, Justin Ruggiano homered twice and the Marlins breezed by the Phillies, 14-2, in front of 45,276 at Citizens Bank Park.
On manager Mike Redmond's 42nd birthday, the Marlins had a breakout party against Roy Halladay, who was charged with nine runs in 2 1/3 innings.
"In this ballpark, you never really feel comfortable, even up 9-0," Redmond said. "In my time, we've played some long games and some high-scoring games in this place. To keep adding on ... not only for the score, but for our guys, to stay hungry, and to keep grinding out at-bats and keep putting the pressure on, that's what we needed. For guys to go up and be a little greedy and take advantage was good to see."
Afterward, Halladay revealed he has shoulder discomfort, and the veteran is likely headed for the disabled list.
"Slowey pitched a fabulous game, which will probably get overlooked because of what happened to Halladay over there, and the runs we put up," Ruggiano said. "But playing behind him and how he works hitters is fun to watch right now. It's a split on the road right now, and we've needed that."
Slowey (1-2) snapped a string of dropping 10 straight decisions, dating back to Sept. 27, 2010, when he was with the Twins at Kansas City. Slowey threw seven shutout innings, striking out seven while allowing just two hits. The right-hander lowered his ERA to 1.81. His strong performance followed Jose Fernandez's seven shutout innings with nine strikeouts on Saturday. The rookie gave up one hit.
"Yeah, it's been a while," said Slowey, who made the Marlins as a non-roster invitee. "I'm certainly very thankful for an opportunity to get a win. If it's been two years since you had a Major League win, you're probably not in position to win again. So I'm thankful for that opportunity out of spring. And am thankful to be here to be handed that ball every fifth day."
The Marlins enjoyed a season-high run total and salvaged a split of their four-game series after dropping the first two.
The seven RBIs by Hechavarria equaled a franchise mark also held by Cody Ross (Sept. 11, 2006), Gary Sheffield (Sept. 18, 1995) and Greg Colbrunn (July 18, 1995).
"I didn't know," Hechavarria said through a translator about the record. "That gets me up even more. I have never done that since I started playing ball when I was 9 years old. I am happy, but I'm more happy that I was able to help the team win."
Hechavarria came into the game with 18 career RBIs, with three this season. Those came on his three-run homer against the Nationals on April 16.
In his first six starts, Slowey received just four runs of support total, the lowest in the National League and second fewest in the Majors for at least six starts.
Miami topped that figure in the first inning alone.
"I've said there will come a day when I'm talking about them scoring five, six, seven runs before I throw a pitch," Slowey said. "Today was that day."
Finding the strike zone was a challenge for Halladay in a 38-pitch first inning, and Miami made him pay. Juan Pierre walked on four pitches to start the game, and he swiped second. With one out, Placido Polanco walked and Ruggiano was hit by a pitch to load the bases.
Ozuna doubled high off the wall in left field, scoring two. The Marlins challenged to see if it was a home run, and the umpires trotted off the field to do a video review. The initial ruling stood.
"He walks JP right out of the chute. I was thinking, man, this is good," Redmond said. "This might be the start where we get this guy, finally. He hit a guy, and he made a couple of pitches up in the zone. Ozuna had a big at-bat. We were just able to capitalize on his mistakes.
"Over the past few years, I haven't seen him make a ton of mistakes. He just didn't look like himself from what I've seen over the past couple of years. At the same time, too, it was good for us to jump on him and be able to relax a little bit."
Ozuna has hit safely in all six games since he was promoted from Double-A Jacksonville.
The first frame completely unraveled for Halladay when Hechavarria laced his three-run triple, capping the five-run inning.
Halladay retired the side in order in the second inning, but Hechavarria struck again with his opposite-field grand slam in the third inning. Even that drive was questioned, because the ball bounced back onto the field of play. No signal for a home run was immediately called, and Hechavarria stopped at second.
Again, Miami asked for a second look, and the umpires went to the video replay. This time, they came back signaling for the first grand slam in Hechavarria's career.
Slowey benefited from some terrific defense. In the fourth inning, Ruggiano made an all-out diving grab in center field to rob Chase Utley of extra bases.
Ruggiano has the distinction of being the eighth player in the live-ball era to be hit twice by pitches and belt two home runs in the same game. The last to do so was Jonny Gomes in 2010. Prior to that, Barry Bonds was the most recent in 1991.
"[Halladay] had two strikes on me both times," Ruggiano said of being plunked. "You could tell Roy didn't really have a feel for it today. It happens. Two strikes. I'll take that any time, honestly."
Joe Frisaro is a reporter for MLB.com. He writes a blog, called The Fish Pond. Follow him on Twitter @JoeFrisaro. This story was not subject to the approval of Major League Baseball or its clubs.