Crew bats go quiet in Estrada's wild outing
Brewers unable to escape costly second inning in fifth straight loss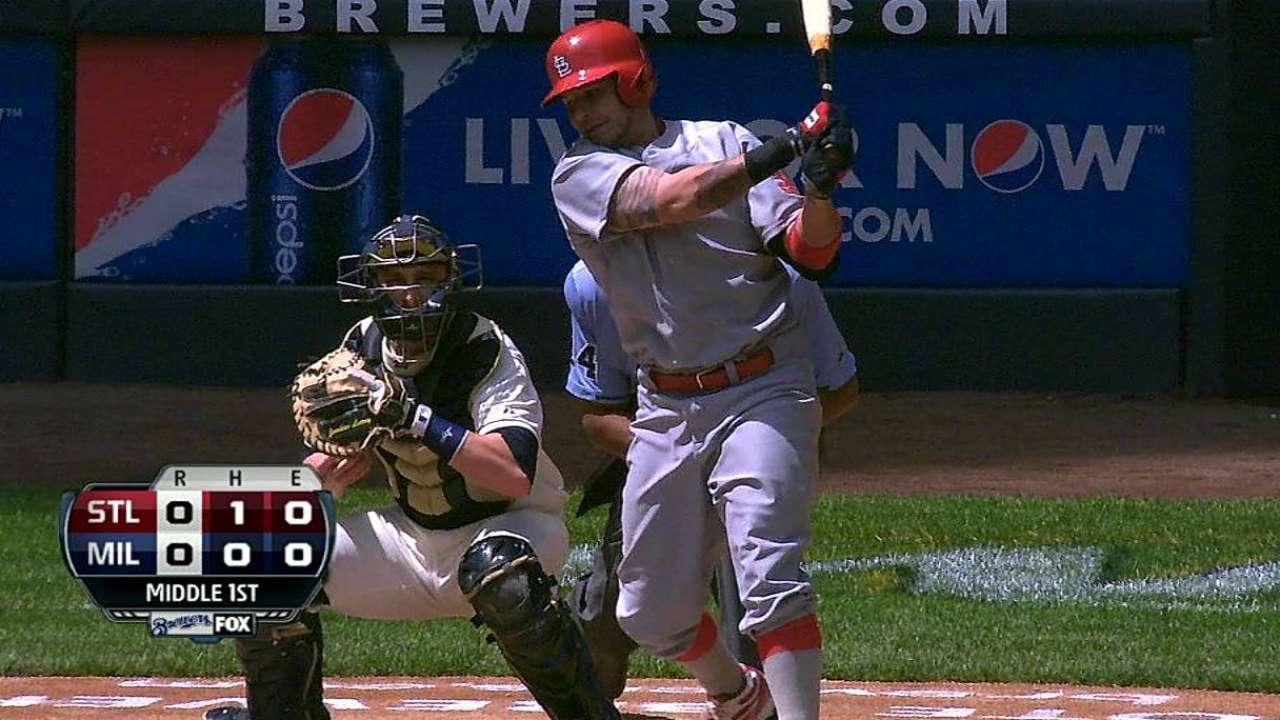 MILWAUKEE -- The Cardinals left no doubt this weekend at Miller Park: They rule the roost in the National League Central.
The Brewers were no match for their division rivals on Sunday, when the Cardinals finished a four-game sweep by scoring six times off Marco Estrada in the second inning and soaring to a 10-1 victory over a streaky Brewers club that has dropped five in a row.
The Brewers have lost six of seven games against the Cardinals this season while being outscored 42-17.
The sweep dropped Milwaukee from 1 1/2 games behind first-place St. Louis to 5 1/2 games back.
"It's the exact opposite of what you want to do coming into that series," said Brewers reliever John Axford, who heard more boos after another poor outing. "We were playing good on the road in San Diego and L.A., the first couple of games at home here against Pittsburgh. Then I personally let the last game against Pittsburgh slip away, and it seemed to kind of carry over a little bit.
"We need to stop that downward momentum and turn it over."
At some point, they will have to figure out a way to beat the Cardinals. Left-hander Jaime Garcia scattered eight hits on Sunday and allowed only one run in eight innings, seven of them spent protecting a big lead.
Cardinals first baseman Allen Craig drove in four runs, three on a bases-clearing double in the decisive second inning. Matt Holliday homered and finished with three RBIs.
"It was a bad series," Brewers manager Ron Roenicke said. "We'll play a bad series. We don't do it too often at home, but we do. We'd been playing good ball, and we played two good games [against the Cardinals], two bad games. But it was a bad series overall."
But it was just another series, said Brewers catcher Jonathan Lucroy, who downplayed the fact it was a bad series against a heated division rival -- the same rival that denied the Brewers a trip to the 2011 World Series.
"They just outplayed us this series," Lucroy said. "It ticks you off because you hate to lose to anybody. But just because it's the Cardinals doesn't make us any more frustrated."
Estrada looked good in his high socks and 1913 throwback jersey, but he had a dismal day on the mound. He issued a career-high five walks and surrendered nearly as many earned runs (eight) as he recorded outs (10).
Before Sunday, Estrada had never walked more than three batters in a game.
"It was one of the worst outings of my career, I think," Estrada said. "I had no idea where the ball was going. … It's one of those outings where I had no clue what I was doing out there. I felt lost."
The Cardinals did most of their damage in the second inning, sending 10 men to the plate and scoring six runs on three hits, three walks (two with the bases loaded) and a hit batter. The big hit of the inning belonged to Craig, who followed a pair of bases-loaded walks by ripping a three-run double into the left-field corner for a 5-0 lead.
All six St. Louis runs in the inning scored after one particularly puzzling pitch: A curveball in a 3-and-1 count to Shane Robinson, who entered the day batting .192, to force in a run with slugger Holliday on deck.
Estrada said he misinterpreted Lucroy's call. The Brewers changed their signs when a Cardinals runner reached second base, and Estrada simply forgot.
"It's dumb. It's a mental mistake you can't do," Estrada said.
Upset about that mistake, Estrada then walked Holliday to force in another run before Craig broke the game open.
Holliday added a two-run homer in the fourth. Estrada then retired Craig and left the game.
"It drives me nuts, knowing we needed a good outing," Estrada said.
He needed 90 pitches for 3 1/3 innings, including 27 pitches in a scoreless first inning and 38 more in the dismal second. Even in Estrada's only hitless inning, the third, he needed 17 pitches.
After warming up three times in the game's first three-plus innings, Alfredo Figaro finally took over for Estrada in the fourth and pitched well, holding the Cardinals to one run in 2 2/3 innings and even contributing with an RBI infield single -- the first hit and RBI of Figaro's career.
It was the first of three infield hits for the Brewers in the fifth inning against Garcia, who struck out Aramis Ramirez with the bases loaded to end the threat. The Mexican-born lefty won on Cinco de Mayo with his eight-inning gem.
"Real proud of how the guys played," Cardinals manager Mike Matheny said. "It's a lot like a couple of other series we've had where guys came in ready to play this morning and were excited about being here. You can see the passion they have for the game and they went to work, really made the most of the opportunities they had. It was a good day."
The Brewers will try to get back on track when they return from a day off to begin a two-game series with the Rangers on Tuesday.
They'll tangle again with the Cardinals on the next road trip, from May 17-19 at Busch Stadium.
How will the Brewers bounce back?
"You forget about it," Estrada said. "Right now, it's in my head, and I'm sure it's in a lot of guys' heads, that we just got swept in a pretty crucial series. But you try to go out and forget about it. That's the only thing you can do."
Adam McCalvy is a reporter for MLB.com. Read his blog, Brew Beat, and follow him on Twitter at @AdamMcCalvy. This story was not subject to the approval of Major League Baseball or its clubs.