Darvish fans 14, Beltre hits walk-off to sweep Sox
Right-hander matches career high for K's to set stage for rally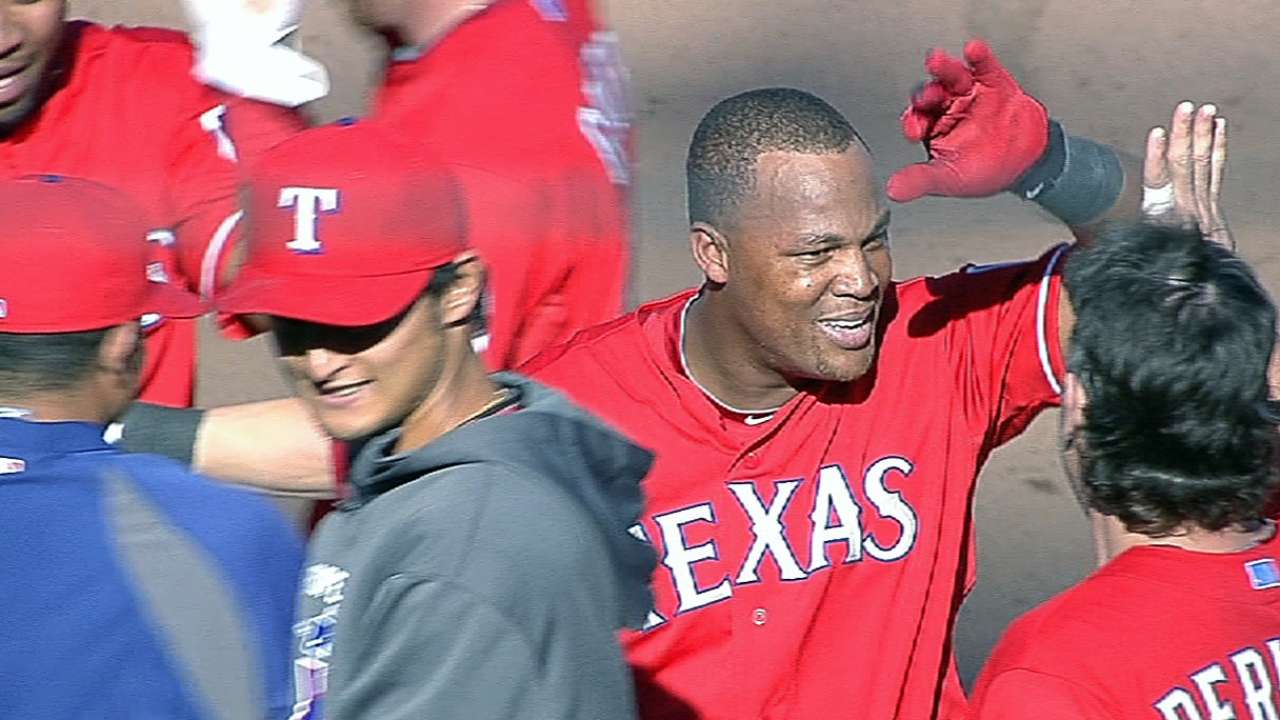 ARLINGTON -- For more years than most Texas fans can count -- more than four decades -- the Rangers have searched for that elusive pitching ace.
There have been glimpses now and then -- Fergie Jenkins in the mid-1970s, aging Nolan Ryan in his last five seasons, Kevin Brown in the mid-'90s -- but a real bona fide ace that the Rangers could call their own? Not really.
Don't look now, but he's on the premises.
No, Yu Darvish wasn't around for the end of the Rangers' walk-off 4-3 victory that swept the Red Sox Sunday at Rangers Ballpark in Arlington. But there's no question he was the reason they were in position to do just that.
Darvish was gone by the time Adrian Beltre, perhaps a little miffed at seeing Lance Berkman twice walked intentionally in front of him, lined a two-out single in the ninth to right-center to bring Elvis Andrus home with the winning run.
But Darvish certainly left his mark on the game, and it looked like this:
K-K-K-K-K-K-K-K-K-K-K-K-K-K.
Darvish survived giving up a couple of early long balls to the Red Sox's David Ortiz and David Ross, stuck around long enough for the Rangers to dig their way out of a 3-0 hole and fanned a career-high-tying 14 to pad his American League strikeout lead.
"We never doubted that he's a No. 1 pitcher," manager Ron Washington said. "He's always been a No. 1 pitcher. He just had to get his feet on the ground [in the U.S.].
"We feel good when he matches up with someone else's No. 1."
Darvish was doing just that Sunday, opposing Boston left-hander Jon Lester, who was 4-0 with a 3.11 ERA. Neither would figure in the decision after the Rangers rallied with a couple of home runs of their own from Mitch Moreland and Nelson Cruz.
Washington allowed Darvish to throw a career-high 127 pitches and cautioned those who seemed to think that his limit was somewhere in the vicinity of 110 pitches.
"Don't think what we do is the bible or put it in the dictionary or something," Washington said. "He went 127 pitches because that's what we needed him to do.
"Besides, I don't know what Darvish would have done to me if I'd tried to take him out."
Darvish fanned the last batter he saw, Boston third baseman Pedro Ciriaco, to strand a runner at second in the seventh inning. Then the Rangers right-hander gave an emphatic fist pump, knowing his day was done.
"He was their ninth hitter, and if I had given up a hit there, it would have changed the momentum of the game," Darvish said. "It was important to get that hitter."
Darvish is the first AL pitcher with multiple games of at least 14 strikeouts since Pedro Martinez (three) and Mike Mussina (two) did it during the 2000 season. He now leads the league in punchouts with 72 in seven starts.
"When you've got somebody like [Lester] pitching for the other side and you're behind, you have your work cut out for you," Washington said. "We got the home run from Moreland [in the third] to get us within striking distance [at 3-1]. But we kept grinding him out, and finally somebody else [Cruz] caught him."
The long ball in the sixth was Cruz's team-leading seventh of the season.
"This was a tough series and they're a very good team," Red Sox manager John Farrell said. "We were going up against a very good starter in Darvish. We got to him early, but then he settled down and was dominant through the seven innings he pitched."
With the victory, the Rangers are tied with the Red Sox and Cardinals with the best records in the Majors at 20-11. That record matches the Rangers' best 31-game mark in club history (1996 and 2012).
Washington didn't want to make too much of the fact that the Red Sox rolled into Texas red-hot and with the best record in baseball, only to lose three straight for the first time this season.
"It's three games," Washington said. "We're not going to be overwhelmed by winning three games. I'll say it again, we can play baseball. On any given night, our best game can compare to anyone's."
Especially when the Rangers can go ace-for-ace with anyone.
Jim Reeves is a contributor to MLB.com. This story was not subject to the approval of Major League Baseball or its clubs.