Kennedy inconsistent; bats quiet in series finale loss
Gregorius goes 2-for-3 with a home run in first start off DL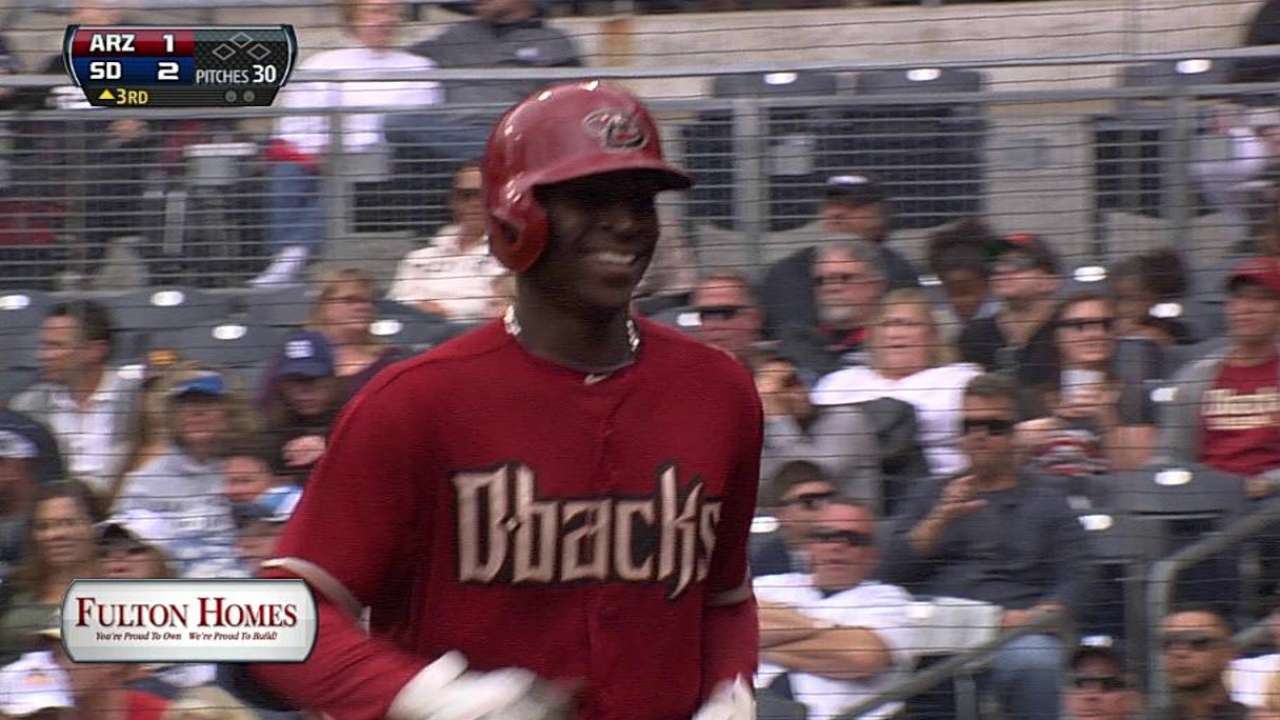 SAN DIEGO -- These were the kinds of games Ian Kennedy was hoping to avoid this year.
After an inconsistent 2012, the D-backs right-hander spent the winter pondering how to recapture the consistency he displayed in '11 and find a way to have success even when he didn't have his best stuff.
But Sunday, Kennedy struggled with his command early and was not able to make the adjustments he needed as the Padres hit a pair of sixth-inning home runs en route to a 5-1 win over the D-backs at Petco Park.
"In the first inning, I wasn't getting the ball down and was falling behind guys," Kennedy said.
With the loss, the D-backs have now dropped five of their last six games, including two of three in the series. The D-backs open a three-game series in Los Angeles against the Dodgers on Monday.
Kennedy (1-3) seemed out of sorts from the start when he allowed a double, a walk and a single to the first three batters he faced as the Padres built a 2-0 advantage.
"Ian didn't have his secondary stuff early in the game and they got on his fastball, [got] a couple of runs early," D-backs manager Kirk Gibson said.
By contrast, Padres starter Edinson Volquez started strong and finished that way, with his only hiccup coming when Didi Gregorius led off the third with a home run down the right-field line.
"We didn't have anything going at all," Gibson said of his offense. "Didn't make any adjustments to what [Volquez] was doing. He was throwing us a lot of offspeed pitches, and [we were] just kind of out front and didn't have a good approach and it showed. We only had four hits."
Kennedy had better results after the first -- he didn't allow another hit until the sixth, but that didn't mean he was any sharper.
"I don't feel like I pitched any better," Kennedy said. "I just got more outs."
After hitting Chase Headley with a pitch to start the sixth, Kennedy retired the next two hitters and appeared to be on the verge of ending the inning. But Jedd Gyorko worked him for a seven-pitch at-bat that resulted in a hanging changeup that Gyorko hit over the wall in left for a 4-1 San Diego lead.
"He left a changeup up in the zone," Gyorko said. "It was the same pitch he got me out on before. He struck me out before on a good changeup. You don't see many right-on-right changeups."
One batter later, Will Venable made it 5-1 with a homer of his own.
Both of the homers came with two strikes on the hitter, which made things more frustrating for Kennedy.
"Usually I can put guys away, but I couldn't do it today," Kennedy said. "I don't know. I need to work on it going into the next start."
The back-to-back homers ended the day for Kennedy, who is still looking for his first win since Opening Day.
"I don't even feel like I've thrown that bad until today," Kennedy said. "I'll try to throw this one away today. You kind of take them hard because you only pitch once every five days. It weighs so much on you because you have to wait another five days.
"It's just really tough. That was my seventh start, so I've still got 25 more of those. It's a long season."
Volquez (3-3) wound up allowing just the one run on four hits in 6 2/3 innings.
The struggles at the plate came one day after the D-backs scored a season-high six runs in the second inning against the Padres and banged out 10 hits.
"Nothing great," third baseman Eric Chavez said, when asked what Volquez was doing to keep the D-backs in check. "I don't know, we just didn't swing the bat very well today. It's just baseball. It's just one of those days.
"We definitely need to find consistency. I don't know why we didn't swing good today. You can define it all you want. We just didn't hit."
Steve Gilbert is a reporter for MLB.com. Read his blog, Inside the D-backs, and follow him on Twitter @SteveGilbertMLB. This story was not subject to the approval of Major League Baseball or its clubs.