Reds complete road sweep thanks to Votto, Frazier
In Latos' first subpar outing of season, Cincy bats pick him up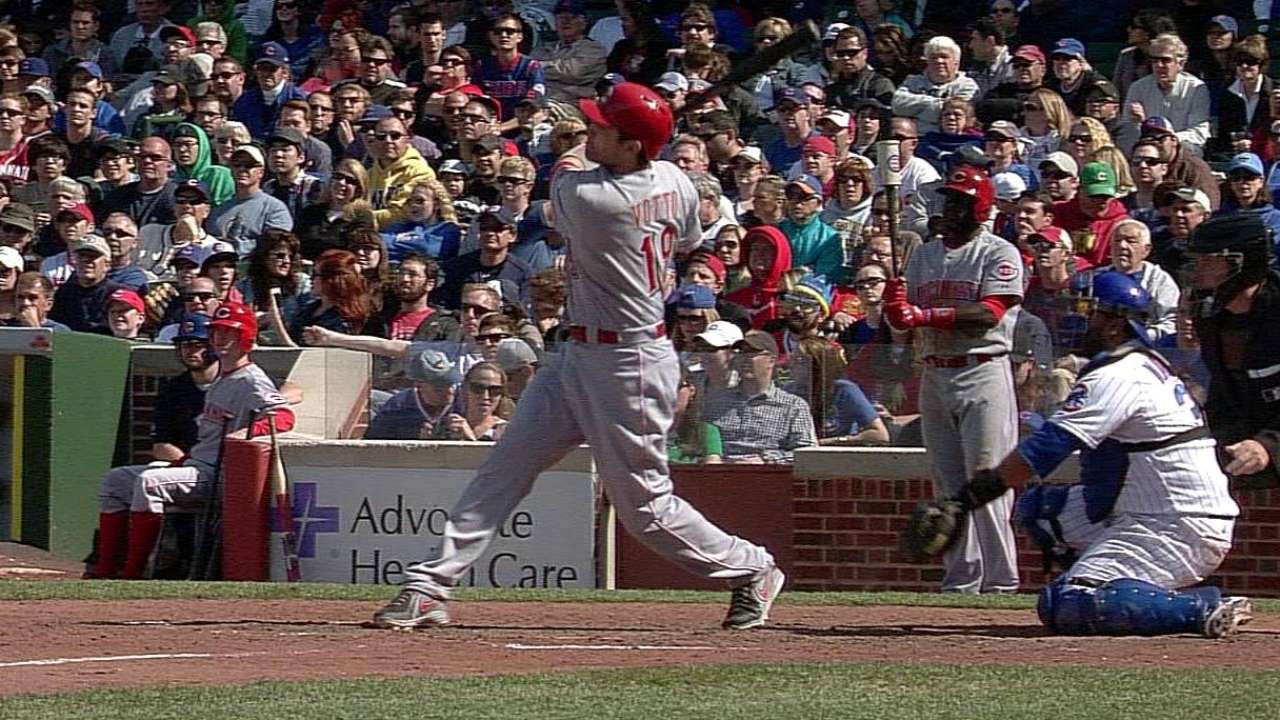 CHICAGO -- There were few attempts to downplay how much the Reds wanted to go home with a .500 record on the road trip, which started with despair but ended with relief and satisfaction.
Sunday's 7-4 Reds victory over the Cubs meant a three-game series sweep and a 5-5 trip through Washington, St. Louis and Chicago.
"It doesn't sound like much, but it's a lot from where we came from. We did finish strong," said Reds manager Dusty Baker, who earned career win No. 1,599 to tie Tommy Lasorda for 18th on the all-time list.
Before the series, the Reds were 3-10 on the road this season -- the worst in the Majors. Cincinnati has now won nine games in a row at Wrigley Field, which extended a club record.
"We don't want to go back home and think we're some sort of home team and have more success at home than on the road. I don't think that's the case," said Joey Votto, who was 3-for-5. "In the past when we've done our best, I think it's because we've been a successful road team. I think we're good enough to be a strong road team."
The game was scoreless until the top of the fourth inning, when the Reds rallied for three runs against winless Cubs starter Edwin Jackson (0-5). Votto and Brandon Phillips hit back-to-back singles, and Jay Bruce sent an RBI double the opposite way into the left-field corner. Todd Frazier's two-run single up the middle made it a 3-0 game.
In the fifth, Shin-Soo Choo hit a leadoff single, stole second base and took third on catcher Dioner Navarro's throwing error. Zack Cozart drove in the manufactured run with a sacrifice fly to center field.
That provided some cushion for Reds starter Mat Latos, who did not have a quality outing for the first time in seven starts this season. Latos pitched five innings and gave up three runs and six hits with three walks and six strikeouts. He saw a career-high tying 21 scoreless innings streak end in the fifth frame.
Latos flirted with danger a few times in the game, including escaping with the bases loaded in the fourth inning. Bad luck led to three Cubs runs in the fifth.
With runners on first and second, Alfonso Soriano skied a pop up to shallow center field. Choo came running in for the ball as Phillips went back. The two collided, and the ball skipped off of Phillips' glove into Choo's face for what was ruled a two-run double. Both players needed to be looked over by trainers before being able to continue in the game. Phillips later exited in the Cubs' eighth after complaining that he had trouble seeing.
"It looked ugly there, but this wind plays havoc with the ball," Baker said of the play. "I saw Choo break back and I knew we were in trouble."
A third Cubs run came when the next batter, Nate Schierholtz, blooped an RBI single into left field. Latos' 21 scoreless-inning streak was his best since 2010 with the Padres and the best for a Reds starter since Denny Neagle's 21 scoreless in 2000.
"I was fine. I was cruising pretty much through the game," said Latos, who added that he was sick before it started. "That inning happened, and we had a couple of fluke things. That pop fly dropped and -- oh well -- I can't really do anything about it. I tried to minimize the damage as much as possible. I beat two guys and jammed them in, and it ended up falling. It's kind of rough as a pitcher. That's the way it goes."
The Reds added two runs in the seventh inning and another one in the eighth. Chicago picked up a run in the seventh to stay within striking distance.
Closer Aroldis Chapman and primary setup man Jonathan Broxton were both unavailable, so J.J. Hoover was summoned for the ninth inning. Hoover recorded his second save, but not before the tying run made it to the plate. A Hoover throwing error on a grounder to the mound blew a double-play chance.
"It was hard fought. It wasn't easy, even to the last out," Baker said.
Drawing a struggling Cubs club came at a perfect time for the Reds, as several players' bats came to life over the last three games. After scoring 14 runs over the first seven games of the road trip, the Reds scored 19 runs in the last three games. Several players had been struggling since before the road trip.
"You look around the lineup, and we've got a lot of guys under performing," Votto said. "I'm pretty confident they're going to hit like the players they are. That's the fortunate thing about playing for six months, getting 600 at-bats or so. Eventually, the real version of you gets to come out. We've only played one month thus far."
Mark Sheldon is a reporter for MLB.com. Read his blog, Mark My Word, and follow him on Twitter @m_sheldon This story was not subject to the approval of Major League Baseball or its clubs.