Astros silenced by Tigers' Verlander
Pena's seventh-inning single breaks up no-hit bid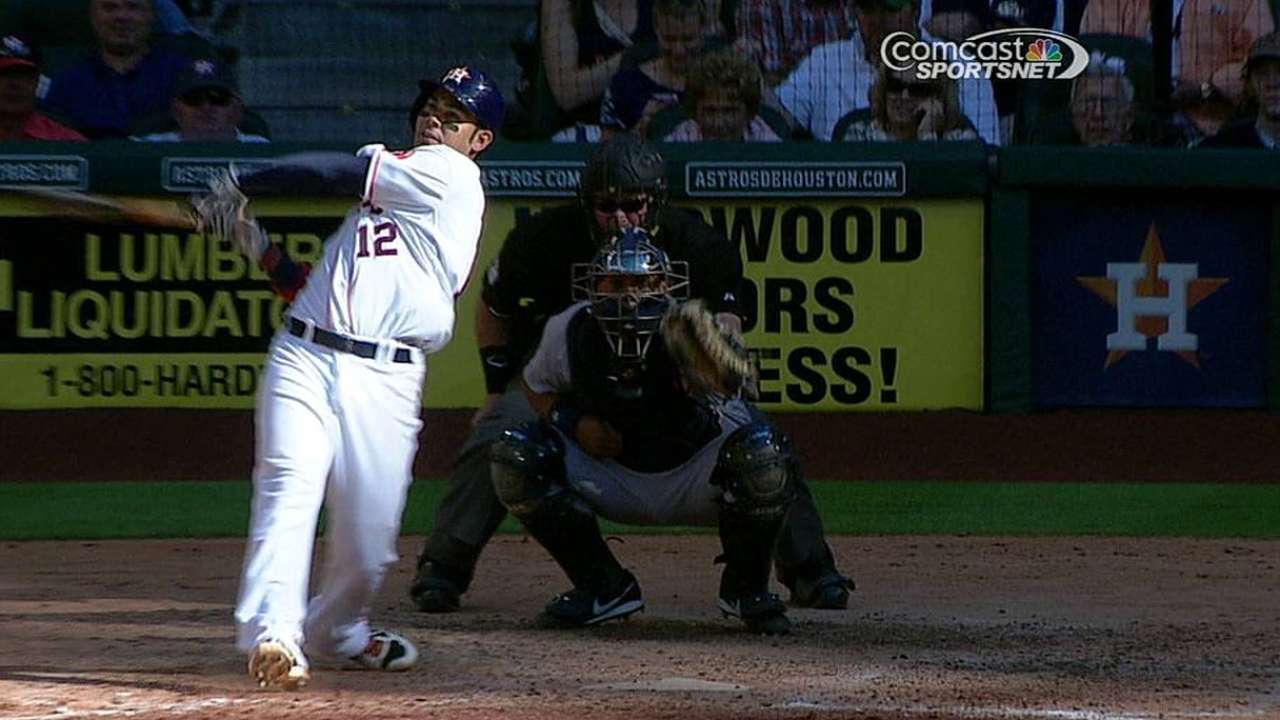 HOUSTON -- The Astros reached the point in the season on Sunday where the air had to be cleared. Someone had to step up and say what needed to be said and someone had to challenge everybody else not to accept the team's recent losing ways.
That's what prompted veteran closer Jose Veras to spearhead a closed-door team meeting in the clubhouse following a 9-0 loss to the Tigers in which Justin Verlander flirted with his third career no-hitter en route to a four-game sweep of the Astros at Minute Maid Park.
The Astros have lost 10 of their last 11 games, getting outscored 16-2 in the final two games against Detroit to fall to 8-24 overall.
"I think it's a situation where we're at a point in the season where we played some of our worst baseball in the last week or so and guys are all tired of it," veteran relief pitcher Wesley Wright said. "We've got to figure out how we're going to change it, and it starts man to man on the roster and trying to improve and come out with a different type of fight. We can't expect people to feel sorry for us or take it an easy on the Astros 'cause we're struggling. They're going to look to get better off of us, and we have to start it somewhere, and hopefully it starts Tuesday."
The Tigers beat the Astros in 14 innings on Thursday and tagged Veras for a blown save to win the ninth inning Friday before blowing out Houston, 17-2, on Saturday. In the series finale, Prince Fielder, Brayan Pena, Andy Dirks and Omar Infante all homered for the Tigers, who earned their first four-game sweep on the road since 2006 (at Kansas City).
"It's unfortunate we didn't win the first two baseball games, because we put ourselves in position to have a chance," Astros manager Bo Porter said. "These last two days, we really didn't have a chance because they swung the bats well and we dug a big hole for ourselves."
Verlander, making on his third career start against Houston, retired 17 of the first 20 batters he faced, allowing a pair of walks and watching a batter reach on an error. He struck out Jason Castro to start the seventh before Carlos Pena lined a hard single to right field for Houston's first hit.
"He guessed right," Verlander said. "A lot of times in this game, I throw offspeed on fastball counts. I thought maybe he thought otherwise. I threw a fastball and he did a great job of getting on top of it."
Verlander (4-2) threw 116 pitches in seven innings, allowing two hits and two walks while striking out nine batters for his sixth consecutive quality start.
"We're trying to do our best," said Astros catcher Carlos Corporan, who singled in the seventh. "I feel like I faced three different pitchers every at-bat. He was changing speeds. My first at-bat he was throwing 87 [mph], my second at-bat he was throwing 96 and my third at-bat he was throwing 97. Just trying to put good swings and stay with the plan."
Wright, the longest-tenured member of the team, said the team's struggles are hard on several levels because they're such a young team and a lot of the players have never been through this type of grind on a daily basis.
"It takes a special type of person to get through these things, and we need to try to find what we need to go do get through them, because no one is going to feel sorry for us," he said. "And we don't expect anyone to. You have to find out what type of person you are and keep fighting."
On a day the Astros bumped Erik Bedard from the starting rotation, struggling right-hander Philip Humber was rocked for eight runs and eight hits in four innings to fall to 0-7 in seven starts, putting his rotation status in doubt. Porter wasn't about to make any decisions on Humber's future.
"We'll take the off-day and think about it and look at the schedule and how it maps out moving forward," he said. "I'm not going to make a knee-jerk decision sitting here today after the game. We'll think about our options and go from there."
After posting a 2.89 ERA in his first three starts of the season -- and not having any wins thanks to a lack of run support -- Humber is 0-4 with a 16.20 ERA in his last four starts, allowing 35 hits and 27 earned runs in 15 innings pitched.
"That's out of my control," Humber said when asked if he felt he would be removed from the rotation. "I definitely haven't done anything to prevent that from happening. Just try to control what I can. I come in and work as hard as I possibly can every day and right now it's not happening for me."
And not much is going right for the Astros, who can only hope a postgame talk and a day off will serve a good purpose heading into Tuesday's series opener against the Angels.
"Nobody's quitting, and if we have to fight we have to fight together," Corporan said. "We've got each other's backs. This is a team."
Brian McTaggart is a reporter for MLB.com and writes an MLBlog, Tag's Lines. Follow @brianmctaggart on Twitter. This story was not subject to the approval of Major League Baseball or its clubs.