DeRosa, Cabrera help Blue Jays snap skid
Melky smacks first home run for Toronto to back steady Morrow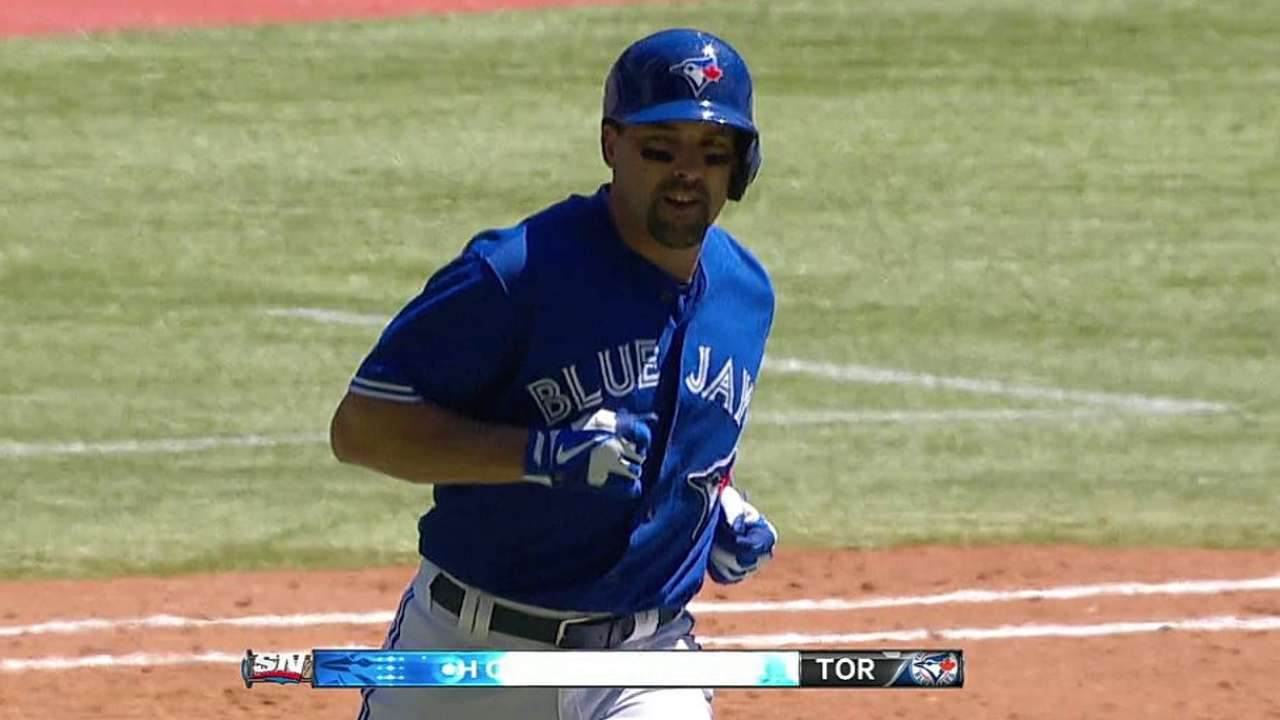 TORONTO -- The Blue Jays' offense broke out in a big way in front of 22,937 at Rogers Centre.
After recording only three runs in its last four games, which included a streak of 23 consecutive scoreless innings, Toronto strung together 15 hits. By the second inning, the Blue Jays had scored as many runs (three) as they had during their four-game losing skid.
With the offense clicking, Toronto starter Brandon Morrow didn't have much trouble picking up his first win of the season, pitching eight solid innings, as the Blue Jays defeated the Mariners, 10-2, on Sunday afternoon.
"That's a pretty good recipe today for winning. Great pitching, and we made a lot of things happen offensively," Blue Jays manager John Gibbons said. "It was a good game. We've been waiting for that one."
One of the big reasons the offense broke out was the bat of Melky Cabrera, who was the team's designated hitter for a second consecutive game because of leg soreness.
Cabrera, who has been struggling, picking up only seven hits in his last 10 games prior to Sunday, went 3-for-4 with his first home run for the Blue Jays, a pair of RBIs and a sacrifice bunt in the first.
"I've said it over and over that he's a good hitter. That's what he is," Gibbons said. "It was just a matter of time."
Cabrera's home run came at a pivotal time. After the Mariners had gotten to within one run, the 28-year-old Dominican native began the bottom of the fifth with a loud blast to left-center off the facing of the second deck.
"A guy like Melky, running out getting three hits, getting his first homer, we need him to swing the bat," said veteran Mark DeRosa, who hit a three-run homer later in the fifth and had two doubles and scored three runs. "He's been a great hitter his whole career. He got off to a slow start. For him to have a big day and get that monkey off his bat is huge."
The offense scored early and often, making things a lot easier for Morrow. Toronto's No. 2 pitcher tossed eight innings of two-run ball, allowing only three hits and five walks with eight strikeouts.
Other than an ugly fifth, Morrow was nearly unhittable. In that frame, however, the righty couldn't find the strike zone, walking the first two batters on eight pitches. He went on to walk four in the inning and allow two runs, one on a sacrifice fly, the other on a fielder's choice.
"Brandon pitched a heck of a game for us," DeRosa said. "Barring that one inning where he got loose with some walks. He just kept pounding the strike zone, he didn't give in, he kept the ball down. He did everything he had to do."
"I felt great the whole game," Morrow said. "Had some issues in the fifth inning, just kind of got a little too loose with my mechanics. But cleaned it up and was good the rest of the time."
Outside of the fifth, Morrow allowed only two hits and a walk.
"Brandon was just great today, there's no way around that," Gibbons said. "When you pitch like that, even if you don't score a lot of runs, usually you're going to win. We tip our hat to him."
"[Morrow] mixed it up quite a bit. He has good stuff. We were able to get a couple guys on but they didn't give us too many opportunities, and he got through," said Mariners third baseman Kyle Seager, who went 1-for-3 with a double.
It was the kind of game that has eluded the Blue Jays all season. A complete, clean game, where all three phases of the game were working.
It all started when the Blue Jays played some unselfish baseball in the first. After a leadoff double by Rajai Davis, Cabrera laid down a sacrifice bunt to advance the runner to third. Then Jose Bautista hit a sacrifice fly to very shallow right field, which Seattle second baseman Dustin Ackley lost briefly in the sun, causing him to fall and allow Davis to score.
After Cabrera's blast, DeRosa, who got a rare start at third in place of Brett Lawrie, provided some insurance by slugging a three-run shot to straightaway center.
"I'm very cognizant of my role, but when I get in there I want to produce," DeRosa said.
The victim of most of the Blue Jays' damage was Mariners lefty Joe Saunders, who allowed seven earned runs in five innings.
The Mariners' loss didn't come without a shining moment. Center fielder Michael Saunders made a spectacular leaping grab off the bat of J.P. Arencibia while running into the outfield wall in the third. A Canadian native, Saunders saved at least a run with the catch, as Bautista was on first.
"Big. No question about that," said Gibbons when asked how much the club needed a victory like that. "We were desperate for that. We needed something like that. We're not just waiting to go on a roll, we needed a win, and they're hard to come by."
Evan Peaslee is an associate reporter for MLB.com. This story was not subject to the approval of Major League Baseball or its clubs.