Saunders' road woes continue in loss to Jays
Left-hander allows seven earned runs; Mariners offense quiet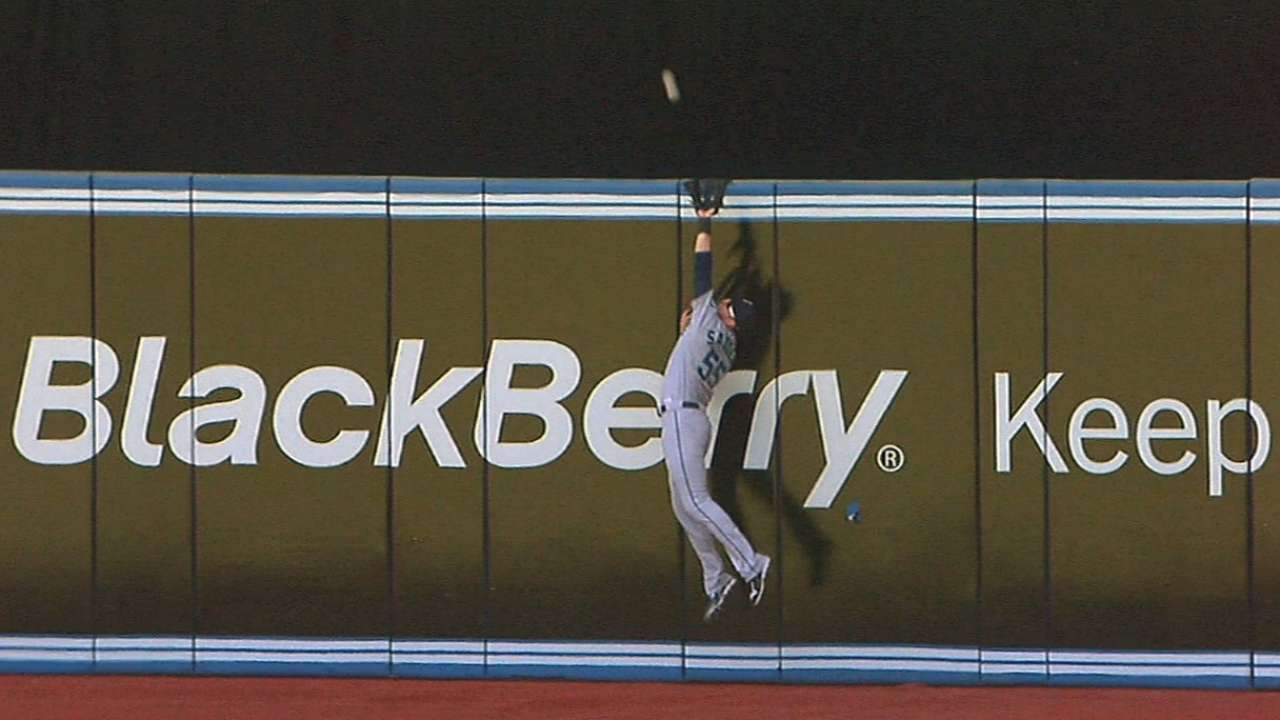 TORONTO -- Looking for their first sweep of the season, the Mariners came out flat against the Blue Jays on Sunday.
After outscoring Toronto by 11 runs over the first two games of the three-game set, Seattle's bats were cooled off north of the border, while lefty Joe Saunders' road woes continued. But despite having a three-game winning streak snapped, the club can take solace in the fact it has won three consecutive series.
Saunders was rocked for seven runs over five innings, and the Mariners were held to a season-low three hits in a 10-2 loss to the Blue Jays in front of 22,937 at Rogers Centre.
"It ended up being a tough day for him," manager Eric Wedge, regarding Saunders, who was coming off a complete-game victory against the Orioles. "[But] we are in the business of trying to win series. We won our series here and now we have to be ready to go to work in Pittsburgh on Tuesday.
"Today we struggled a little bit, but we have to separate from it."
Wedge thought Saunders did a good job attacking the zone, but the Blue Jays made him pay on pitches he left over the plate, beginning with Rajai Davis, who hit a leadoff double in the first.
It was a sign of things to come.
Seattle was forced to play from behind all game after Davis used his speed to score on Jose Bautista's sacrifice fly to the second baseman that gave the Blue Jays a 1-0 lead in the first. Saunders then surrendered a pair of runs in the second, as the Blue Jays capitalized after connecting on three consecutive hits to start the inning to go up 3-0.
The left-hander was lucky to contain the Blue Jays in the third, and he can thank center fielder Michael Saunders -- who has reached base safely in five of six games since returning from the disabled list -- for that.
With Bautista on second, catcher J.P. Arencibia hit a 3-2 pitch to deep center, but was robbed of extra bases after Michael Saunders made a brilliant leaping catch at the wall to end the inning.
"That was awesome, he saved me a couple runs," Joe Saunders said.
The catch appeared to be a potential turning point, as Joe Saunders worked through trouble in the fourth before Seattle's bats came to life against Blue Jays starter Brandon Morrow in the fifth.
Morrow entered the inning having retired 10 straight, but battled control problems in the fifth and Seattle made him pay.
Justin Smoak and Dustin Ackley drew back-to-back walks before catcher Jesus Montero hit a scorching infield single to third to load the bases. Robert Andino followed with an RBI groundout to cash one in, and two batters later, Kyle Seager hit a sacrifice fly to left to make it a 3-2 game.
But after loading the bases with nobody outs, Wedge wasn't pleased that his club couldn't put up more runs.
"He really gave us an opportunity, but we didn't take advantage of it. Other than that, [Morrow] was really good," Wedge said.
That was as close as the Mariners would get, as Joe Saunders couldn't keep his team in the contest.
Melky Cabrera led off the bottom half of the fifth by hitting his first home run as a member of the Blue Jays to put Toronto back up by two, and Joe Saunders melted down after that.
The 31-year-old walked Bautista and surrendered a single to Arencibia before Mark DeRosa clobbered a three-run homer to straightaway center to put the Blue Jays in front, 7-2.
"I'm very cognizant of my role, but when I get in there I want to produce," said DeRosa, who also had two doubles and scored three runs. "To play well is always nice."
All seven of Saunders' runs were earned and he allowed nine hits to fall to 2-4 with a 6.15 ERA. The four losses have all come on the road, where Saunders sports a 12.54 ERA compared to a 0.81 mark at Safeco Field.
Saunders, though, dismissed any concern over the extreme discrepancy in his splits.
"That's just a fluke," said Saunders, who has allowed six homers in his last four starts after surrendering none in his first three.
Toronto tacked on three more runs against Hector Noesi, who relieved Saunders and made his first appearance since April 26.
Morrow, who earned his first victory of the season, settled down after his rough fifth to retire nine of the final 10 batters he faced to help Toronto snap a four-game losing streak. Of the three hits Seattle managed off Morrow, only two left the infield. Despite walking a season-high five batters, Morrow struck out eight and completed eight innings for the first time this season.
"[Morrow] mixed it up quite a bit," said Seager, who has hit safely in 10 of his last 11 games. "He has good stuff. We were able to get a couple guys on but they didn't give us too many opportunities, and he got through."
The Mariners will get an off-day Monday before a two-game set against the Pirates.
"It will let everybody kind of bounce back and rest a little bit," Seager said. [We'll] try to take advantage of it."
Chris Toman is a contributor to MLB.com. This story was not subject to the approval of Major League Baseball or its clubs.