Pelfrey's best performance quiets streaking Tribe
Righty strikes out seven, holding hot-hitting lineup to one run in finale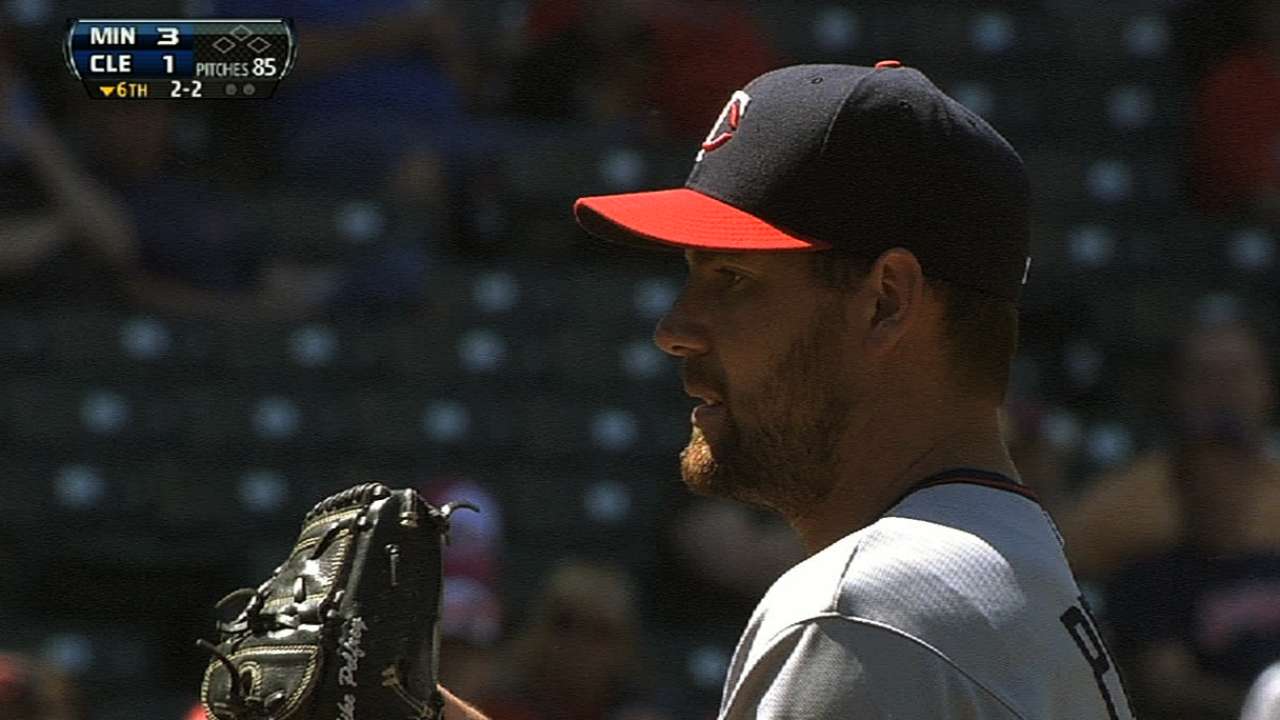 CLEVELAND -- It took until his sixth start, but the Twins finally saw what they were expecting from Mike Pelfrey when they signed him to a one-year deal worth $5 million this offseason.
Pelfrey, who had a forgettable April in his return from Tommy John surgery last May 1, turned in his best outing of the season, and Trevor Plouffe homered to lift the Twins to a 4-2 win against the Indians, avoiding a three-game sweep Sunday afternoon at Progressive Field.
"I feel good," Pelfrey said. "I kept telling myself I didn't think this could last the whole season. It definitely feels better than the last couple."
Pelfrey, who entered the game with a 7.66 ERA and just seven strikeouts in his first five outings, threw a season-high six innings, allowing just one run on four hits with seven strikeouts. The right-hander retired the last seven batters he faced, striking out four of them. It earned him his first quality start of the year and his third victory.
Twins manager Ron Gardenhire was impressed, but decided to play it safe with Pelfrey, taking him out after six innings and 92 pitches because the righty is still only a little more than a year removed from elbow surgery.
"This has been a heck of a comeback," Gardenhire said. "He's still just a year out of surgery, so we're kinda taking small steps. But the ball is coming out of his hand really good. His last outing was good, but this one was better. Hopefully he'll keep progressing. The velocity is getting better, the angle is getting better, and his velocity is improving. So it was a nice performance."
Plouffe got the Twins on the board with a two-run blast to left field off Indians right-hander Corey Kluber in the second inning. It was Plouffe's fourth homer of the year and his second of the series.
"I feel a little bit better at the plate," Plouffe said. "I'm seeing the ball. I'm happy that I used the whole field this series, because that's where I've been getting pitched. It's a game of adjustments."
Pelfrey gave up his lone run in the fourth on a sacrifice fly from Mark Reynolds, which scored Asdrubal Cabrera, who doubled and stole third under Plouffe's tag with one out.
"We really just couldn't get anything going," Indians designated hitter Nick Swisher said. "Then again, hats off to Pelfrey. I think that's the best game he's pitched this year. He was reaching 95, 96 mph. I haven't seen that all year. Good job for him."
The Twins tacked on insurance runs in the sixth and seventh innings, with Jamey Carroll scoring each time.
Carroll led off the sixth with a single and scored on a single from Justin Morneau with the bases loaded and nobody out. But Josh Willingham didn't see that Joe Mauer was held at third and caught up in a rundown between second and third. After Willingham's baserunning gaffe, Chris Parmelee and Oswaldo Arcia both struck out to end the inning and leave them loaded.
"I think Willy just saw the ball went past the cutoff man, and he took off," Gardenhire said. "But you have to know the situation. That kind of side-railed us a little bit."
Carroll reached via a walk in the seventh with two out against reliever Matt Albers and scored on an RBI double from Mauer. Mauer's double to left on a 3-1 fastball was his first extra-base hit since April 15 and broke a string of 64 consecutive plate appearances without an extra-base hit.
Relievers Josh Roenicke, Jared Burton and Glen Perkins combined to preserve the win for the Twins. Perkins allowed a Carlos Santana homer in the ninth, but still picked up his seventh save in as many chances.
It helped the Twins avoid a sweep and improve to 2-4 on their 10-game road trip with both wins coming in the final game of their series against Detroit and Cleveland. They now head to Boston for a four-game series against the Red Sox that begins Monday.
"No one wants to get swept, and unfortunately for us, we've put ourselves in these situations where we have to win the last game to get a game out of the series," Gardenhire said. "So we came back and were able to do that today, which is a good thing. But we'd like to start getting some of the early wins and start winning series."
Rhett Bollinger is a reporter for MLB.com. Read his blog, Bollinger Beat, and follow him on Twitter @RhettBollinger. This story was not subject to the approval of Major League Baseball or its clubs.