Braves pounce early, coast to win behind Hudson
Freeman, R. Johnson drive in three runs apiece in finale against Mets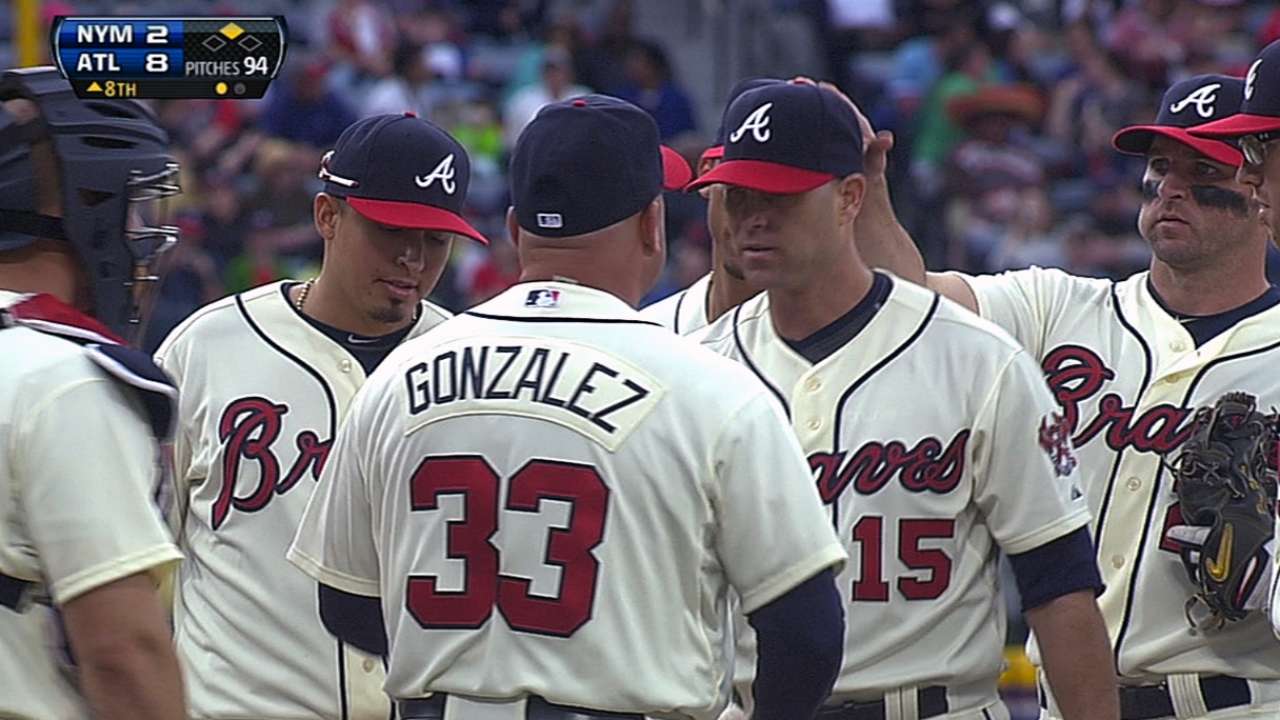 ATLANTA -- For all the talk about their home runs, the Atlanta Braves proved on Sunday that they could do damage with the walk.
The Braves took advantage of seven walks by Mets pitchers, cashing in five of them for runs, and got three RBIs apiece from first baseman Freddie Freeman and right fielder Reed Johnson in a 9-4 win over the Mets at Turner Field.
"I thought our approach at the plate offensively today was outstanding," said manager Fredi Gonzalez. "We had some deep counts and got some timely hitting. The last couple of games, our offense is picking up a little bit."
"We played really good baseball today on the pitching side and on the offensive side," added Freeman, who went 3-for-5, scored twice and drove in three runs. "We got a lot of pitches on [Mets starter Jon] Niese really early and we worked the counts, got into hitters' counts, and were able to put some contact on some balls and get them in the outfield and get them in the gaps. It was a nice day."
The win snapped a three-game home losing streak and gave Atlanta a 3-3 record on its homestand before it heads out on a 10-game road trip.
Tim Hudson raised his record to 4-1, earning his second win of the homestand and extending his unbeaten string to three straight starts. Hudson recorded career win No. 201 with a solid effort, allowing three runs on five hits over 7 1/3 innings, striking out seven while walking one. In addition to the seven strikeouts, he induced seven ground-ball outs.
"I felt all right out there," said Hudson, who threw 62 of his 94 pitches for strikes. "Early on, I was making some pitches. They came out pretty aggressive and I was able to get some quick outs."
Jon Niese (2-3) took the loss for New York. Niese, who had allowed 12 runs in his previous six starts, gave up seven runs on seven hits, striking out three but walking six in four-plus innings. Four of the six batters who walked scored.
Atlanta put runners on in every inning and took advantage in the third, sending 11 men to the plate and scoring five runs for Hudson, who batted twice, reaching via a walk his second at-bat.
Following Hudson's leadoff lineout, the next six Braves hit from at least a 1-0 count. Five of the six reached, including Freeman, who slammed a two-run double to the wall over the head of Mets left fielder Lucas Duda. When Niese finally threw a first-pitch strike, B.J. Upton reached on an infield hit, and then Reed Johnson, also first-ball hitting, lined an RBI single into center. Uggla scored to give Johnson his first RBI of the season.
"I haven't had a ton of RBI situations, but I've had plenty out there to where I should have more than zero RBIs," said Johnson, who had his last three-RBI game on Sept. 2, 2012, against Philadelphia. "But to be able to get three today was good for my confidence."
Following the long inning, Hudson had his only tough frame, as he lost the plate and walked leadoff hitter Daniel Murphy, then fell behind 1-0 on David Wright. Wright drove the 1-0 fastball out to center, cutting the lead to 5-2. It was Wright's third straight game with a home run, one short of his career-long streak.
"[The bottom of the third] was a long inning, but long innings are good when we're hitting," said Hudson. "Obviously, you never want to go out there and walk the leadoff guy whenever you've got a nice lead, especially with a guy like David Wright on deck. It was a stupid move on my end. I paid for it, but luckily I was able to settle down and get some zeros after that."
Atlanta supported Hudson by adding on, getting a two-run ground-ball single to left from Johnson in the fifth, and Freeman's second homer of the season, an opposite-field blast off reliever Jeurys Familia in the sixth. His three RBIs on Sunday gave him 29 in his career against the Mets, his most against any team.
Freeman, who has reached base in five of his last six games, took all three hits the other way.
"When any hitter's driving balls to the opposite field, you know they're getting locked in," said Gonzalez.
Hudson was equally as locked in on the pitching side, allowing only three hits after the Wright homer and only one baserunner as far as second base, a leadoff double to pinch-hitter Mike Baxter in the eighth. Only two of the final 13 Mets hitters reached.
"It's a good feeling whenever he takes the mound," said shortstop Andrelton Simmons. "I get a lot more work. He had the good sinker working in and out, and fortunately it gets my fielding percentage up."
Wildness hurt the Braves in the eighth as two walks, including one with the bases loaded, and a hit batsman brought in two more runs. Eric O'Flaherty walked in run on a 3-2 pitch but then struck out Marlon Byrd with the bases loaded to end the threat. Byrd had homered off O'Flaherty to tie Friday's game.
"We got through the eighth inning," said Gonzalez. "When that door opens, you don't want to see guys walking guys or putting people on. We'll get through it. [O'Flaherty] made a great pitch on Byrd with the bases loaded."
Simmons, who jump-started the five-run second with a double down the left-field line, and catcher Evan Gattis had two hits apiece for Atlanta, which pounded out 12 overall.
Gattis' multihit game was his sixth of the season, and he hit a team-high .350 (7-for-20) during the homestand.
Jon Cooper is a contributor to MLB.com. This story was not subject to the approval of Major League Baseball or its clubs.