Marson remains sidelined with ailing shoulder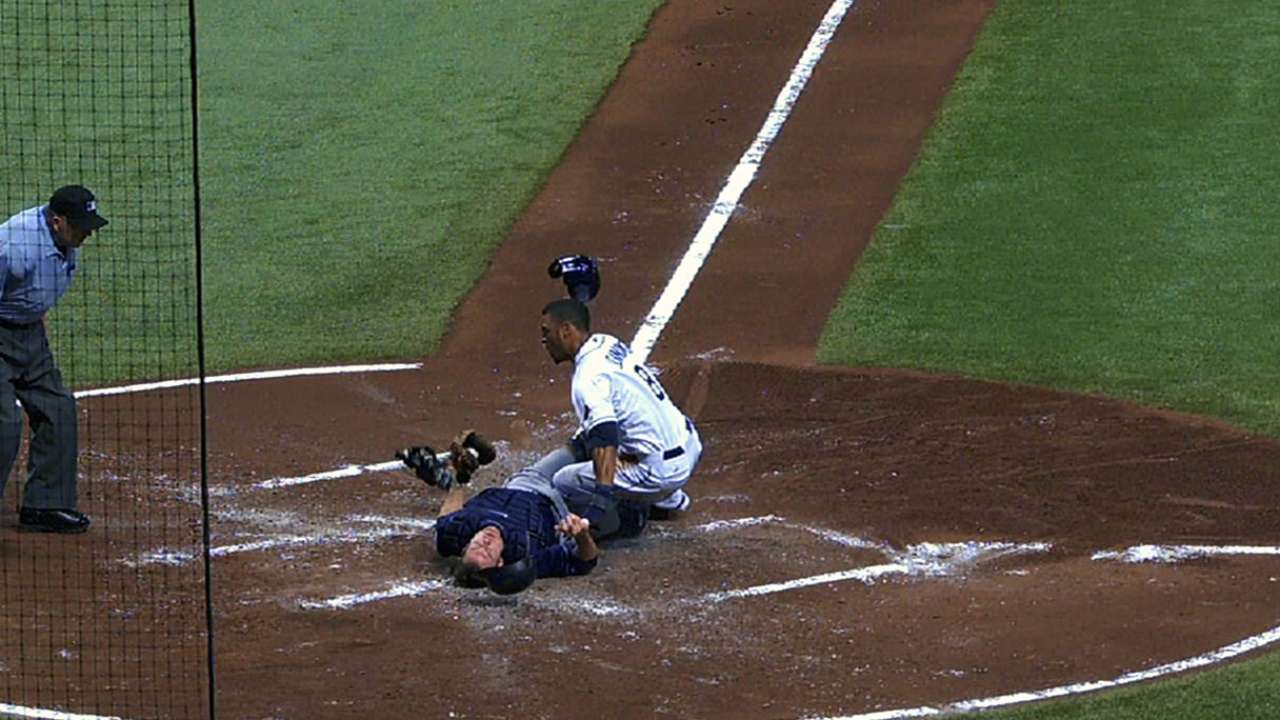 CLEVELAND -- Indians catcher Lou Marson has spent the bulk of the first five weeks of the season on the sidelines. Cleveland's backup behind the plate is dealing with a right shoulder issue, and there is no clear timetable for his return.
Marson is hoping to see some improvement in the near future.
"Hopefully we can get it going here so I can start playing some baseball," Marson said Sunday.
The 26-year-old Marson was placed on the 15-day disabled list on April 25 with the right shoulder injury, which flared up during Spring Training, but has been an on-and-off issue for a couple years. The catcher received a cortisone shot earlier this week and has not been cleared to resume playing catch yet.
Prior to the current ailment, Marson was shelved for two weeks in April after injuring his neck in a home-plate collision with Tampa Bay's Desmond Jennings on April 6. The neck strain forced Marson to stop throwing for the better part of two weeks, and the catcher said that down time led to his shoulder acting up again.
"I kind of got set back when I hurt my neck," Marson said. "I was starting to feel better. Usually, the more I throw, the better I feel, but I wasn't able to throw for a good 10-12 days. I was kind of set back."
Marson has allowed four stolen bases -- with no runners caught stealing -- in his three games played. Last year, the catcher saw his caught-stealing rate drop to 14 percent after throwing runners out at a 38-percent clip in his 2010 and '11 campaigns. Asked if the shoulder issue hurt his throwing ability last year, Marson shrugged.
"Maybe, maybe not," he said. "Maybe it was just a down year. It started bothering me in the spring. I haven't felt the same in a couple years. I need to get back to where I'm at the top of the league again and feeling good."
Catcher Yan Gomes has filled in admirably as a backup for the Tribe. Cleveland pitchers have posted a 3.24 ERA with Gomes behind the plate, he has thrown out three of five runners to attempting a stolen base, and he has hit .226 with two home runs and three RBIs in 11 games.
"He's doing great," Marson said. "We're playing good baseball right now. We've got to try to keep it going. They're swinging the bat well, and we've just got a lot of energy right now. It's a great atmosphere. Yan has been doing a nice job. Carlos [Santana] has been doing a nice job, too. That's nice to see."
Jordan Bastian is a reporter for MLB.com. Read his blog, Major League Bastian, and follow him on Twitter @MLBastian. This story was not subject to the approval of Major League Baseball or its clubs.