Gordon, Royals strike for walk-off against Sox
Butler's double in ninth also aids Kansas City's 11th comeback win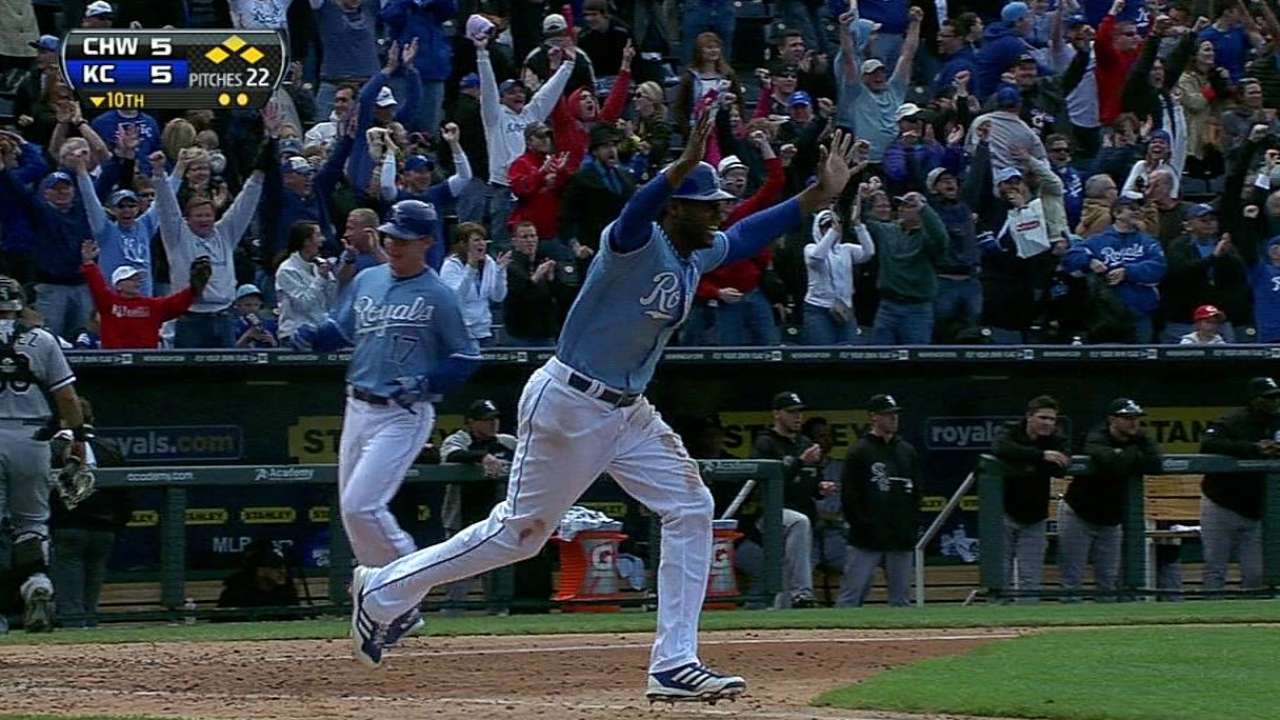 KANSAS CITY -- One strike from defeat, the Royals struck back.
Alex Gordon and Billy Butler emerged as late-inning, clutch-hit heroes for Kansas City in a 10-inning, 6-5 victory over the Chicago White Sox on Sunday at Kauffman Stadium. It was the Royals' fourth straight victory.
It all came down to Gordon's two-out, bases-loaded soaring fly ball in the 10th inning. Right fielder Alex Rios, who'd caught just about everything hit his way in this series, was in hot pursuit.
Could he get to it?
"Yes. But he didn't," Royals manager Ned Yost said. "As soon as it was hit, I thought he was going to catch it."
Gordon didn't think it would drop either.
"The way I was swinging it, no," he said. "I thought they were going to catch it. I thought I hit it pretty good and knew it had a chance, but I had a rough day to that point ..."
Tied 5-5, the Royals had loaded the bases against White Sox reliever Brian Omogrosso. Lorenzo Cain led off with a single and stole second base, while Omogrosso was in the process of getting two outs. The White Sox intentionally walked Chris Getz and unintentionally walked George Kottaras, filling the sacks for Gordon.
Gordon jumped on Omogrosso's first pitch and sent it into the right-center gap toward the wall.
"We didn't think he hit the ball that well, but it just kept going," Rios said. "It's one of those balls where you didn't think he hit it that well, and it just carries."
Cain, heading for the plate from third base, followed Rios' dash toward the wall. Rios reached and missed the ball by maybe two feet. Gordon was credited with a single.
"I was watching the ball the entire time. I was wishing, 'Drop, drop, drop, drop,' and I saw Rios wasn't able to get to it," Cain said. "Thank you, we'll take it."
That was Part II of the late-inning drama that netted the Royals their 11th comeback victory in a 17-10 season. Part I came in the ninth inning against White Sox closer Addison Reed.
Reed walked both Salvador Perez (Getz ran for him and advanced on a wild pitch) and Kottaras, who was pinch-hitting for Miguel Tejada. But Gordon and Alcides Escobar both flied out. The count went to 3-2 on Butler.
One more strike and the White Sox were 5-3 winners.
"I'd just gotten a fastball in and it ran pretty hard," Butler said. "I figured, well, he's out in front and he might go something offspeed, and he just left it up. I got a pretty good swing on it and got it in the gap. I was still sitting on a fastball, but you can't eliminate any pitches then, because he's not going to lay one in there for you."
Butler drove the ball into the right-center gap and nobody was getting close to this one. As the ball bounced to the wall, Getz and Kottaras fled for home and a 5-5 score.
"I was just wild and couldn't get comfortable out there. I was all over the place," said Reed, charged with his first blown save in 11 chances this year. "I was missing spots big time. The 3-2 pitch to Butler was a hanging slider -- terrible pitch. I hung it and he made me pay for it."
When Eric Hosmer promptly scorched a liner to left field, it momentarily looked like a game-ending hit, but Alejandro De Aza rushed in for the catch.
So it was on to extra innings and Royals closer Greg Holland followed Luke Hochevar's two perfect innings with one of his own.
Before long, Cain logged his third hit of the game, boosting his average to .341, and scoring the winning run.
"He's having a great year. It's still really early, but I think you could start considering him for the All-Star team," Yost said. "He's playing great defense and swinging the bat really well. And that was a huge stolen base there in the last inning to set some stuff up."
All-Star? Heady territory for a guy who missed much of last season with injuries.
"It's great to be mentioned and considered, but I don't worry about the All-Star stuff, I just go and play my game," Cain said. "That's all I worry about. Just find a way to help this team win this ballgame today is the most important thing to me."
For a while on Sunday, that seemed unlikely to happen. Left-hander Jose Quintana held the Royals hitless until the fifth inning, but they broke out for three runs to give starting pitcher Wade Davis a 3-1 lead.
Davis got through six innings, but the bullpen faltered in the seventh as the White Sox scored four times to go ahead, 5-3. Tim Collins gave up three hits, including a two-run double. Aaron Crow took over and wild-pitched another run home, then gave up a solo homer to Rios.
Even then Davis, watching from the sidelines, was sure something good would happen.
"It's a pretty unique offense and they never think they're out of the game," Davis said.
Sure enough, the Royals had another comeback victory in them, as well as their third extra-inning game without a loss.
"We just have great chemistry around here," Gordon said. "Everyone's going out there for the same goal, and that's to win and have fun. And that's what we're doing."
Dick Kaegel is a reporter for MLB.com. This story was not subject to the approval of Major League Baseball or its clubs.