Gio settles in, benefits from pair of Nats homers
Espinosa, Moore go deep as Washington wins series over Pittsburgh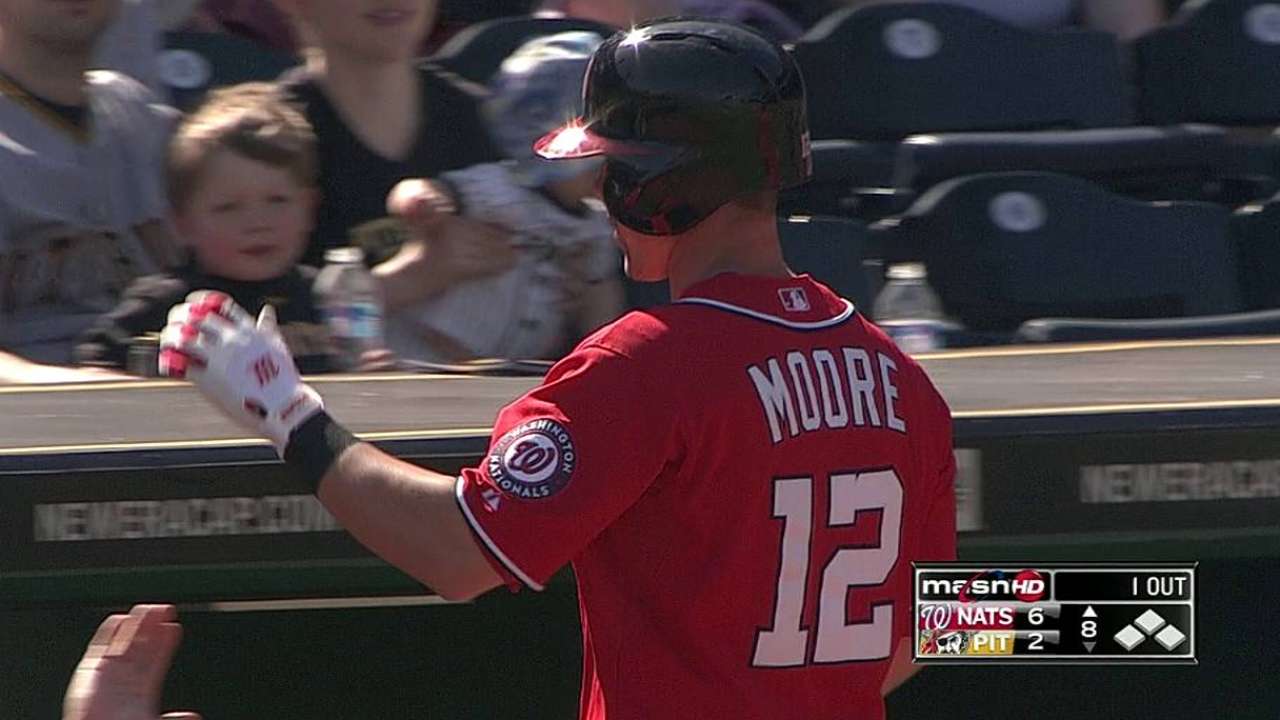 PITTSBURGH -- It's safe to say that left-hander Gio Gonzalez was a lucky pitcher on Sunday afternoon at PNC Park. After getting off to a slow start, Gonzalez pitched a solid six innings and helped the Nationals defeat the Pirates, 6-2.
Things started shaky for the Nationals in the top of the first inning, when left fielder Bryce Harper was ejected after striking out. With two outs, Harper worked the count to 2-2 against left-hander Wandy Rodriguez, who threw a curveball to Harper. It looked like Harper checked his swing, but third-base umpire John Hirschbeck ruled it a swing to end the inning. A few seconds later, Harper was ejected by Hirschbeck and replaced by Roger Bernadina.
"I was going to give Harper the day off, but I didn't expect it to go that way," manager Davey Johnson said.
Harper, who is nursing a sore left side, wouldn't say what happened during the incident. In fact, he said he didn't know what caused it.
"It's just something that happened. I'm glad it didn't cause the outcome of the game where we are losing. We got the 'W' today and things like that happen," Harper said.
Hirschbeck explained to MLB.com why he ejected Harper.
"First of all, he put both arms up in the air. To me, I felt like that's showing me up," Hirschbeck said. "I yelled at him and warned him to stop. And then he continued and he slammed his bat down. I actually warned him again and then the next thing he slammed his helmet down, and I felt three warnings are more than enough."
Things would get worse for Washington in the bottom of the first. Gonzalez threw 27 pitches as he had a tough time throwing strikes. On the first pitch he threw, Starling Marte gave Pittsburgh a 1-0 lead by hitting the ball over the left-field wall for his fifth home run of the season.
After Jordy Mercer doubled, Andrew McCutchen reached on a throwing error by Ryan Zimmerman. Gaby Sanchez then walked to loaded the bases before Gonzalez struck out Russell Martin and Michael McKenry. Brandon Inge then battled Gonzalez for eight pitches before grounding out to shortstop Ian Desmond to end the threat.
"We had a chance to push [Gonzalez] out the door, at least create some separation early," Pirates manager Clint Hurdle said. "We missed that opportunity. All we had was Wandy's single until the sixth inning. [Gonzalez] locked down his command, the breaking ball came into play, the changeup and he obviously challenged us."
Once Gonzalez went into the dugout, the Nationals were grateful that he held Pittsburgh to one run. It helped that the infielders, including Desmond and Zimmerman, calmed Gonzalez down.
"We got the three outs, you see your dugout get lit up with joy and excitement," Gonzalez said. "It just felt like the momentum shifted. You want to go out there and attack the strike zone.
"Each one of [the infielders] were coming up to me just trying to calm me down. I'm not going to take any credit away from [catcher] Wilson Ramos. He called a great game, he mixed it up, he saw them being aggressive and he slowed it down."
Said right fielder Tyler Moore, "Gio kept us in the game. That why we won today."
While Gonzalez settled down, the Nationals built a 3-1 lead by the fourth against Rodriguez. In the second, Washington had runners on second and third with one out when Danny Espinosa hit a sacrifice fly to right, scoring Zimmerman to tie it at 1.
Two innings later, Espinosa swung at a 2-2 pitch and hit a two-run homer over the left-field wall for a 3-1 lead. That proved to be the game-winning hit.
"Danny hasn't been swinging the bat from the right side this year like he did last year," Johnson said. "He had pretty good at-bats. I was really pleased with his approach today. On the two-strike curveball, he didn't try to crush it. He just met it. He is so strong, it went a long way."
The Pirates scored their last run off Gonzalez in the sixth, when Sanchez came around from first on a double by Martin to make it a 3-2 game.
Washington put the game out of reach against Pittsburgh reliever Bryan Morris. With a runner on first, Hurdle decided to intentionally walk Adam LaRoche in order to face Moore, who had struck out three times.
"[LaRoche has] been on base all weekend. He's seeing the ball good," Hurdle said. "We figured we'd go right-on-right and see how that played out. It didn't go very well."
Moore said he understood why the Pirates decided not to pitch to LaRoche.
"It fires you up a little bit, but you can't blame them. I would have done the same thing," Moore said. "LaRoche was swinging a good bat and I was struggling early."
But Moore didn't strike out a fourth time. Instead, he hit a three-run homer to make it a four-run game.
"It relieved a little bit of tension, of course. I was pretty mad at myself, it was hard taking those strikes, but the pitches were good," Moore said. "I was able to redeem myself. I'm just very proud of Gio for what he did. He had a lot of adversity in the first inning and came back. It was good win for us."
With the victory, the Nationals have won two straight to improve to 17-15.
Bill Ladson is a reporter for MLB.com and writes an MLBlog, All Nats All the time. He also could be found on Twitter @WashingNats. This story was not subject to the approval of Major League Baseball or its clubs.