Ogando leads way in another strong pitching effort
Gentry homers on three-RBI night after Kinsler's blast sets tone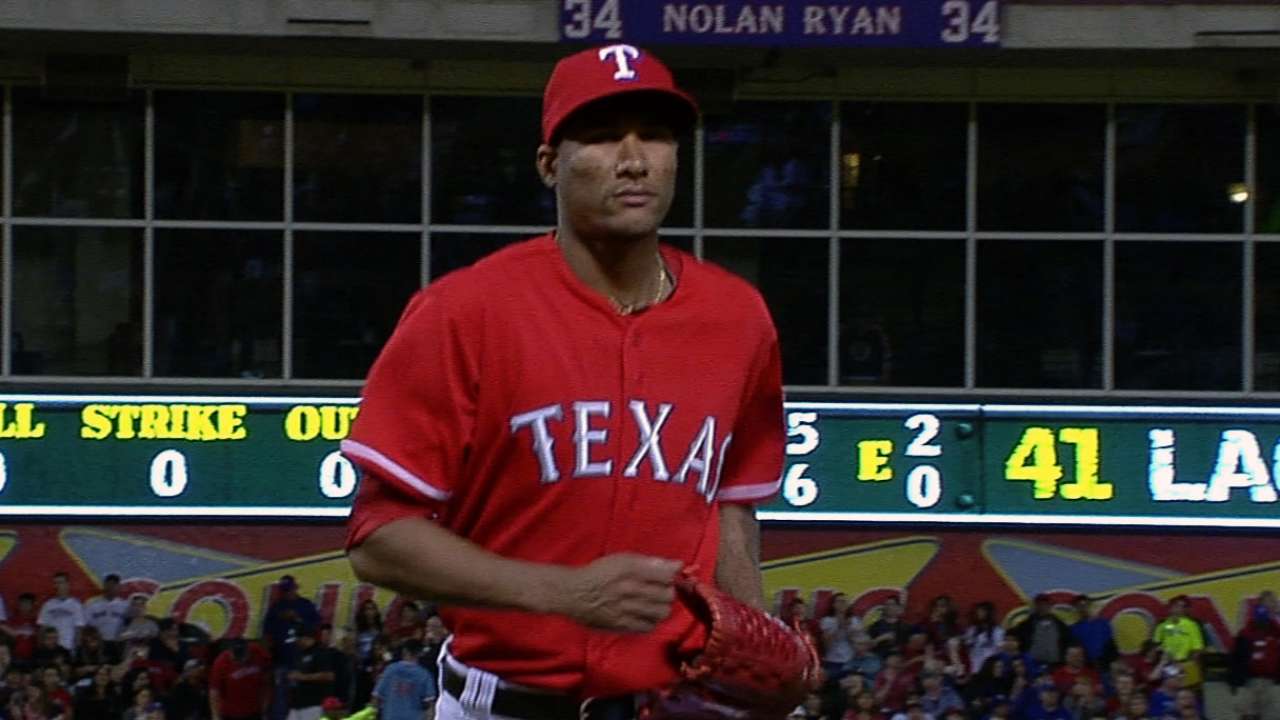 ARLINGTON -- If the Texas Rangers aren't careful, they're going to ruin their well-earned reputation.
Even before the Rangers moved into the launching pad known as Rangers Ballpark in Arlington, Texas was known as the place where pitching came to die. Offense has been the Rangers' calling card throughout the years.
Juan Gonzalez, Pudge Rodriguez, Rafael Palmeiro, Will Clark, Rusty Greer, Nelson Cruz, Josh Hamilton, Adrian Beltre ... the list of Rangers sluggers goes on and on.
A pitchers' roll call? Not so much.
Until now.
The transition the Rangers have been making over the last six or seven years, loading the organization with pitching prospects while trading for and signing others, appears complete.
For the second straight game, Texas' pitching put Boston's red-hot bats in the deep freeze Saturday and the Rangers iced the Red Sox, 5-1.
The Red Sox arrived in Texas with the best record in baseball, but they've been held to a single run over the last 18 innings and lost the first two games of a series for the first time this season. Right-hander Alexi Ogando followed Derek Holland's superb scoreless outing in the series opener Friday with six strong innings of his own, giving up only one run, and the Rangers bullpen took it the rest of the way.
"I don't know if it's a transition, but for the last three years we've been a pitching-type team and a defense-type team," manager Ron Washington said. "It's not right to stereotype us anymore.
"We just want to be complete. That's been the mantra since I got here: be a complete team; do what the game asks you to do. Yeah, that is a good [Red Sox] team over there, but they're playing a pretty good team, too."
The Rangers offense has had its struggles at times, but when a team pitches well, it's always in the game.
"Everybody's more relaxed when we're pitching the way we are right now," said second baseman Ian Kinsler, who led off the game with a home run for the 28th time in his career. "That makes it easier on everyone."
Red Sox starter John Lackey was solid as well, giving up just three runs in five innings, but although Ogando allowed nine baserunners (six hits, two walks, a hit batter) in his six-plus innings, he made pitches when he had to make them.
"It was definitely a battle," Ogando said through an interpreter. "When you have runners on base, you just have to battle it out."
Said catcher A.J. Pierzynksi: "They hit some balls hard, but we had guys in the right place."
One of those was Craig Gentry, who made a rare start against a right-hander because David Murphy was ill. Gentry's speed was at the center of a two-run Texas fourth that snapped a 1-1 tie.
Gentry beat out a bases-loaded, two-out chopper to third and when third baseman Will Middlebrooks, rushing his throw, threw wide at first base, a second run came home.
"Speed kills," Washington said.
So does power, as the Rangers know well, and Gentry flashed some of that, too, with a two-run, eighth-inning homer off reliever Koji Uehara that provided breathing room, bumping the Texas lead to 5-1.
Kinsler had greeted former UT-Arlington right-hander Lackey with a first-pitch home run into the left-field seats to open the game, the second time he's done that against Lackey.
The Red Sox knotted the game at 1 in the second when cleanup hitter David Ortiz banged a double off the left-field scoreboard and scored on Daniel Nava's one-out line single to center. It's the only run the Sox have scored in this series.
Joe Nathan shut the Sox down in the ninth, though Gentry's home run wiped out the save opportunity.
"We can play baseball," Washington noted, not exactly a stop-the-presses statement with the Rangers going to the World Series twice in the past three years. "Some nights we play a little ugly, some nights we play good. When you play 162, some are going to be ugly."
Good pitching, however, keeps that to a minimum.
"You have to give credit where it's due," said Red Sox manager John Farrell. "Their starting staff, their pitching staff, is a very good one. They stay out of the middle of the plate."
If scoring just one run in the first 18 innings of this series isn't bad enough news for the Red Sox, consider this: The Rangers will send ace Yu Darvish (5-1, 2.33 ERA), the team's April Player of the Month, to the mound in the series finale Sunday.
Pitching has finally come to Texas. Get used to it.
Jim Reeves is a contributor to MLB.com. This story was not subject to the approval of Major League Baseball or its clubs.