Miggy hits two homers as Tigers rout Astros
Slugger ties career high with six RBIs; Scherzer strikes out eight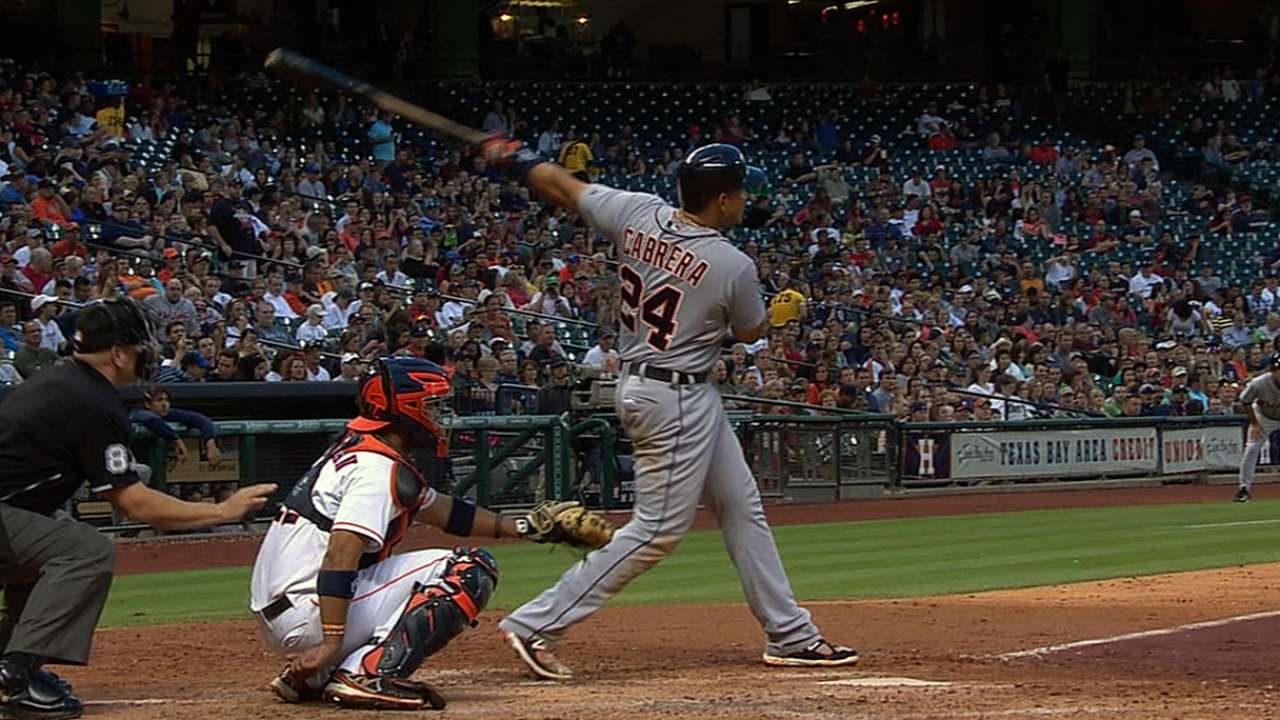 HOUSTON -- The Detroit Tigers were all they can be Saturday night.
Miguel Cabrera delivered six RBIs and the Tigers pounded the Astros, 17-2, at Minute Maid Park, setting season highs for runs, hits (21) and margin of victory. Add a near-spotless pitching performance by Max Scherzer and that's about as good as it gets.
"What you witnessed was why they were the American League champions last year," Astros manager Bo Porter said. "They rolled out their 'A' game and it was pretty impressive."
Awesome would be a more accurate word for Cabrera.
The 2012 AL Triple Crown winner hit two homers, a two-run shot in the second and a solo one in the sixth -- giving him six for the season -- drove in two more runs with a pair of singles and worked a bases-loaded walk for another RBI.
The six RBIs tied his career high and pushed him ahead of Boston's Mike Napoli for the AL lead in RBIs with 36.
"I was swinging the bat good today," Cabrera said. "I swing at good pitches. Make something happen. It's always great to start good, give Max a lot of run support."
The temperature was a pleasant 78 degrees and sunny at game time. It felt more like home for the Venezuelan native.
"It means a lot," Cabrera said of the warm weather. "We've been hitting in tough weather, rain, 30 degrees. Right now we can loosen up. You have more bat speed. You feel more comfortable. You don't worry about the inside pitch. You're more relaxed and you can make something happen."
He did.
"He's awful good," said Tigers manager Jim Leyland, running out of superlatives for Cabrera. "That's in the book. He's a special player.
"A lot of guys did things tonight. You play a game like that every once in a while where you hit it hard, it falls in. You hit it soft, it falls in."
The Tigers hit many more balls hard than soft among their 21 hits, eight of them for extra bases.
"Nobody likes to see these kind of games," Leyland said of margin of victory. "You want to win the game, but this one got a little ugly."
"It was just one of those days that even when you make a good pitch they still get a hit," said Houston starter Lucas Harrell, who surrendered eight runs and 10 hits.
Scoring six runs in the first two innings made Scherzer (4-0) nearly unbeatable. He pitched eight innings, gave up just three hits and struck out eight.
After giving up a leadoff single in the bottom of the first, he retired 16 in a row. The only blemish on his line was a two-out homer by Carlos Corporan in the seventh.
"That early in the game, when you get run support, it really doesn't change [the way you pitch]," Scherzer said. "You're still on the attack. You want to take it right to them. You can't play the scoreboard that early. As it gets later in the game and it's way out of hand, you turn back to normal when it's 10-plus runs. Over the course of the game, it really doesn't matter. It's a luxury to be part of this team."
Scherzer didn't get too excited about his pitching.
"I thought there were some good things," he said. "My curveball tonight was even better. A couple of times I fell behind hitters. I did a pretty good job of challenging guys. Sometimes you try to be perfect. I didn't think my slider was particularly good. I hung a few.
"I got in a rhythm, got in a groove. That's because our hitters gave me a lead. There were long innings, so it was hard to get in a groove. But I was able to maintain it. I've put together a pretty good string of having quality stuff. I keep moving up, keep getting better."
Leyland has grown accustom to seeing Scherzer dominate opponents.
"He was very good, obviously," the manager said. "But I've seen him as good or better than that. Sometimes it's a little different when you have that much of a lead to work with. You're not really maxing out like you do when you get in jams in a close game. He pitched very well and gave us some much needed innings. Both managers needed innings from their starters tonight because of the 14-innning game [Thursday night]."
Veteran Victor Martinez came alive again in the series. He contributed a two-run double in the first inning and a two-run homer in the ninth.
"Victor's a very professional hitter," Leyland said. "He's in a real good RBI spot because of those two big guys [Cabrera and Prince Fielder] ahead of him. If he got going, that would be very good news for the manager."
Martinez has been hitting the ball hard, but not finding many holes.
"I'm going out there and trying to do something I have done my entire career," he said. "It's been tough. Every time you square the ball, you want the ball to fall [in for a hit]."
Martinez said he hasn't made any changes in his swing.
"I go out there and keep working," he said. "It's been weeks. I've been driving the ball. I just thank God for being here and being healthy. I always say, whoever works hard deserves to get better."
Gene Duffy is a contributor to MLB.com. This story was not subject to the approval of Major League Baseball or its clubs.