Hamels outdueled by Fernandez as Phils shut out
Lefty gives up just two solo shots; Philly can't figure out Miami rookie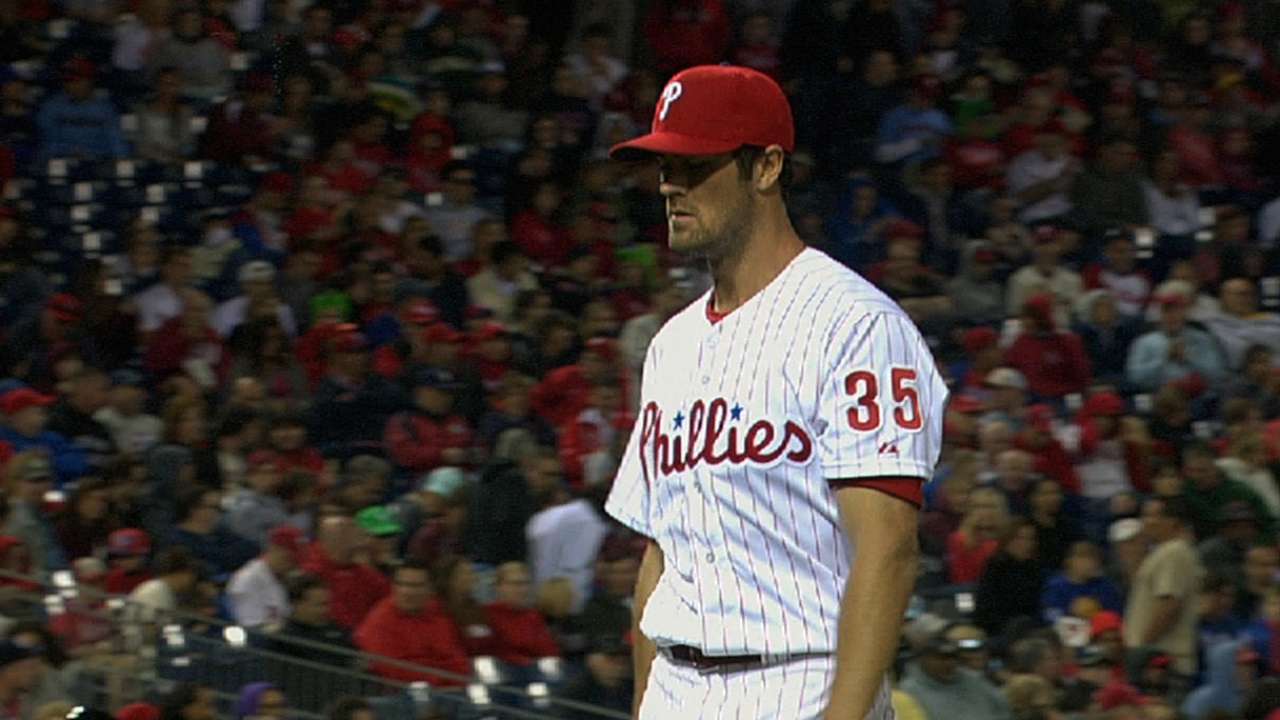 PHILADELPHIA -- Charlie Manuel has had his moments this season, more than he'd like, where he's had to sit there after a game and talk about how his team didn't score many runs. In fact, the Phillies have scored three or fewer 17 times already this season. They were shut out Saturday for the fifth time in their last 18 games.
The manager is a hitting guy and more often than not, his frustration is pretty obvious. Not Saturday, though. Not even though the Phils lost, 2-0, to the last-place Marlins at Citizens Bank Park. Not even though they got just one hit. Not even though Ryan Howard and Chase Utley combined to strike out five times. Not even though they didn't get a runner past first. Not even though they only managed to get six balls out of the infield all night, wasting a terrific start by Cole Hamels.
This time, Manuel just figuratively shrugged and tipped his cap to 20-year-old Marlins right-hander Jose Fernandez.
"[Hamels] was good. He just ran into a better guy," the baseball lifer said philosophically.
Think about that for a minute. Hamels was the Phillies' Opening Day starter. He's in the first season of a six-year, $144 million contract extension. Fernandez is 20 years old, and before this season, hadn't pitched above Class A. Hamels already has 91 big league wins. Fernandez, who needed just 82 pitches to buzz through seven innings, notched his first victory. In his final inning, he threw a 97-mph fastball, according to the stadium radar.
"He was filthy," said shortstop Jimmy Rollins.
Added Hamels: "He's really impressive. He's going to be a really great pitcher for a really long time, because he came up early and he's going to learn how to pitch, if he doesn't already know how to. He's got a power heater, power curveball, pretty good changeup. And he's not afraid. And that's ultimately what separates him. He's not afraid to throw any pitch at any time. He definitely challenges hitters, and that's going to help him out in the long run. He's going to put up pretty good numbers in his career."
Only twice did the Phillies get a runner on against Fernandez. Both times it was Freddy Galvis, who started at third base to give Michael Young a rest. Galvis singled with one out in the first and walked to lead off the seventh.
Fernandez made his second career start against the Phillies on April 13 at Marlins Park and shut them out on two hits through six innings. And he was even sharper this time around.
"Down there, he was challenging with his fastball. He was just a two-pitch pitcher," said left fielder Domonic Brown. "This time he used all his pitches and mixed them up the whole game."
Added Manuel: "He was better. His breaking ball had more bite and he threw strikes."
The Phillies have scored three or fewer runs in four of Hamels' last five starts, including being shut out twice. In that span, he's 1-2 despite a 2.31 ERA, and the Phillies are 1-4 in those games.
"It stinks as a hitter," Brown said. "We're doing our best to score runs for Cole, and then we go out and buy one hit. But that's baseball."
Hamels insisted once again that he won't become frustrated.
"I don't think it's anything I haven't already learned," he said. "I've pitched a few years here in the big leagues and had some instances where I didn't get the runs. You have to keep playing the game, because it can definitely turn around."
Hamels was facing a Marlins lineup that was without slugger Giancarlo Stanton, who is on the disabled list with a strained hamstring. Which only proved once again that, in baseball, you really never know. Marlins right fielder Marcell Ozuna led off the top of the second by hitting Hamels' first pitch into the seats in left-center. Second baseman Chris Valaika followed with a one-out shot in the third.
It was Ozuna's first career home run. It was Valaika's second -- and first since Aug. 27, 2010. Or, to put it another way, they now have as many combined lifetime home runs as Stanton had in his last three games before going on the DL.
There have already been a lot of postgames this year when Manuel has been openly unhappy about the approach his hitters have had at the plate, the lack of production, the stagnant offense.
Saturday night wasn't one of them, even though the Phillies managed just one hit for the first time since 2010, and for just the third time in the 10-year history of Citizens Bank Park.
"This was just a case of a guy who has a lot of talent who was on," the manager said. "He brought his game to the yard. He was really good."
And, really, there was nothing more to say.
Paul Hagen is a reporter for MLB.com. This story was not subject to the approval of Major League Baseball or its clubs.