Richard's struggles continue against D-backs
Padres lefty stung by six-run second inning in San Diego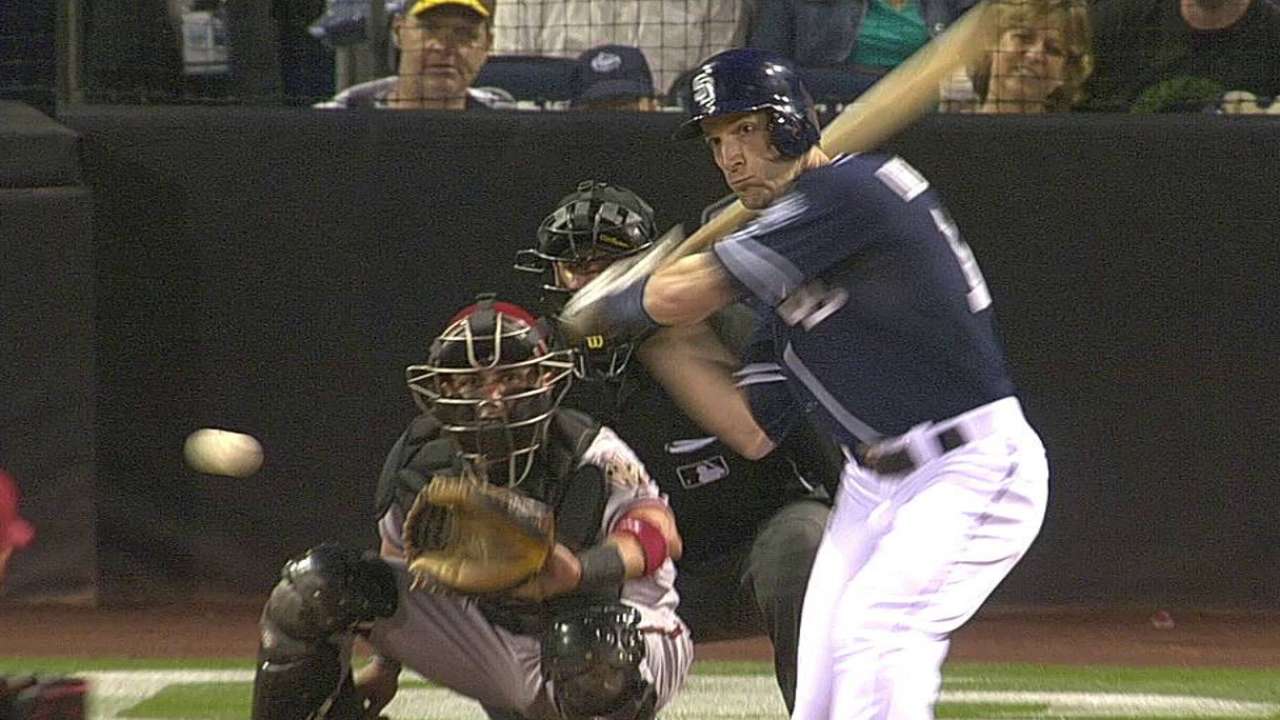 SAN DIEGO -- Clayton Richard's struggles continue.
The left-hander gave up seven runs on seven hits and four walks in 3 2/3 innings in Saturday's 8-1 loss to the Arizona Diamondbacks at Petco Park.
Last season's most consistent Padres starter has given up 18 runs and lasted a combined 11 innings over his past three outings. He's allowed five-plus runs at Petco Park twice this season, after doing so just three times in his career prior to 2013.
Through six starts, Richard is 0-4 with an 8.54 ERA. The man who pitched 218 2/3 innings in 2012 is averaging just 4 1/3 innings per start.
Whether his next outing comes on schedule has not been determined.
"I'm not going to give you an answer about that right now," Padres manager Bud Black said. "We're going to talk about that."
Richard has been a bullpen savior in recent seasons, providing steadiness to a starting rotation in flux. This year, Richard is part of the problem.
The 29-year-old is committed to find a solution to his inconsistency. Black has no reason to doubt that.
"One thing I'm never concerned about is Clayton's work ethic and commitment to the team," Black said. "He is all in. I believe he'll get this straightened out, but he knows he has to pitch better."
Whether Richard has a chance to pitch as scheduled on May 10 at Tampa Bay won't affect him.
"That's not in my control, and it's not worth me worrying about," Richard said. "Whatever that situation is, I'm going to work as hard as I can to get better. It plays no factor in my drive to help this team win.
"I'm going to grind it out and take care of what I can control."
Richard planned to stay late and review film of his performance and formulate a plan for the future.
"We have to find that answer," Black said. "We have to find a way to string good pitches together and build some positive momentum. Over the course of an outing, a starting pitcher is stressed at least once. It's critical to minimize damage in those situations, and Clayton hasn't done a good job of that this season."
The D-backs capitalized on a number of mistakes in a six-run second inning that proved to be the knockout blow.
The fist six batters reached base, and all of them scored, thanks in part to an error by Richard.
Richard threw a sacrifice bunt wide of first baseman Yonder Alonso, which allowed a run to score. He followed the mistake with an elevated fastball to A. J. Pollock, who drove in two runs with a ground-rule double.
The D-backs sent 10 men to the plate, and the Padres never recovered.
"Richard was a little different than he normally is," D-backs manager Kirk Gibson said of the left-hander who entered the game 6-0 in his career against Arizona. "He was leaving some balls up and out over the plate, and we were patient and got some walks. Then when he threw the ball over the plate we had some good swings."
That's Richard's issue in a nutshell. He's missing with location, falling behind in count and elevating pitches when he has to throw a strike. That's a formula that typically produces unwanted results.
It put the Padres way behind, but the home team seemed out of joint all night.
They botched a pair of routine defensive plays, and the offense was largely dormant after a 14-hit attack scored seven runs the night before.
The Padres never seriously threatened D-backs starter Patrick Corbin (4-0), who pitched seven innings and allowed one run on five hits. He also struck out seven.
San Diego avoided a shutout thanks to a seventh-inning home run to left by center fielder Chris Denorfia, which cut the lead to 8-1, but the Padres couldn't convert after loading the bases in the eighth.
"As a starting pitcher, it hurts to put your bullpen and your team in the situations I've put them in recently," Richard said. "It's disappointing, but it's reality."
Scott Bair is a contributor to MLB.com. This story was not subject to the approval of Major League Baseball or its clubs.