Cardinals win fifth straight behind Jay's big day
Outfielder moves past tough April with homer, winning single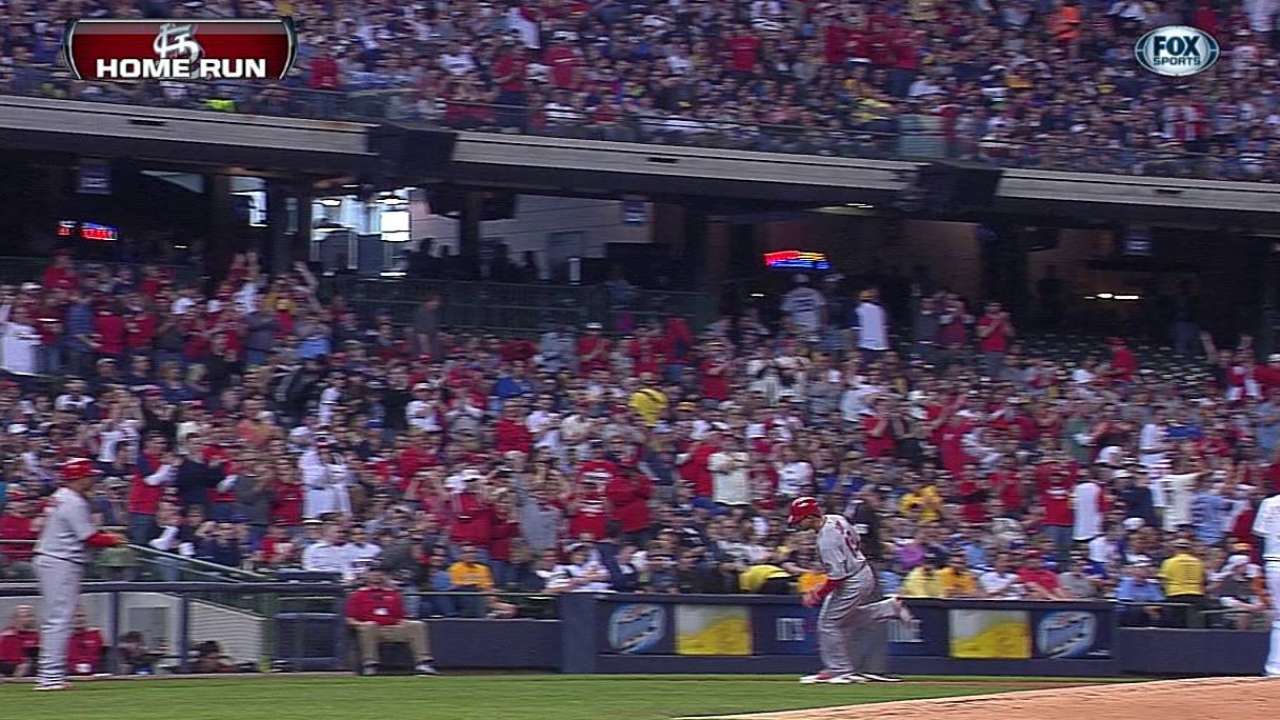 MILWAUKEE -- Jon Jay has put behind his April struggles and the timing couldn't have been better for Adam Wainwright and the Cardinals.
Wainwright struggled for the first time in seven starts, but Jay broke a tie with a ninth-inning single that scored Shane Robinson, lifting the Cardinals to their fifth consecutive victory, a 7-6 win over the Brewers on Saturday at Miller Park.
"When we go out there and we battle we have a pretty good offense," Jay said. "That's what you've seen from us the last couple of days. That's the mindset we have to have every single day."
Jay also hit a three-run homer in the second inning and is 6-for-10 with six RBIs in the first three games of the series.
"What a big day he had," manager Mike Matheny said. "He showed some real juice off the bat on the home run."
With Jay in an 0-for-21 slump in mid-April, Matheny sat his center fielder for two days. He worked with hitting coach John Mabry and made some mechanical adjustments to his swing, and the changes are paying off with the team in Milwaukee.
"He made some pretty big overhauls, I think you guys can see, mechanically," Matheny said. "The ball sounds different coming off his bat right now. He's seeing the ball well and his timing looks right. It's a hard adjustment to do mid-season."
Jay said he always wants to play, but that the time off to work on his swing helped.
"It definitely helps when you get time to go in the cage and work on a couple of things," Jay said.
The Cardinals also got homers from Allen Craig and Daniel Descalso, both hitting their first homers of the year. The offense picked up Wainwright, who gave up five runs on 11 hits in 5 1-3 innings.
Despite struggles by the offense and the bullpen, the Cardinals have the best record in the National League.
"If you look at our offense, we knew these guys were going to hit," Wainwright said. "We're going to keep pitching. What a deadly team if you keep pitching and start knocking the ball around like we know we can. A team that can win in a lot of different ways.
"Today was a case where our hitters and our defense just played amazing ball and did enough to win against a very tough pitcher," he said, referring to Milwaukee starter Yovani Gallardo. The Cardinals won when Robinson led off the ninth against Jim Henderson (2-1) by hitting a hard single that bounced out of center fielder Carlos Gomez's glove for an error that allowed him to advance to second.
Robinson then stole third without a throw and scored on Jay's sharp single to center to give the Cardinals the lead.
"We're fortunate our starting pitching has been doing as well as it has been," Robinson said. "We're hoping that our hitting will get hot and stay hot when the pitching is hot as well. It's going to be fun to play some ball during that time as well."
The Brewers came into the series 1 1/2 games out of first but have fallen to 4 1/2 behind the Cardinals with the final game of the series on Sunday.
"Those guys just battle back, man," said Jonathan Lucroy, whose pinch-hit single scored two runs and gave Milwaukee a 5-4 lead in the sixth. "I tell you. They are a very difficult team. It's tough -- it's like us with the Pirates. It's one of those things where you have to keep grinding it out, and one of these days, it will go our way."
Seth Maness (1-0) got Jean Segura to bounce into a double play to end the eighth to get credit for the victory. Maness entered after Milwaukee's Norichika Aoki executed a squeeze play off Randy Choate that scored pinch-runner Jeff Bianchi from third to tie the score at 6.
Maness made his Major League debut Friday night and has recorded five outs while throwing only eight pitches in two games. With two relievers unavailable, the Cardinals 2012 Minor League Pitcher of the Year was called on to pitch in a key spot and ended up with his first Major League victory.
"I feel privileged that they hand me the ball in those situations," he said. "I just go out there and do the best I can do."
Edward Mujica pitched the ninth for his eighth save in eight chances.
Craig hit a solo homer in the sixth, his first in 111 at-bats this year, and Descalso hit a two-run shot, only his sixth homer in 795 total Major League at-bats, in the seventh.
Joe DiGiovanni is a contributor to MLB.com. This story was not subject to the approval of Major League Baseball or its clubs.