Brewers bested by Cards in back-and-forth affair
Milwaukee drops fourth straight despite homers from Segura, Gomez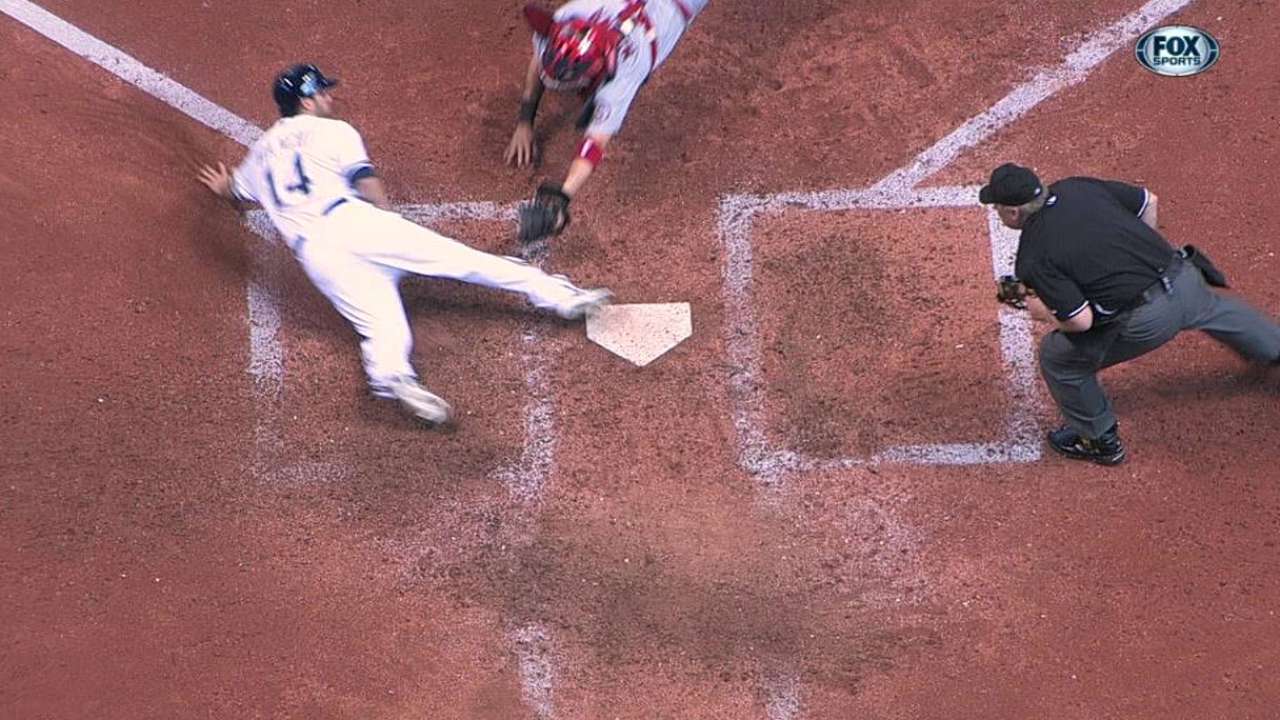 MILWAUKEE -- Every time the Brewers did something well Saturday, the Cardinals did something better.
Jon Jay's three-run home run in the second inning erased one Brewers' lead, Daniel Descalso's two-run shot in the seventh took care of another, and Jay snapped a tie with a single in the ninth that sent the Cardinals to a 7-6 win over the Brewers at Miller Park.
Milwaukee has lost four in a row and must win Sunday afternoon to avoid a four-game St. Louis sweep.
"They're outplaying us," manager Ron Roenicke said. "There's no doubt. Every person on their team, when they put him in there, they do a good job."
Instead of a pitchers' duel between Opening Day starters Yovani Gallardo and Adam Wainwright, the game turned into a high-scoring home run derby. The Brewers' Jean Segura hit a two-run homer and Carlos Gomez a solo shot off Wainwright, and Jay, Allen Craig and Descalso went deep for the Cardinals.
Twice, the Brewers led -- on Segura's first-inning, two-run home run, and on Jonathan Lucroy's pinch-hit, two-run single to cap a three-run sixth. And Milwaukee forged a tie in the bottom of the eighth when Norichika Aoki executed a suicide squeeze bunt.
Each time, the Cardinals had an answer. Jay's homer in the second inning gave the Cardinals a 3-2 lead, Descalso's off left-hander Tom Gorzelanny made it 6-5 and, after the Brewers tied the game in the eighth inning, Jay's single off Brewers closer Jim Henderson won it. Cardinals rookie Seth Maness logged his first Major League victory and Edward Mujica his eighth save in as many chances.
The National League Central-leading Cardinals improved to 19-11 with their fifth straight win, two games better than the second place Pirates and 4 1/2 better than the fourth-place Brewers, who fell back under .500 at 14-15.
"What a deadly team if you keep pitching and start knocking the ball around like we know we can," said Wainwright, who took a no-decision after allowing five earned runs on 11 hits.
A pair of mistakes cost the Brewers in the decisive ninth. Shane Robinson singled against Henderson (2-1) leading off the frame and took second base when center fielder Gomez bobbled the baseball. Robinson then took third on a stolen base when the Brewers left the bag uncovered.
Four pitches later, Jay hit the winning single to center field for his second hit and his fourth RBI of the afternoon.
"Tough game to lose," Roenicke said. "I thought we should have won the game. Yovani threw the ball well [aside from] a couple of mistakes that they hit homers on. We did a real nice job against Wainwright. And the pieces were set up for our pitchers to have good matchups against them."
That included the seventh inning, when the Brewers called on Gorzelanny to face a series of left-handed hitters. He walked Jay, who was erased at third when Aoki made a strong through after fielding Pete Kozma's single. Up next was Descalso, who had just entered the game the previous half-inning as part of a double switch.
The numbers favored the Brewers. Left-handed hitters were 4-for-21 (.190) against Gorzelanny, and Descalso was 2-for-14 (.143) against left-handed pitchers.
"It set up perfect for us," Roenicke said. "They double switch, you have a left-hander in there with Gorzelanny coming into the game, and he's been pitching so well and getting all the left-handers out. Descalso gets a slider and puts one over the fence."
Descalso's first home run of the season made it 6-5, a score that would hold into the bottom of the eighth, when Alex Gonzalez and pinch-hitter Logan Schafer singled to set-up Aoki for his squeeze bunt.
The Brewers tried to squeeze with the same matchup -- Aoki batting against left-handed reliever Randy Choate -- on April 14 in St. Louis, but Aoki popped out. This time, with Jeff Bianchi at third as a pinch-runner, Aoki got the bunt down but only a few feet in front of home plate, where Cardinals catcher Yadier Molina picked it up and tried diving back for Bianchi.
This time, it worked.
"Jeff really picked me up there with a great slide," Aoki said. "Just looking at the results, I guess I'm happy with that."
Aoki reached safely five times in the game, with two hits and two hit by pitches. Gomez went 2-for-4 to boost his NL-best batting average to .373 and his hitting streak to 11 games. Yuniesky Betancourt singled in the first inning for his 1,000th career hit.
But missed opportunities loomed large against Wainwright, who was much more hittable than he was April 13 in St. Louis, when he blanked the Brewers in a four-hit shutout. Wainwright was in a 2-0 hole after three pitches when Segura homered in the first inning, and the Brewers threatened more than they loaded the bases with two outs.
Gonzalez hit a grounder to the hole between shortstop and third base, where Kozma fielded the baseball and made an off-balance throw to second base, just in time for an inning-ending forceout.
In the fifth, Aoki and Segura hit consecutive one-out singles, but Wainwright retired Braun and Betancourt to preserve what was a 3-2 lead. After Gomez's solo home run and Lucroy's two-run single gave the Brewers a 5-4 lead in the sixth, Cardinals manager Mike Matheny replaced Wainwright with right-hander Joe Kelly with two runners on base and one out. Segura bounced into one of his three double plays.
"After we got those runs I thought, 'OK, let's put them away now,'" Lucroy said. "But those guys just battle back, man. I tell you. They are a very difficult team. It's tough -- it's like us with the Pirates. It's one of those things where you have to keep grinding it out, and one of these days, it will go our way."
Adam McCalvy is a reporter for MLB.com. Read his blog, Brew Beat, and follow him on Twitter at @AdamMcCalvy. This story was not subject to the approval of Major League Baseball or its clubs.