Yanks rally after Pettitte exits, but fall to A's
Three-run sixth draws NY even, but Logan allows go-ahead homer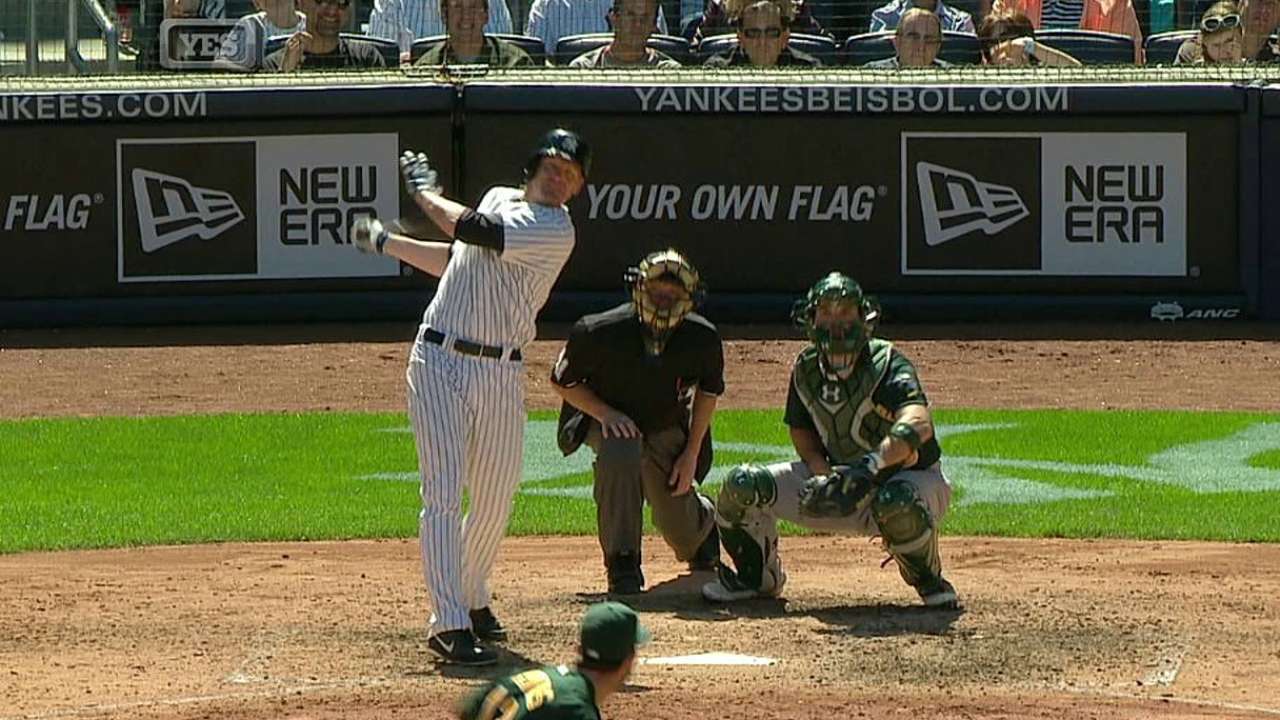 NEW YORK -- Though Andy Pettitte admits he is searching, Joe Girardi is refusing to find reason for alarm.
"I think two starts is way too little a number of starts to make a big deal out of it," said the Yankees' manager. "If it goes on for a month, then obviously there is some concern.
"If he was 26 or 32, we don't even ask the question. Because [he's 40], we ask the question."
Just three starts ago, against Tampa Bay, Pettitte, a 248-game winner, says he had the best cutter he could remember in years. After giving up 11 runs in his last two outings, including four in five innings in Sunday's 5-4 loss to the A's, he wants to know where his bread-and-butter pitch has gone.
"It's going sideways," Pettitte said. "Last time [9-1 Yankees loss to Houston], it was backing up. I love the battle, I would just like to have a little bit of an idea where the ball is going.
"Everything has been great in my [bullpen sessions]. But something is going on in the games. I can feel my release point floating around. You just know from the feel of your fingers, the ball is just not coming off right. It has been a long line time since I haven't had a feel for my pitches."
Two fastballs over the plate -- to Luke Montz in the third and Yoenis Cespedes in the fifth -- were crushed for home runs to left field on Sunday, putting the Yankees in a 4-1 hole in the fifth inning.
"The one to Cespedes, I think it was a pretty good pitch, but when you can't get the cutter in, they can hang over the plate for the fastball," said Pettitte.
The Yankees got Pettitte off the hook in the sixth, when Ichiro Suzuki's double chased home Vernon Wells, and Lyle Overbay dropped a single in front of Cespedes to score Travis Hafner and Suzuki. Preston Claiborne pitched two scoreless innings in his first Major League appearance to turn the game over to Boone Logan in the eighth with the game even.
That lasted one batter, until Josh Donaldson crushed a 1-1 fastball from Logan into the mezzanine to put Oakland back in front before the A's bullpen buckled down to survive Yankees threats in the final two innings.
In the eighth, with runners on first and second and one out, Ryan Cook struck out Jayson Nix and got Overbay to fly to just short of the right-center-field warning track. In the ninth, Brett Gardner singled with two outs and went to second on Grant Balfour's wild pitch to Robinson Cano before the A's decided to walk Cano, putting the winning run on base.
"I hated having to do it," said Balfour of issuing the walk. "I get two outs and a guy gets a single on a broken bat and, all of a sudden, there's a ball in the dirt and a base open.
"You got a guy that swings the bat pretty good and you got to put him on. You want to face everyone. You want to get everyone out."
Balfour settled for the last guy instead, blowing a 2-2 fastball past Wells to end the drama.
"Those are the moments you love to be in," said Wells. "Everything was set up for another memorable Yankee Stadium moment, and I didn't come through that time.
"He won that battle. I'm sure there will be plenty more."
Girardi says the same about Pettitte, who pitched to a 2.87 ERA in 2012, a season abbreviated by injury. In three starts, the last two especially troublesome, his ERA has grown from a 2.01 to 4.06
"I'm not going to judge someone on two starts," the manager said.
But one of the best pitchers of his era clearly is befuddled.
"I had no command of my fastball and I wasn't able to hit with my offspeed stuff when I wanted to," Pettitte said. "The other stuff is kind of floating around, and my cutter is non-existent right now.
"When I do throw a good one and then try again, and it's a bad pitch, it's hard to trust it again. I have to figure this out, hopefully pretty quick."
Jay Greenberg is a contributor to MLB.com. This story was not subject to the approval of Major League Baseball or its clubs.