Tulo gives Rockies legs in victory over Rays
Shortstop collects three hits, three RBIs; Arenado belts first slam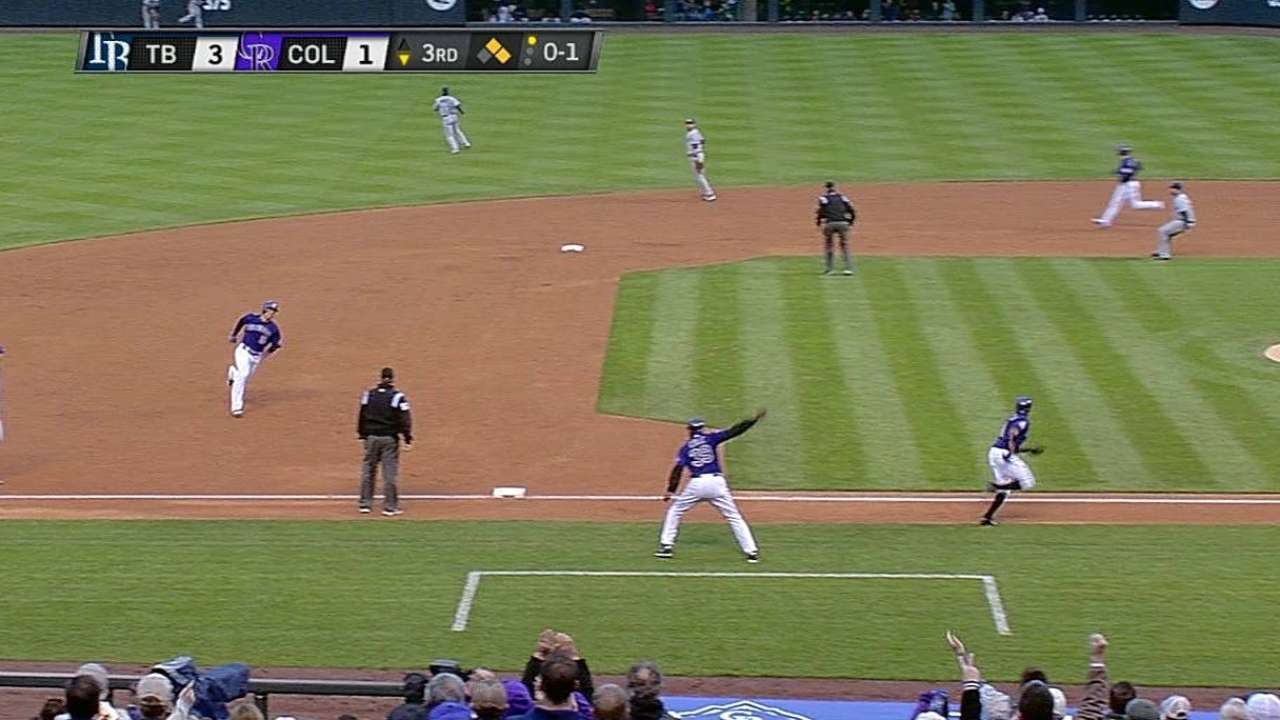 DENVER -- Troy Tulowitzki's heavy legs were much better on Saturday, as he returned to the Rockies' lineup and resumed his run-producing ways.
Tulowitzki went 3-for-3 and drove in three runs, while Carlos Gonzalez and Nolan Arenado homered off reigning American League Cy Young Award winner David Price in the Rockies' 9-3 win to even the series at Coors Field.
Tulowitzki, the Rockies' shortstop and cleanup hitter, now has 27 RBIs for the season after amassing a career-high 22 in April. Manager Walt Weiss took him out after a five-run uprising in the seventh, in which Arenado belted his first grand slam and the Rockies' first this season.
"He's fine," Weiss said of Tulowitzki, "just a chance to get him off his feet a little earlier. It's well documented how great a player he is. Having him in the middle of the lineup is huge for us. He came up big once again, been doing it the whole first month of the season."
Arenado has had a whirlwind first week in the Major Leagues, six games that included the slam, which was his second career homer. It came on his 26th at-bat in the Majors.
"I think Nolan showcased his skills tonight on both sides of the ball," Weiss said. "It didn't take him long to get his first Major League grand slam. It takes most of us years to do that. Very impressive night."
One of the 25 career home runs Weiss hit in 4,686 at-bats was a grand slam. He recalled it came at Tiger Stadium off Mike Trujillo in 1988.
Tulowitzki, who singled home a run in the first, doubled home two more in the third after Eric Young Jr. lined a single past Price and Carlos Gonzalez walked. The two hits with runners in scoring position raised Tulowitzki's average to .406 (13-for-32) in those situations.
Gonzalez, who went 2-for-4 and scored three runs, hit a solo shot in the fifth to break a 3-3 tie. It was Gonzalez's sixth homer of the season, his second at Coors Field and first at home since April 16.
That homer enabled starter Jon Garland to earn the win. The right-hander had worked at least six innings in each of his previous five starts, but he left after five innings and 93 pitches with the Rockies ahead, 4-3.
"He battled, got in some deep counts more than he's probably accustomed to," Weiss said. "But like he can, he found a way through it. In the end he did his job, giving us a chance to win and I'm glad he ended up getting the 'W.' He fought hard for it."
Gonzalez began the rally in the seventh with a two-out single. Tulowitzki followed with a hard shot that third baseman Evan Longoria gloved with a scrambling stop, but then he threw the ball past first base, putting runners on second and third.
Michael Cuddyer hit a grounder that shortstop Ben Zobrist charged, but he double-clutched before throwing the ball. First baseman James Loney scooped the low throw, but a hustling Cuddyer beat it out. The play was originally ruled an error, but was changed to a hit. The scoring change made all five runs in the inning earned when Areanado followed with his grand slam, belting a hanging 1-1 curveball over the fence in left-center.
"I tried to look for something over the middle of the plate," said Arenado, who flied to the warning track in center in his first two at-bats and then grounded to third. "My at-bat before, I pulled out on a curveball, pretty similar to the one I hit to center, and I rolled over to third. I just tried to stay through the ball and stay middle. And that was it.
That was also it for Price, who threw 104 pitches in his second career start at Coors Field. He's now 1-3 with a 6.25 ERA.
"I just have to make better pitches, especially in those big spots. That's not what I'm doing right now. It's frustrating, it is. I'm just going to continue to get my work in and get ready for that fifth day."
Arenado made a very nice defensive play in the sixth. He charged a slow roller hit by catcher Jose Molina, barehanded the ball and threw across his body. While Molina doesn't run well, it still took an outstanding effort by Arenado, and he got Molina, with first baseman Cuddyer stretching far for the throw.
"Yesterday [catcher Jose] Lobaton hit one that was similar, and I gloved it and I bobbled it, so I knew this grass was a little thick, so I had to barehand it," Arenado said. "It's just instincts. I just tried to get the ball over there and I just threw it, and luckily it was right at him."
The Rockies designated third baseman Chris Nelson last Sunday, replacing him with Arenado, who has gone 8-for-26 (.308) with two doubles, two homers, seven RBIs and four runs scored in his first six games, while improving the Rockies' defense at the hot corner.
"He's a great player but at the same time, you don't want to put too much pressure on him," Gonzalez said. "All he's got to do is just play his game, just the way he's been doing it. Defensively, he's been outstanding. All the plays that he's made, he make look easy. He's very smooth out there at third base and that's what we need. We need just need guys to do the little things to help the ballclub, and just let the big boys do the rest."
Jack Etkin is a contributor to MLB.com. This story was not subject to the approval of Major League Baseball or its clubs.