Price, Rays off their game in loss to Rockies
Left-hander tagged for nine runs, including grand slam in seventh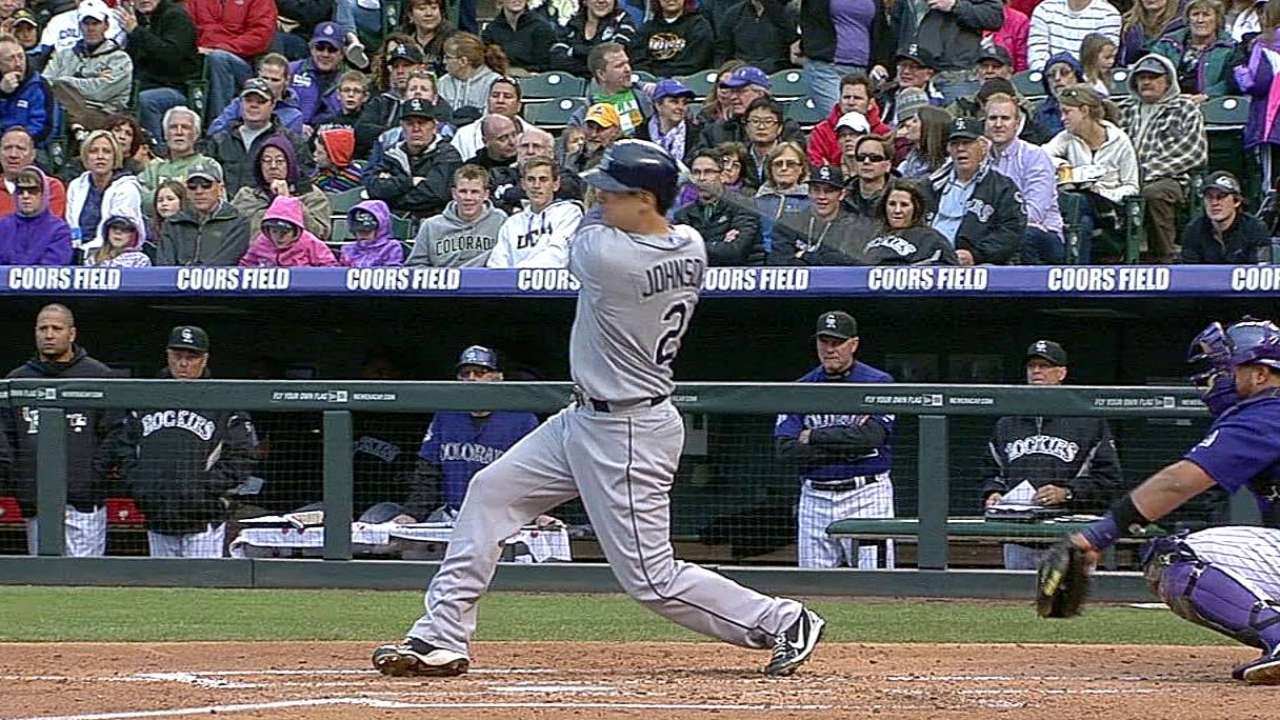 DENVER -- The Rays' seventh inning on Saturday in a 9-3 loss to the Rockies epitomized an early season out of sync.
With reigning American League Cy Young Award winner David Price on the mound, the Rays turned two outs and nobody on into a five-run Rockies rally -- capped when rookie Nolan Arenado turned on a 76-mph hanging curveball from Price and drilled it over the left-center-field fence for a grand slam.
It's been that kind of season for the Rays' ace, who squandered a lead and lost the fourth of his last five games.
"That's very frustrating," Price said. "When you get the lead, you obviously want to hold on to it so your team can win. I'm not doing that. It's rough, it is. It's got to get better."
Price was an out away from escaping the seventh unscathed until Carlos Gonzalez singled to left. Troy Tulowitzki reached base for the fourth time when he beat out an infield single to third and forced a throwing error from Evan Longoria, which allowed Gonzalez and Tulowitzki to advance. Michael Cuddyer than reached first on an errant throw from double-clutching shortstop Ben Zobrist.
Zobrist's play was initially ruled an error, but the official scorer changed his ruling, giving Cuddyer a hit and adding five earned runs to Price's line. Either way, the normally solid Rays defense knew that was a play that should have been made.
"Of course, and he knows that," manager Joe Maddon said of Zobrist's play. "Even the play with Longo before that. There were a couple plays we could have made that we normally do make, and this is all moot."
The back-to-back missed plays in the infield led to 14 extra pitches from Price, who could have been out of the inning with 90 pitches thrown. But he walked Wilin Rosario to load the bases, then yielded the slam to Arenado on a 1-1 count, giving the 22-year-old his first slam and second homer since being called up for his big league debut last Sunday.
"We all know he wasn't on his 'A' game," Arenado said. "We all know he's an unbelievable pitcher, and luckily he hung one."
The slam ended Price's evening as he left with nine runs on his line, along with 11 hits and three walks in 6 2/3 innings.
"I felt fine," Price said. "I just have to make better pitches, especially in those big spots. That's not what I'm doing right now. It's frustrating."
Price had reversed a trend that saw teams hitting .367 (18-for-49) against him with two outs, retiring all five Rockies he faced with two outs until he got to the seventh, when five-of-five reach with two outs.
"He didn't have his normal velocity, no question," Madden said. "Nothing was normal. He was uncomfortable I think with the grip on the balls. Here in this [climate] it can be different, your hands get dry. It's not about the balls, it's about your hands getting dry and slick. I think that was a problem with him for a while, but he worked through that."
The Rockies executed first-inning damage for the second night in a row to take an early lead. Eric Young Jr. singled to center to leadoff, and two batters later, Tulowitzki singled to right to bring Young home and put the Rockies on the scoreboard.
It was Tulowitzki's first of three hits and three RBIs after only being available to pinch-hit in the series opener on Friday. Price also hit him with a pitch in the fifth.
"Having him in the middle of the lineup is huge for us," Rockies manager Walt Weiss said. "He came up big once again, been doing it the whole first month of the season."
All of Colorado starter Jon Garland's runs came in a three-run third. Matt Joyce sparked the rally with a one-out walk, and after Zobrist followed with a fielder's choice, the Rays' Nos. 4, 5, and 6 hitters logged three hits in a row. Longoria singled to center and Loney doubled to left to bring Zobrist home. Kelly Johnson capped the spree with a two-run single to right to give the Rays a 3-1 lead.
"Garland was tough," Joyce said. "I thought we did a great job of working the counts. He was really nibbling. He was hitting his spots really well. We did a pretty good job of trying to be patient with it. We just didn't really put a bunch of hits together and score a lot of runs, and obviously when the pitcher's making good pitches, that tends to happen."
Tulowitzki pulled the Rockies even in the same inning with a two-run double, and Gonzalez gave the Rockies the lead in the fifth, lining a leadoff shot into the evergreens beyond the center-field fence.
"David's been such a dominant pitcher over the years that it's definitely weird to see that he's struggling so much," Joyce said. "I don't think any of us have any lack of confidence in him whatsoever. Once he gets that confidence or that feeling or what he's looking for, things are going to take off."
In the meantime, Price and his teammates were left scratching their heads over an ace and a team out of sync 29 games into the season.
"We're not used to that with David," Maddon said of Price's recent pattern of losing leads. "If anything the velocity's down just a click, and with that the other pitches just aren't playing the same off of that.
"The last game he did touch 95 several times in Chicago, and I didn't see that today. The big thing about the velocity component is the effectiveness of the other pitches by the differential between his speeds. [As a result] what you're seeing somewhat, is the maybe the deception isn't good. It's just an equation we have to work through and see.
Owen Perkins is a contributor to MLB.com. This story was not subject to the approval of Major League Baseball or its clubs.