Angels fall in extra innings after late comeback
Rough start wiped away by Trumbo's seventh-inning HR, big eighth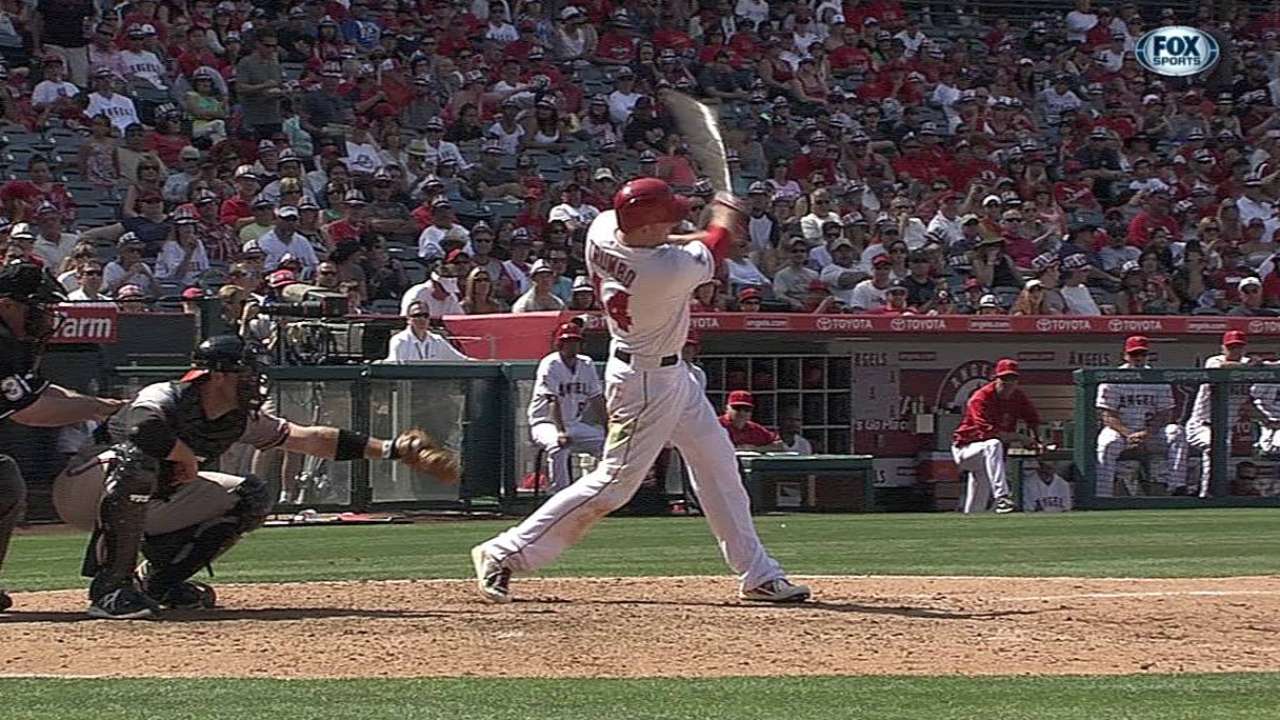 ANAHEIM -- There's always a sense of uneasiness when you place both of your catchers in the same lineup. But with Josh Hamilton struggling and Hank Conger his best bat off the bench, Angels manager Mike Scioscia felt he had little choice on Saturday morning.
Never would he have imagined it coming back to bite him later that afternoon in a 5-4, 10-inning loss to the Orioles.
Peel the onion enough, though, and you'll see why.
Due to the construction of his lineup, as well as a pinch-hitting decision two innings earlier, Scioscia was forced into pulling the rare American League double-switch heading into the 10th, bringing Garrett Richards in from the bullpen and plugging Brendan Harris in at second base. The result was a would-be double play ball that Harris flipped wide of second, followed by a two-out, game-winning single by Steve Pearce that ultimately dropped the Angels' record to 11-19.
"It's things you are presented with," said Scioscia, whose team has dropped six of its last eight games. "… You have your lineup to hopefully win a game in nine innings. I don't think you're worried about starting your lineup to protect for the 10th, 11th, 12th inning."
Freddy Garcia twirled a no-hitter through six, and Tommy Hanson struggled to pitch five innings of three-run ball. But the Angels erased a four-run deficit with a two-run homer in the seventh inning from Mark Trumbo -- his fifth in the last six games -- and a two-run eighth against Darren O'Day, who gave up an RBI groundout to Erick Aybar and a two-out, game-tying blooper to Mike Trout.
In the ninth, an Angels team that leads the AL with the most outs on the bases had a critical botched hit-and-run, when Trumbo led off with a walk and was thrown out easily at second after Alberto Callaspo swung through a Tommy Hunter fastball.
For the 10th, after Ernesto Frieri already struck out the side in the ninth, Scioscia wanted to go with Richards as long as possible.
One problem: The pitcher's spot was due up first in the bottom half.
After Conger led off the eighth with a bunt single, despite tripping on his way to first, and Scioscia went with the lefty-hitting Scott Cousins as a pinch-hitter for his right-handed-hitting catcher, Chris Iannetta. Cousins -- used against the submarine-throwing O'Day, for fear that O's skipper Buck Showalter would counter with a lefty against the struggling Hamilton -- drew a walk and eventually scored the tying run.
But his spot came around again at the wrong time.
On any other day, the switch-hitting Conger would've pinch-hit for Iannetta and then subbed in behind the plate. With that option unavailable, Scioscia chose to sub Harris in for Cousins to bat eighth, then have Richards come in for Howie Kendrick, who was batting in a No. 6 spot that would allow Richards to pitch multiple innings if needed.
It didn't work out as planned.
After Adam Jones led off the top of the 10th with a single, Nolan Reimold hit a tailor-made double play ball, but Harris' flip to second was way to the left of Aybar and the Angels only got one out. Two batters later, Pearce drove in the decisive run with a single to right.
"I was just trying to get it to [Aybar] on the glove side," said Harris, a utility infielder who played only nine games at second base in the Minors last season. "Jones runs well and he's going to come in hard. I was just trying to get it to him a little bit wide enough so that he can clear himself. It was just a little bit too wide."
The result was another crushing loss for the Angels, who finished the game 7 1/2 back of the first-place Rangers in the AL West and two games worse than they were through the first 30 games of last year's slow start.
Garcia, making his first Major League start of the season, lulled the Angels to sleep with an assortment of splitters, sinkers and sliders, not to mention a curveball that was as slow as 70 mph. He faced the minimum number of batters through the first six innings, giving up only a walk to Trumbo in the second and requiring 65 pitches through six, just before Aybar broke up the no-hitter with a leadoff single in the seventh.
"I knew I hadn't given up a hit," said Garcia, who finished giving up two runs in 6 2/3 innings. "But I threw some six, seven, eight [no-hit] innings before. There was no pressure. I was trying to make a good pitch, and [Aybar] hit a good pitch."
Hanson, who had given up a combined two runs in 12 innings of his last two starts, gave up line-drive solo homers to Manny Machado and J.J. Hardy in the first and second, giving the Orioles an early two-run lead, and needed 89 pitches to record 15 outs. He scattered seven hits, walked two batters, put a runner in scoring position in each of his last four frames and allowed an additional run on Reimold's fifth-inning sac fly, putting his ERA at 4.18.
"I'm not happy with the way I performed today," Hanson said. "I know it wasn't terrible, but it wasn't good, as well, and at the end of the day we lost the game. I want to go out there and help this team win, and when we don't win, I'm not happy."
Alden Gonzalez is a reporter for MLB.com. Read his blog, Gonzo and "The Show", and follow him on Twitter @Alden_Gonzalez. This story was not subject to the approval of Major League Baseball or its clubs.