Correia shaky, offense quiet in loss to Tribe
Righty, who's lasted at least seven frames in each start, exits after five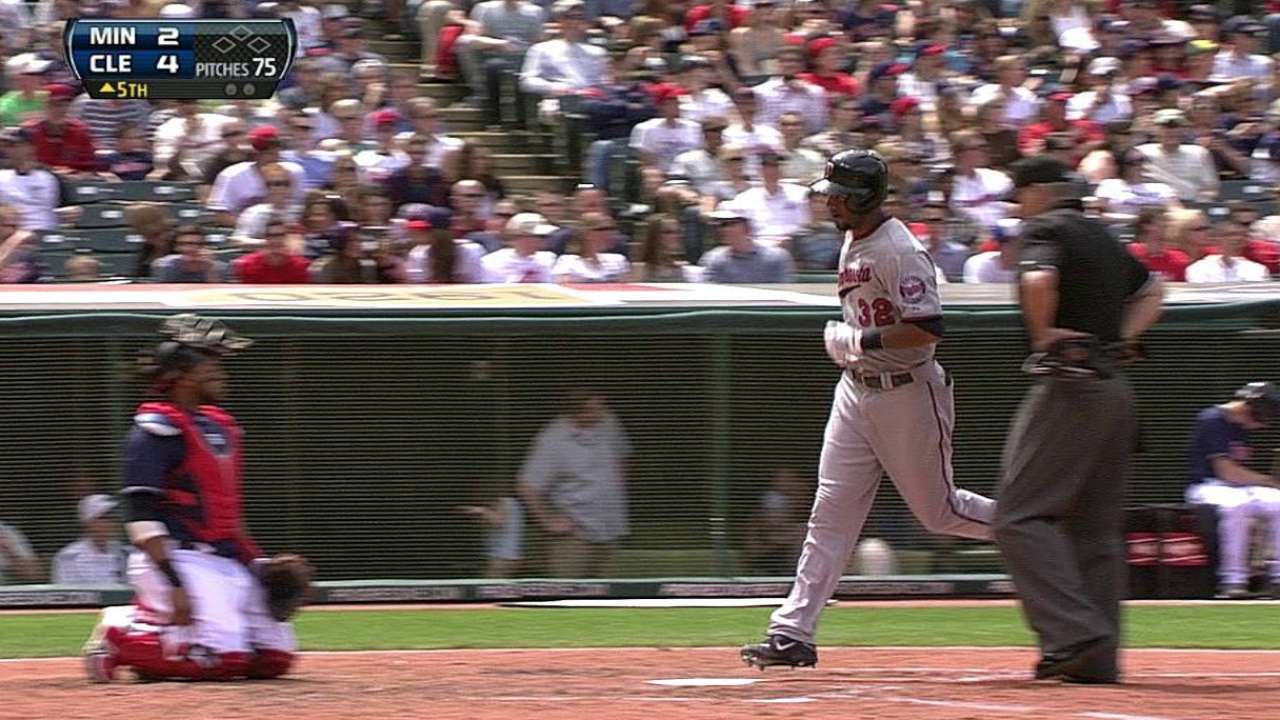 CLEVELAND -- As Kevin Correia found out Saturday afternoon against the Indians, all good things eventually come to an end.
Correia saw his streak of five straight quality starts come to a halt as he scuffled against the Indians in a 7-3 loss at Progressive Field.
Correia, who lasted at least seven innings in each of his first five starts, went just five frames this time, giving up four runs on six hits and two walks.
"I just didn't have command of my pitches like I did in my last couple starts," said Correia, who fell to 3-2 with a 2.83 ERA. "I fell behind guys, and they took advantage."
The Indians got out to an early lead, as Correia served up solo homers to Jason Kipnis and Nick Swisher in the first inning. It marked the first time this season that Correia gave up multiple homers in an inning, as he entered having given up just two homers on the year.
Both homers came on a 3-1 count, as Correia had trouble locating his pitches early in the game.
Minnesota cut Cleveland's lead to one with a run in the second on a two-out RBI single from Pedro Florimon off left-hander Scott Kazmir.
But the Indians tacked on two more in the bottom of the second, as Michael Brantley and Kipnis both added two-out RBI singles just out of the reach of Florimon at shortstop. Brantley's was a line drive over Florimon's glove while Kipnis dropped a bloop single.
"They had a couple home runs right away, but Correia -- really the next two runs they got there really wasn't one ball hit hard," Twins manager Ron Gardenhire said. "But it's about finding the outfield grass and getting them through, and they did that. They popped some and rolled some through and then kind of held on from there."
The Twins didn't strike again until the fifth on a solo homer from rookie Aaron Hicks. It marked the first career homer for the switch-hitting Hicks, who pulled the ball over the fence in left.
"It definitely feels really good just checking things off," said Hicks, who received the home run ball after the game. "I'm just trying to my best to help the team win."
Kazmir picked up his first big league win since Sept. 19, 2010, by giving up two runs on five hits over six innings with seven strikeouts.
"He was 89-to-93, and didn't go above 93 too often," Gardenhire said. "But he had a nice breaking ball and a nice cutter. We knew about that little slider coming in there. He had a lot of strikes called on the inner half of the plate. He threw the ball good."
Kazmir said the key was getting ahead of hitters, as he had good command and walked just one.
"In the second inning, it kind of got away from me a little bit, but I cleaned that up and got way deeper into the game," Kazmir said. "When you attack the strike zone early in the count, you're able to expand the zone more, and you're able to get some quick outs and some strikeouts."
The Twins had a chance to tie it in the seventh, when they had runners at second and third with Brian Dozier at the plate, but he flied out to end the inning.
The Indians added two insurance runs in the bottom of the inning off right-hander Anthony Swarzak. Asdrubal Cabrera doubled to score Kipnis, who had tripled with one out on a deep fly ball off Hicks' glove in left-center, before scoring on a two-out single from Mark Reynolds.
The Twins scored their third run on a two-out RBI single from Ryan Doumit off reliever Joe Smith in the eighth inning after Joe Mauer and Josh Willingham walked.
But it wasn't enough for the Twins, who lost for the fourth time in five games and fell to two games under .500 for the first time since April 15.
"We're not scoring runs," Gardenhire said. "We're not scoring enough to win ballgames right now."
Rhett Bollinger is a reporter for MLB.com. Read his blog, Bollinger Beat, and follow him on Twitter @RhettBollinger. This story was not subject to the approval of Major League Baseball or its clubs.