Zimmerman helps Nats swipe win in Pittsburgh
Double steal in ninth leads to go-ahead run; Strasburg fans eight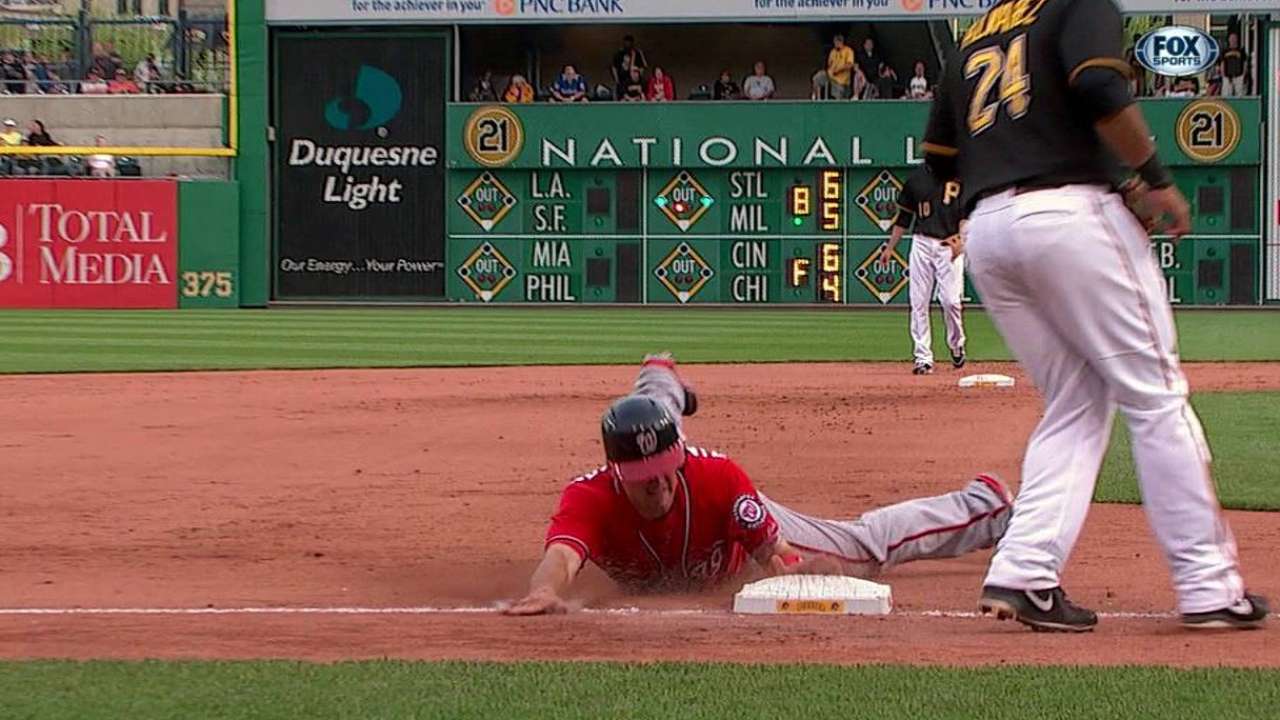 PITTSBURGH -- Tyler Moore's sacrifice fly in the top of the ninth inning helped the Nationals edge the Pirates, 5-4, at PNC Park on Saturday afternoon. The victory came a few hours after manager Davey Johnson held a team meeting to tell his players not to put any pressure on themselves.
Johnson was concerned about how the team played during Friday's 3-1 loss to the Pirates. The Nationals struck out 14 times, seven of them on called third strikes, and also made baserunning mistakes.
"Meeting of the year. That's how you win Manager of the Year," Ian Desmond told Johnson after the victory on Saturday.
Left-hander Tony Watson was on the mound for Pittsburgh when Washington broke the 4-4 tie. With one out, Ryan Zimmerman was hit on his left leg by a pitch. After Adam LaRoche singled, Zimmerman and LaRoche pulled a double steal to put runners on second and third.
It marked the first time in his career that Zimmerman stole third base and it was the third time LaRoche was part of a double steal.
"[Watson has] great stuff, but [he is real] slow to the plate. We haven't had many guys on, any opportunities to do much," Johnson said.
Moore had the opportunity to do something. In his two previous at-bats, Moore struck out with the bases loaded. All he needed to do this time was get a fly ball to the outfield to score at least one run.
Watson threw a pitch on the outside part of the plate and Moore poked the ball to right field, scoring Zimmerman and giving Washington the one-run lead. As he entered the dugout, Moore was greeted by his teammates. They knew how much pressure he was in to drive in the run.
"I left a lot of guys on base. It was a tough game. I just wasn't seeing the ball good today. You have those days," Moore said. "Just to come through at the end was huge. I battled it out for the team. ... It was a rough day and it ended up being fine and coming out with a win, that's the biggest thing."
Closer Rafael Soriano entered the game in the ninth inning and allowed a single to Russell Martin, who tried to stretch the hit to left-center into a double. Center fielder Roger Bernadina heard left fielder Bryce Harper say, "Two, two, two," indicating that Martin was trying for second base.
"I turned and threw to second base and it turned out well," said Bernadina of nailing Martin for the first out of the inning.
"It was an aggressive mistake. It definitely wasn't a no-doubter, but he had to make a great play, and he did," Martin said. "In my mind, I was being aggressive, being on second base with nobody out, that's a huge advantage, especially with a lefty [hitter] on deck. It would put a lot more pressure on the defense."
Soriano didn't have any problems after that, getting Pedro Alvarez to pop up to Zimmerman at third base and striking out Jordy Mercer to end the game. It was Soriano's 10th save.
There was good news for right-hander Stephen Strasburg, who started the game. He didn't have any arm issues like he did against the Braves on Monday. He lasted seven innings, allowed four runs on five hits and struck out eight batters.
"I thought he was throwing well. The way he started the ballgame, he was going after them, making good pitches," Johnson said. "He made a couple of mistakes, right on the heart of the plate. You can't do that. He held us in there, [though]."
The game went back and forth and it started with the Nationals scoring the first run of the game off left-hander Jeff Locke in the third inning. Bernadina started the inning by getting hit by a pitch. Strasburg then came to the plate and hit a ground ball to shortstop Clint Barmes, who threw the ball away trying to get Strasburg at first. Bernadina was able to advance to third on the error by Barmes and then scored on a sacrifice fly by Desmond to give Washington a 1-0 lead.
But Strasburg would allow Pittsburgh to take a one-run lead in the bottom of the inning when Starling Marte hit a two-run homer, scoring Barmes.
The Nationals tied the score in the top of the fourth inning off Locke. Zimmerman started the inning with a triple down the left-field line and would later score on a sacrifice fly by LaRoche.
Strasburg would be hurt by the long ball once again an inning later as Barmes hit a two-run homer to give Pittsburgh a 4-2 lead.
"I gave up four runs, two homers, but I was able to get to the seventh. I feel like, in the past, if you give up that many runs, you usually have 100 pitches through six," Strasburg said. "I just tried to do a better job of pounding the strike zone."
But the Pirates pitchers had a tough time throwing strikes in the sixth inning. After Harper reached base on a single, Zimmerman drew a walk. Locke was taken out of the game in favor of left-hander Justin Wilson, who was no better. He walked LaRoche to load the bases. After Moore struck out, Wilson Ramos came to the plate and singled up the middle, scoring Harper and Zimmerman.
After the game, right-hander Jordan Zimmermann jokingly asked Johnson about having another team meeting on Sunday.
"Same time, tomorrow?" Zimmermann asked.
"You can forget it," Johnson said.
Bill Ladson is a reporter for MLB.com and writes an MLBlog, All Nats All the time. He also can be found on Twitter @WashingNats. This story was not subject to the approval of Major League Baseball or its clubs.