Axelrod settles in, but White Sox blanked in KC
Righty quiets Royals after first, while Guthrie clamps down on Sox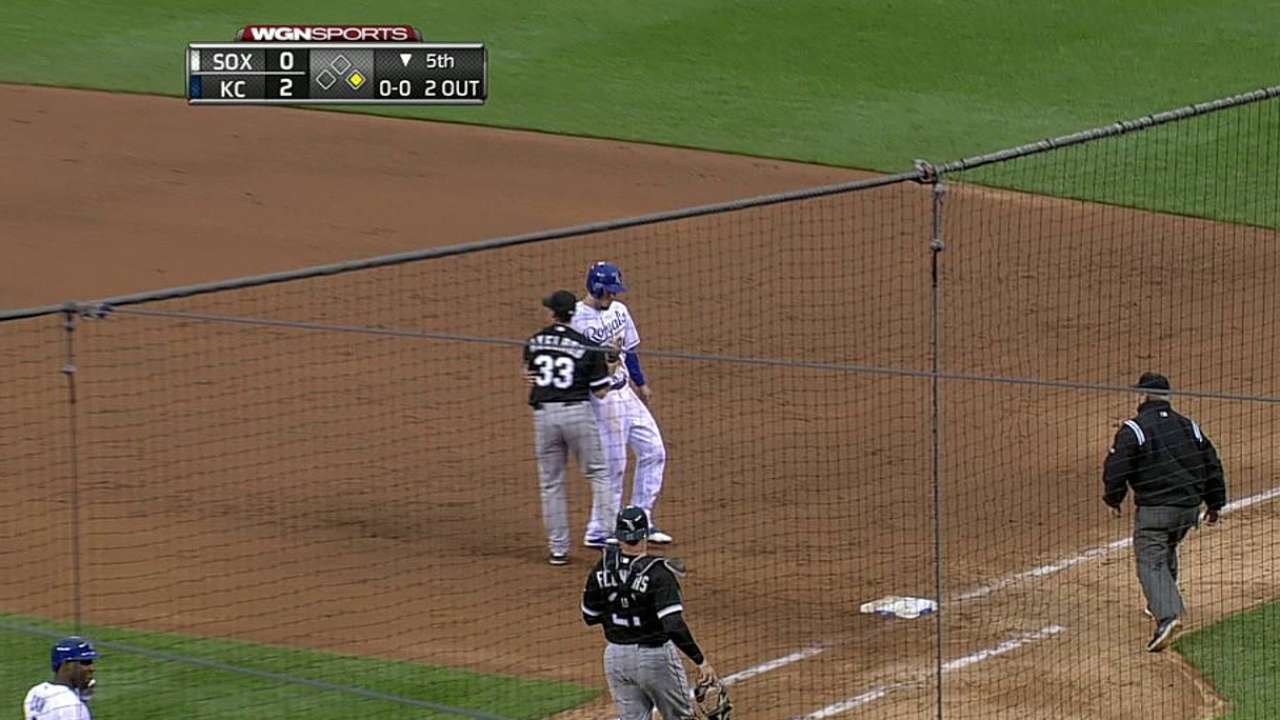 KANSAS CITY -- White Sox right-hander Dylan Axelrod recorded his fourth consecutive quality start on Saturday, but still came away with a loss because he was matched up against the wrong guy.
Jeremy Guthrie, a longtime White Sox nemesis, was at it again, and his four-hit shutout trumped Axelrod in a 2-0 Kansas City victory.
"Axelrod was good, but Guthrie was better," White Sox manager Robin Ventura said while summing up the evening in succinct fashion.
For the late-arriving fans, it was all about pitching. The only display of offense came in the first inning when the Royals mounted a two-run rally after Axelrod had retired the opening two hitters. Billy Butler was hit by a pitch and Eric Hosmer singled. Lorenzo Cain then hit a liner to right that barely eluded a diving Alex Rios for a two-run triple.
"The ball is a couple of feet away from Rios or we're probably still out there," Ventura said.
Since joining the Royals, Guthrie is 3-0 with a 0.40 ERA versus the White Sox in six outings. In 44 2/3 innings, he has allowed two earned runs. The shutout was the first for Guthrie in his 10-year Major League career.
Guthrie was aided by a strong Kansas City defense, with shortstop Alcides Escobar covering the ground and first baseman Hosmer scooping up everything coming his way. After Guthrie fanned nine in his first appearance against the White Sox on April 4, the plan was for the White Sox to show more aggressiveness early in the count.
But Paul Konerko's two hits were all Chicago could muster until the eighth when Tyler Flowers and Alejandro De Aza produced singles. Kansas City manager Ned Yost let Guthrie continue and he got Jeff Keppinger on a forceout before recording a clean ninth. Guthrie's shutout required just 106 pitches.
"It was quick, it was [Greg] Maddux-like," Ventura said. "He was going for the two-hour mark."
The game actually lasted two hours, 18 minutes as Ventura made a pitching change in the eighth after the White Sox committed back-to-back errors with two outs. Matt Thornton came on after Axelrod had thrown 113 pitches.
"I was moving the ball in and out and changing speeds," Axelrod said. "Flowers did a really nice job in calling the game."
By working 7 2/3 innings and getting a fourth consecutive quality start, Axelrod is a confident pitcher these days.
"That's my goal, to get a quality start," Axelrod said. "Every time out, give your team a chance to win. I'm trying to build off that."
If Axelrod could have one pitch back from Saturday's game, it would be the tight delivery that hit Butler and started the two-run rally.
"I was trying to jam him up and in," Axelrod said. "It got away from me a little bit. Who knows what would have happened if I didn't hit him?"
Axelrod continues to send a message that he doesn't want to come out of the White Sox rotation.
"That's what I want, to be a starting pitcher in the Major Leagues," he said. "If I go out there every fifth day and have a quality start, there's nothing more I can do."
The White Sox had an opportunity in the fourth when Konerko doubled to the gap in right-center after Adam Dunn's two-out walk. Dunn rounded third at full speed, but was stopped by third-base coach Joe McEwing. Guthrie then fanned Conor Gillaspie with the tying runs in scoring position.
"We played really good defense early, which made it all possible," said Guthrie, who is 4-0 this season and carries a 17-game unbeaten streak dating back to last year, a new Royals record. "The infield just made tremendous plays. It probably saved us three or four hits, which accumulates to who knows how many pitches."
Yost was just thankful that Cain's first-inning liner to right was barely out of Rios' reach.
"Everything we hit to Alex Rios he was catching except for that ball in the first inning," Yost said. "That was such a tough play, but he almost had that, too."
Robert Falkoff is a contributor to MLB.com. This story was not subject to the approval of Major League Baseball or its clubs.