KC grounds crew has weathered many a storm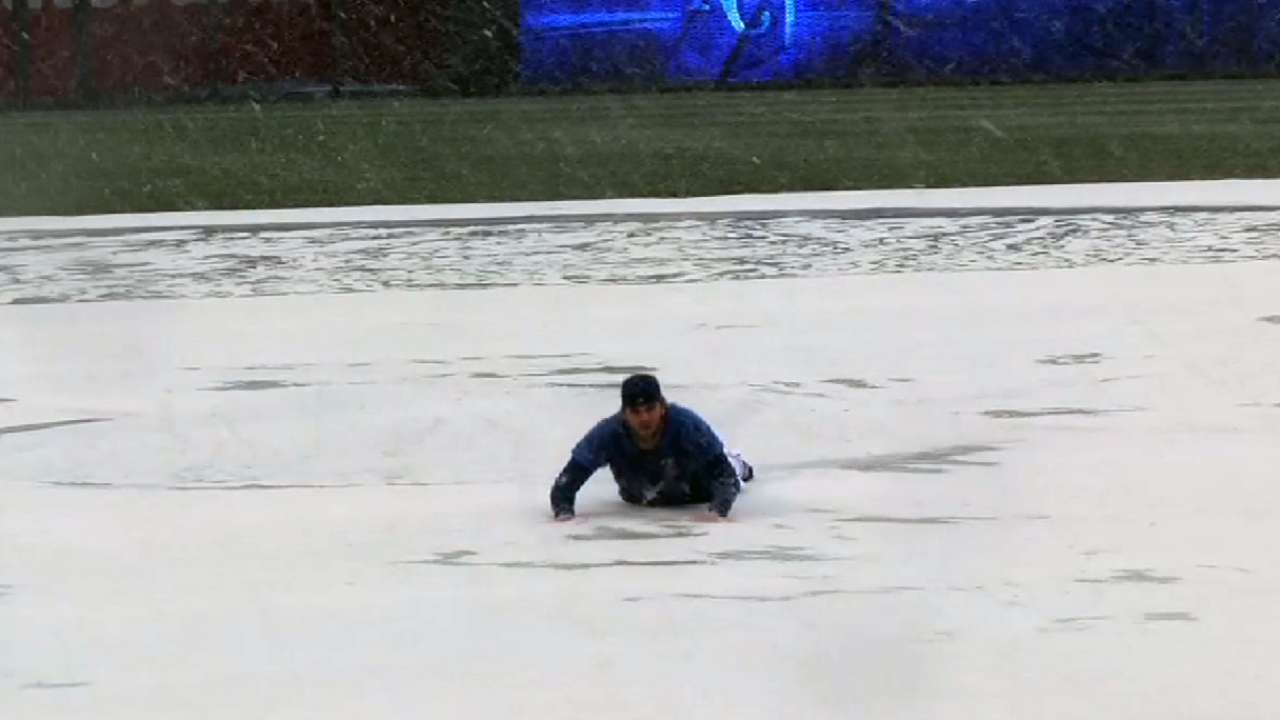 KANSAS CITY -- No one has been busier around Kauffman Stadium than director of groundskeeping Trevor Vance and his crew.
There have been three postponements at home already for the Royals and other games threatened by rain.
"Usually when the Royals are in town, the rain chances go up," Vance said. "You don't need the Farmers' Almanac. You can pretty much follow the Royals schedule and the rain chances increase when they come into town."
The Royals were postponed in back-to-back games on Thursday and Friday. The real eye-catcher was Thursday afternoon's game, which yielded to rain and then snow after 3 1/2 innings. It got particularly soupy around the right side of the infield.
"It was really wet, man," said Elliot Johnson, the Royals' second baseman that day. "It was like that for about an inning. There was a puddle forming there, like a river that was running from behind second all the way to first base."
The Royals were ahead of the Rays, 1-0, and the game was just six outs from going the necessary 4 1/2 innings with the home team ahead to be official.
"I think we could've got through six more outs, but that's not my call. But we're biased," Johnson said.
It was umpire-in-chief Ted Barrett's call and, the way Vance heard it, he was getting heavy input from Rays third baseman Evan Longoria about how dangerous the conditions were getting. Finally Barrett told Vance to cover the infield.
"I said, 'Ted, it's the lightest rain we've had all day. Give me five minutes, let me throw some conditioner out here and we can keep playing but, at that point, he was insistent on covering it," Vance said. "And when the snow came, that looked like a winter blizzard out here for a while."
Vance understood Barrett's decision to halt play.
"MLB was directing them that you can't look at this as a five-inning ballgame, you have to look at this as a nine-inning ballgame," Vance said.
Anyway, the snowstorm settled the issue. The game was postponed to a undetermined date.
Vance said the heavy snow in March and unusually low temperatures along with a lot of moisture have made this season especially challenging.
"I've got a super crew and they'll do whatever it takes to keep this place up and running and looking good," Vance said. "So hat's off to them because they really do all the hard work."
Dick Kaegel is a reporter for MLB.com. This story was not subject to the approval of Major League Baseball or its clubs.