Soriano hits two homers, but Reds rally to win
Cubs bullpen allows four runs in eighth after solid start by Samardzija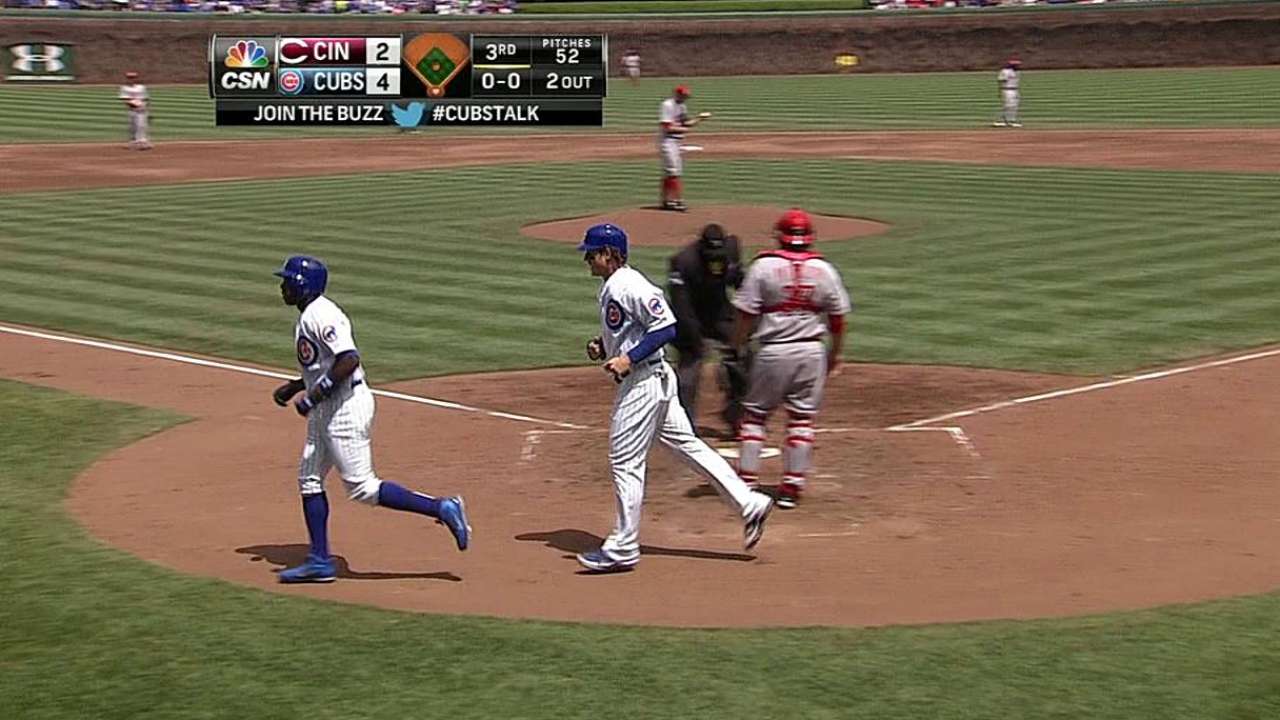 CHICAGO -- The Cubs are convinced Carlos Marmol can still get batters out, but on Saturday, he couldn't throw a strike.
Marmol entered in the eighth with a two-run lead and failed to retire a batter, walking two and hitting another, to help the Reds rally for four runs and post a 6-4 victory over the Cubs at Wrigley Field.
Alfonso Soriano hit a pair of two-run home runs and Jeff Samardzija was in line for his first win since Opening Day until the fateful eighth.
Chicago led 4-2 when Marmol took over, making his 453rd appearance, a franchise record, passing Lee Smith. But he walked the first batter he faced on four pitches, then walked Joey Votto. Cubs manager Dale Sveum left Marmol in, hoping he could get Brandon Phillips to ground into a double play. Instead, Marmol hit Phillips with a 1-2 pitch to load the bases.
Jay Bruce greeted Hector Rondon with a bloop RBI single and Todd Frazier followed with a sacrifice fly to tie the score at 4-4. Rondon, a Rule 5 Draft pick, intentionally walked Xavier Paul, then unintentionally walked pinch-hitter Joel Hannahan to force in the go-ahead run. Another run scored on pinch-hitter Devin Mesoraco's sacrifice fly.
In 14 appearances, Marmol has given up 11 hits, walked 12 and hit three batters over 11 2/3 innings. He lost his job as the closer after the first week of the season, and now has a 6.17 ERA.
"I can't throw strikes," Marmol said. "I'm giving people a chance to score."
What's wrong?
"He's not executing," Sveum said. "He's not throwing the ball over the plate. It doesn't matter what pitch is called."
The Cubs are trying to make it work for the right-hander, who lost his job as the closer last season, then won it back and finished strong. He hasn't been able to bounce back this year.
"He'll be pitching in roles with the game on the line, early in the game, or whatever," Sveum said. "One way or the other, he's got to get fixed. I don't even know if he threw a strike today. There were a couple swings, but I don't know if they were strikes. One way or the other, we have to get him fixed, because he's got to pitch."
Marmol threw 14 pitches Saturday, only four were strikes, and only one was a called strike. He said he isn't lacking confidence and that he's healthy. He is frustrated.
"I have to go out there tomorrow and throw strikes and get people out," Marmol said. "That's all you can do."
Frazier said the Reds were willing to be patient.
"For a guy like that, you know he's going to throw a lot of offspeed pitches," Frazier said. "He tends to get wild at times from what we've seen. You've got to be ready for that one pitch that you're waiting for."
Unfortunately for the Cubs, this isn't the first time they've blown a lead in the late innings. This was the 25th game out of the Cubs' 30 to be decided by three runs or less, and Chicago now is 9-16 in those games. Twelve of those losses have been by two runs or less.
"Probably half of our losses have been these kind of losses," Sveum said. "That's what's frustrating. If we could turn the switch around, we'd have eight more wins. It's not like we're going through a game and losing 6-2 and it's a normal game. Whether it's errors or walking people like today or whatever it might be, there aren't a lot of clean games going on in the first 30 games."
The day didn't start well for Samardzija, as Shin-Soo Choo launched his first pitch into the basket rimming the left-field bleachers for his fifth home run. Reds starter Tony Cingrani, who grew up in suburban Evergreen Park, retired the first two batters he faced, then hit Anthony Rizzo with a pitch to set up Soriano's first home run.
Choo tied the game at 2-2 in the third when he walked, moved up on an error by Samardzija on a pickoff attempt and scored on Zack Cozart's single.
Soriano, who connected on a fastball in the first, put the Cubs back on top with two outs in the third with his second two-run blast, this time sending a 1-0 changeup into the left-field seats to drive in Rizzo. He became the 70th player in Major League history to belt 375 career home runs, passing Rocky Colavito.
Samardzija struck out five to raise his season total to 52, which ranks among the top three in the National League. However, he is the only pitcher in the top 10 with a losing record. He didn't blame Marmol.
"It's out of your hands at that point," Samardzija said. "If you don't want that to happen, pitch deeper in a game."
Marmol and Samardzija were together in the bullpen earlier in their careers.
"I've had my own fair share of struggles with the zone myself," Samardzija said. "You just hope he keeps working, he keeps doing his thing and when he's in the zone, he's unhittable and I think he needs to know that, too. His stuff is unhittable. ... That's part of this game, you need to make adjustments and go from there."
The Cubs totaled three hits on Saturday, and two of those were by Soriano.
"Sometimes we don't get the big hit and sometimes we don't get the big outs," Soriano said of the season so far. "That's the difference between a first-place team and a last-place team. We have so many games, and we're winning in the sixth, seventh innings and we give it to the other team. We have to learn how to win."
The Cubs had a heartbreaking loss on Thursday to the Padres, came up short against the Reds on Friday in a one-run loss and now this. It would be easy to be discouraged.
"Maybe on some other teams but this team is pretty resilient," Samardzija said. "We need to stop shooting ourselves in the foot and turn these 'L's' into 'W's.'"
Carrie Muskat is a reporter for MLB.com. She writes a blog, Muskat Ramblings, and you can follow her on Twitter @CarrieMuskat. This story was not subject to the approval of Major League Baseball or its clubs.