Reds rally for win against wild Cubs bullpen
Club scores four in eighth on just one hit to overcome two-run deficit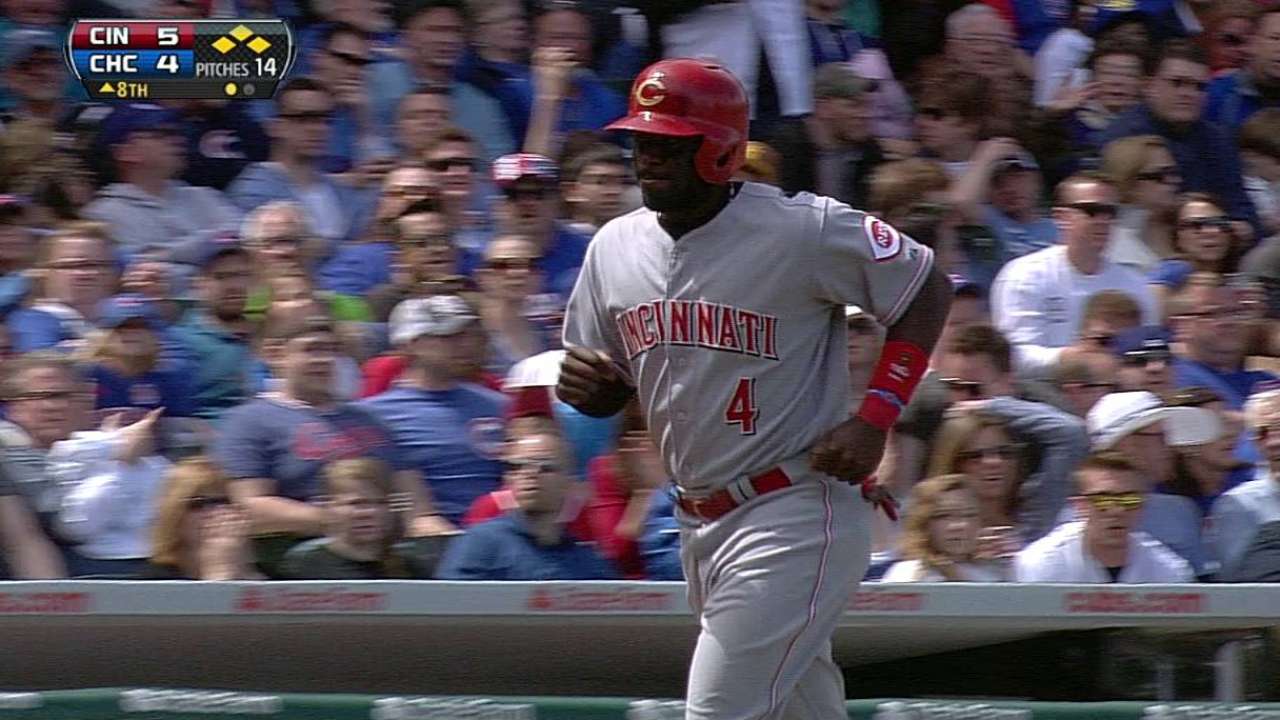 CHICAGO -- Once the Cubs made the fateful decision to protect a two-run eighth-inning lead on Saturday by summoning embattled reliever Carlos Marmol, all the Reds really needed to do was wait him out. It was simple -- make him throw strikes.
Marmol, the deposed closer, faced three batters, walking two and hitting one. The Reds sent nine men to the plate overall, scoring four times with just one hit of their own in the inning to take a 6-4 come-from-behind victory over Chicago.
"For a guy like that, you know he's going to throw a lot of offspeed pitches," said Reds third baseman Todd Frazier, who drove in the tying run with a sacrifice fly. "He tends to get wild at times from what we've seen. You've got to be ready for that one pitch that you're waiting for."
Marmol, who set a Cubs record by making his 453rd relief appearance as he entered with a 4-2 advantage, made it infamous as his first six pitches missed for balls. After Zack Cozart and Joey Votto walked, Marmol hit Brandon Phillips with a 1-2 pitch to load the bases with nobody out.
Cubs manager Dale Sveum pulled Marmol, who was booed by the 36,455 fans at Wrigley Field.
"It was frustrating," Marmol said. "I can't throw strikes. I'm giving people a chance to score."
Against Marmol's replacement, Hector Rondon, Jay Bruce hit a RBI single that flared into center field to make it 4-3.
Frazier evened the score at 4-4 with a sacrifice fly to right field that scored Votto. Xavier Paul was then intentionally walked to re-load the bases. The move backfired when pinch-hitter Jack Hannahan walked on a 3-1 pitch to force home Phillips with the go-ahead run. An insurance run scored when pinch-hitter Devin Mesoraco's sac fly brought home Bruce.
"You have to take what they're giving you," Reds manager Dusty Baker said. "Marmol had a little tough time out there. Our guys stayed off of some close pitches. We were fortunate enough to get the hit when we needed it, and also did a good job of keeping the ball off of the ground."
Taken off the hook was Reds starter Tony Cingrani, who gave up all four of his runs via a pair of two-run homers by Alfonso Soriano. On both homers, Soriano got to Cingrani with two outs.
In the bottom of the first, after Anthony Rizzo was hit by a 1-2 pitch, Soriano tattooed a 3-1 fastball that caught part of the plate and pulled it into the left-field bleachers. The two-run homer gave the Cubs a 2-1 lead.
"It wasn't feeling good coming out of my hands. He just hit it," said Cingrani, an Illinois native who had some family in attendance. "I wasn't getting ahead of anybody. I was falling behind with everybody. I didn't really locate my fastball too well and Soriano hit a couple of balls."
It was a 2-2 game in the third when Rizzo hit a two-out double to the wall in center field. On a 1-0 pitch, Soriano attacked a high changeup and sent another one into the left-field bleachers for his second homer.
After that third hit of the day for Chicago, Cingrani retired his final 10 batters in a row. There were no more hits vs. the Reds' staff as Logan Ondrusek pitched a perfect seventh inning for the win. Jonathan Broxton did likewise in the eighth and one day after nearly blowing a four-run lead in the ninth on Friday, Aroldis Chapman earned his seventh save. Chapman walked one batter with one out but got out of it.
With back-to-back victories, the Reds guaranteed their first road series victory of the season and improved to 4-5 on the road trip. A sweep of the Cubs on Sunday would mean returning home with a .500 trip -- not bad considering how rough things started in Washington and St. Louis.
"It feels pretty good to come back, a nice team effort," Frazier said. "We got nine guys up that inning. We manufactured runs. It wasn't the big one there. A couple of sac flies and a couple of walks. That's baseball. I'm glad we were on that right side."
Mark Sheldon is a reporter for MLB.com. Read his blog, Mark My Word, and follow him on Twitter @m_sheldon This story was not subject to the approval of Major League Baseball or its clubs.