Dickey allows three homers as bats remain grounded
Knuckleballer surrenders leadoff shot, crucial two-out slam to Ackley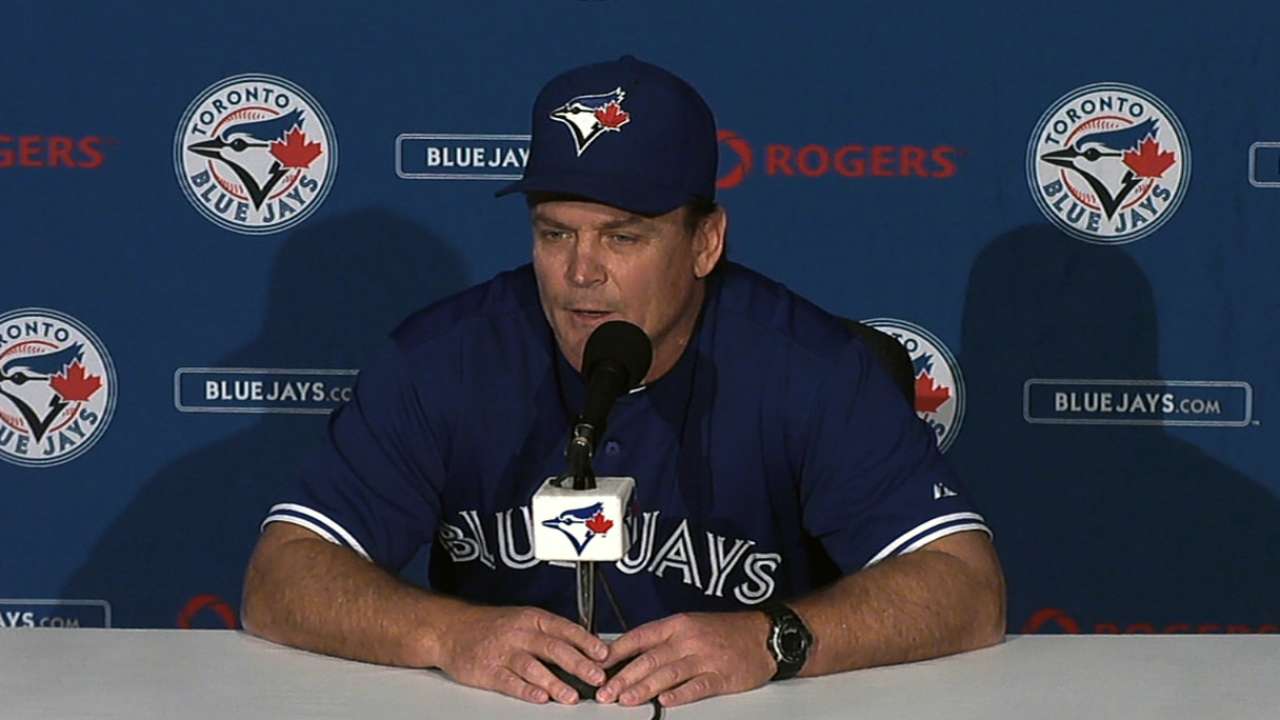 TORONTO -- The Blue Jays opened the season with grand expectations for a season that was surely to be the best that the city has seen since the heralded championship seasons 20 years ago.
Part of those heightened beliefs were due to the addition of the National League Cy Young Award winner, R.A. Dickey. But Dickey, like his team, has struggled, and Saturday was no different.
Dickey, the 38-year-old knuckleballer, gave up seven runs in six innings as the Blue Jays lost their fourth straight game, 8-1, to the Mariners Saturday at Rogers Centre, adding to the strain that has become a trying start to the year.
"We're all pretty beat up mentally right now, but you've got to get through that," manager John Gibbons said. "Coming into the season with great expectations, I got to say we haven't handled that well. But I don't think there's a magic bullet [to solve everything]."
With the loss, the Blue Jays have dropped eight of their past nine games, falling further down the American League East standings. Their 10-21 mark is the second-worst record to begin a season in Blue Jays history, eclipsed only by the 1979 team -- the franchise's third year in existence -- which started 8-23.
"It's a dark time right now," Dickey said after the game. "But there's hope. We're going to figure it out."
"The game of baseball is cruel, it is. It doesn't let you up," Gibbons said. "As tough as it is to come back that next day, you have to do it. When you're in a rut, you've got to do it. And only the strong survive. That's not just baseball, that's life, everything. You find out what you're made of, you really do."
Every time the Blue Jays dust themselves off and prepare after another poor outing, they seem to find a way to dig themselves a new hole. Saturday was no exception.
It took only two pitches against the Mariners for Toronto to fall behind.
Dickey threw back-to-back 80-plus-mph fastballs to start the game, with Seattle outfielder Michael Saunders smacking the second one into the Mariners' bullpen for the early lead.
Saunders' leadoff blast was the second of his career, and was only his third homer of the season, but Dickey's trouble with the long ball didn't end there.
Dickey settled down, retiring the next 10 batters before finding trouble in the fourth. The Mariners loaded the bases on a pair of walks and a single, before second baseman Dustin Ackley hit a full-count knuckleball over the fence in right field for a grand slam, making it 5-0.
"That's one of the curses about throwing a pitch like I do -- if you leave it up, sometimes it's going to get hit out of the park. … It just came at some crucial times today," said Dickey, who surrendered three home runs for the first time since Aug 15. against Cincinnati. "Especially that 3-2 one to Ackley… that singular pitch put us in a hole, big time."
The five-run deficit was far too much for the Blue Jays' offense to overcome, especially against Seattle righty Hisashi Iwakuma.
Iwakuma, who holds the best ERA in the American League since last year's All-Star break, tossed seven innings of one-run ball, allowing only five hits and three walks, while striking out five.
"He has been so consistent for us this year, and again he was today," Mariners manager Eric Wedge said. "Iwakuma has been pitching about as good as you can ask a starting pitcher up here to pitch."
The Blue Jays' lone run came on a sacrifice fly to center field from Munenori Kawasaki that scored Rajai Davis in the seventh inning. That run ended a streak of 23 straight scoreless innings by Toronto, which sent 93 batters to the plate in between runs.
In the first, the Blue Jays had a glorious chance to stop their scoreless ways. Toronto loaded the bases with one out, but failed to capitalize on their chances as both Colby Rasmus and Davis struck out.
"[Because of] what we're going through, it's magnified," Gibbons said.
The good news for the Blue Jays is the fact that Dickey's bothersome upper right back wasn't an issue in Saturday's outing.
"I'm taking that as a positive out of the day today. I felt much better than I have in the past," Dickey said.
However, even a cooperating back didn't stop the knuckleballer from hearing the boos that rained down on the club in the middle innings.
"I did hear them. It was hard not to, I mean, they were pretty animated," Dickey said. "And you can't blame them, we've played well below our expectations. We're booing ourselves.
"I think we're somewhat of a dysfunctional team right now," Dickey said. "We're searching for a way to score runs, a way to pitch well. We're doing a lot of things poorly, myself included. I don't know if it's a long slump or we're playing like a bad team right now. ... Certainly, with the names in this locker room, we're capable of much more."
Evan Peaslee is an associate reporter for MLB.com. This story was not subject to the approval of Major League Baseball or its clubs.