Iwakuma rides power surge to comfy win in Toronto
Ackley's first grand slam breaks game open; Saunders goes deep twice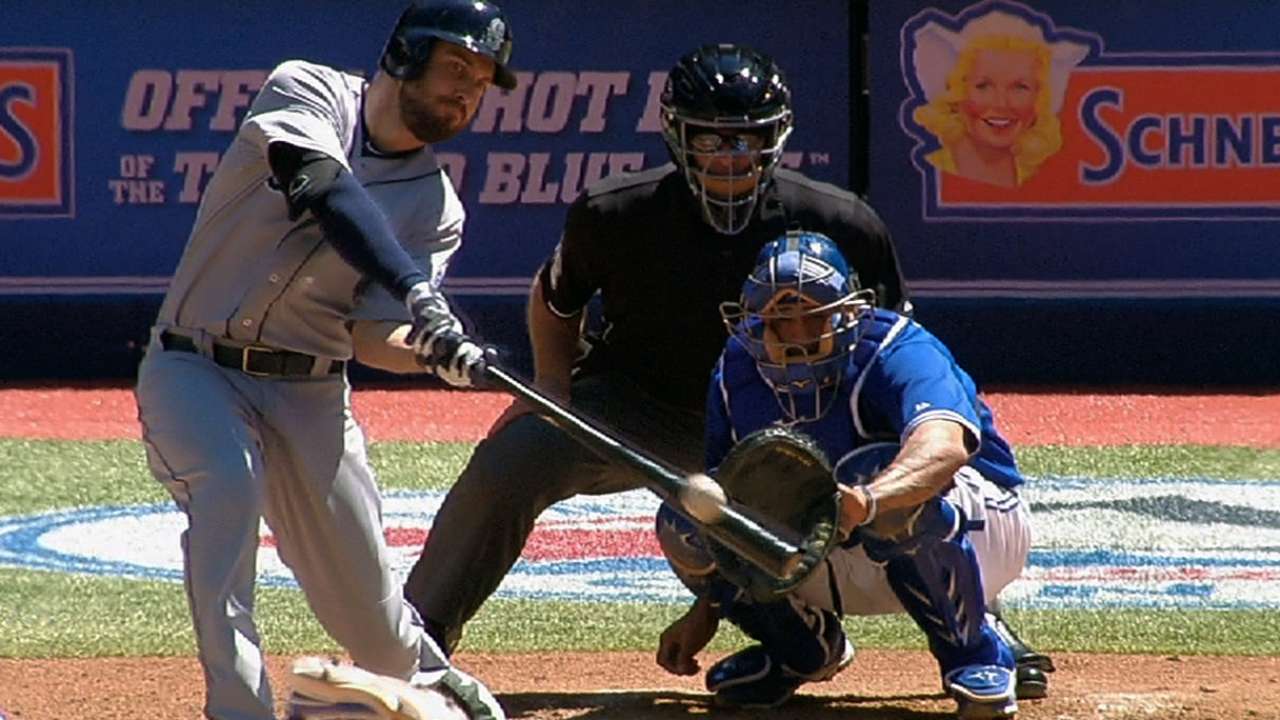 TORONTO -- It's still early, but the Mariners are turning their season around fast. A slow start saw them battling the Astros to stay out of the American League West basement, and as of April 24, the club was a season-high seven games under .500.
Seattle's play has improved, though, as the Mariners have won six of their past seven games, three straight -- which matches a season-high winning streak -- and have enjoyed the return of outfielder Michael Saunders during the hot stretch.
Saunders hit a pair of home runs, Dustin Ackley added his first grand slam, and Hisashi Iwakuma turned in a strong performance in an 8-1 Mariners' victory over the Blue Jays in front of 35,754 at Rogers Centre on Saturday.
"His ball was dancing, no question," Saunders said of Blue Jays starter R.A. Dickey, whom Saunders homered off twice. "You try to put the foot down, play pepper and try to barrel the ball up and not get too big."
Saunders, who missed some time with a shoulder sprain in April, has been a big presence for the Mariners since returning, and had his best game on Saturday, going 3-for-5 with three RBIs and two runs scored.
Saunders led off the game by hitting a 1-0 pitch over the fence in right field, his third homer of the season. It was Saunders' second career leadoff home run.
The 26-year-old Saunders said after Dickey threw him a first-pitch fastball, he planned to lay off the knuckleball and was prepared to wait for another heater. Luckily, he got one and hit it deep. Before Saunders hit his second home run of the contest in the fifth -- the fourth multihomer game of his career -- Ackley joined in on the fun.
Dickey had settled down and retired 10 consecutive batters after Saunders' first homer before the Mariners got to him again in the fourth inning. A Kendrys Morales single and a pair of walks loaded the bases for Ackley, who cleared them by taking the sixth pitch of the at-bat over the fence in right field to put Seattle ahead, 5-0.
Ackley connected on a 3-2 pitch and said he thought Dickey threw him a "get-me-over knuckleball" to avoid walking in a run. The pitch stayed up in the zone and Ackley made the most of it.
"That's an awesome feeling," Ackley said. "Hitting a home run in general is a great feeling, but to have three guys on base and to put your team up ... it was pretty important for us."
Dickey, the 2012 National League Cy Young Award winner, lasted six innings, allowed seven runs on six hits, a season-high three homers, and fell to 2-5 on the year. The righty threw 56 of his 100 pitches for strikes and sports a 5.36 ERA after seven starts.
The Blue Jays fell to 10-21 with the loss and sit in last place in the American League East, hardly the start many predicted for the club.
"We're somewhat of a dysfunctional team right now," said Dickey, stressing that he meant that in the way of the team's on-field performance only. "We're kind of searching for a way to score runs, a way to pitch well. We're doing a lot of things poorly, myself included."
Iwakuma didn't need the amount of support he got and really settled in after running into some trouble to start the game. He worked out of a bases-loaded jam in the first inning by punching out Colby Rasmus and Rajai Davis to end a Jays threat.
The 32-year-old Iwakuma showed some emotion after punching out Davis to end the inning and said it was extremely important for him to put up a zero after he was given an early lead.
"I'll tell you what, I was as impressed as anything with that first inning," manager Eric Wedge said. "You talk about big league pitching, that's big league pitching right there. To get out of that the way he did, especially early in the game, it helps to, not necessarily set the tone, but push your squad in the right direction early."
In the second, Iwakuma walked the leadoff batter for the second time in as many innings, but got Henry Blanco to hit into a double play before retiring former Mariners shortstop Munenori Kawasaki on a grounder to second. The Blue Jays never really threatened Iwakuma afterward.
Iwakuma, who sports an American-League best 0.76 WHIP, flashed his swing-and miss-stuff and retired 10 straight from the end of the third inning through the sixth. The right-hander threw seven innings of one-run ball, striking out five and walking three to improve to 3-1 on the year.
Iwakuma has thrown quality starts in six of his seven outings and has combined with ace Felix Hernandez to throw 12 in 14 starts. Iwakuma has held the opposition to one run or fewer in five starts and sports a 1.61 ERA. Hernandez, who dominated the Blue Jays on Friday, has a 1.60 ERA.
Iwakuma said he has learned from Hernandez on the way he approaches the game and tries to imitate him. Pitching the day before Hernandez does, he added, allows him to really analyze what the No. 1 starter is doing and feels he has been taking advantage.
"They're unbelievable," Ackley said. "Any time you go out there, you're like 'Let's just get a couple runs and these guys are going to cruise.' They are probably, arguably, right now the two best starters in baseball."
The only run Toronto scored off Iwakuma came in the seventh inning, which snapped the Blue Jays' string of 23 consecutive scoreless innings.
Seattle, which has won three consecutive series after losing three in a row, will look to sweep the Blue Jays on Sunday with lefty Joe Saunders on the mound.
Chris Toman is a contributor to MLB.com. This story was not subject to the approval of Major League Baseball or its clubs.