Gonzalez effective in loss, exits early with blister
Righty's next start in doubt; Davis limps off with knee injury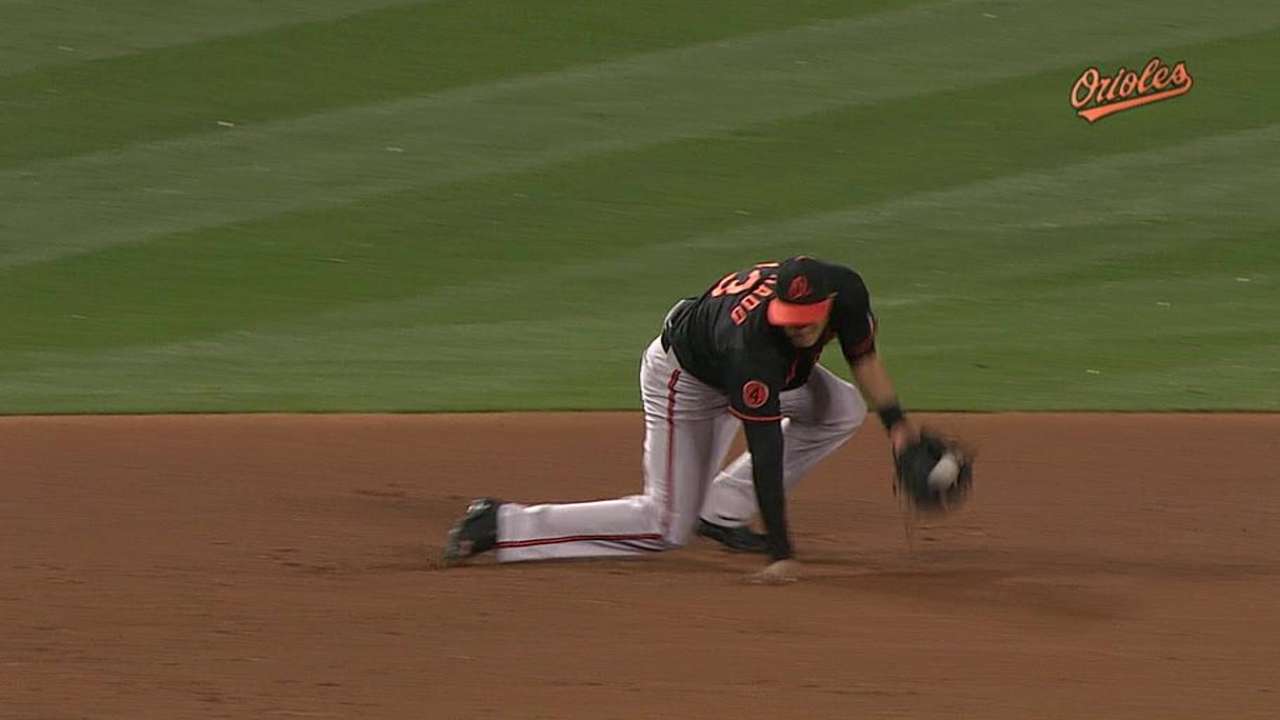 ANAHEIM-- After watching right-hander Chris Tillman steal the show in Thursday's win, Orioles starter Miguel Gonzalez -- who made waves in winning his first career Major League start in Anaheim last year -- was hoping for a similarly dominant performance.
And while Gonzalez, who exited early with a blister, wasn't as effective as his predecessor, it hardly mattered. The Orioles were stonewalled by Angels starter Jason Vargas -- who held them to three hits in a complete game -- with all the attention funneled into concern as they watched first baseman Chris Davis hobble off the field with a right knee injury.
The result was a 4-0 loss the Orioles would rather forget, although the remnants could linger depending on the result of Davis' MRI on Saturday. Even Gonzalez's blister is hardly a minor issue, with Orioles manager Buck Showalter acknowledging there was a chance the right-hander could miss his next turn in the rotation.
"I would be a little sad if I wasn't able to make my next start," said Gonzalez, who tore the blister off on a curveball in his final frame. "Right now, I'm feeling a lot better with my pitches and stuff like that. I'm confident. I got my confidence back. So hopefully I'll be able to come back next start."
There is similar hope around Davis, who incurred the injury running full-bore down the first-base line on a fifth-inning groundout and winced in pain upon hitting the bag. Davis, who initially thought he could walk it off, couldn't put any pressure on his right leg, and went hobbling down the steps and into the tunnel under the supervision of assistant athletic trainer Brian Ebel.
"We don't have anything imminent," Showalter said of Davis. "The doctor looked at it. I'm not going to play medical here until we can get our arms around the MRI, we'll wait to pass judgment."
"I'm going to think of it as a little bump in the road," said Davis, who has no right knee injury history and was sporting a brace as he talked to reporters. "Like I said, it'll just be a few days and get back out there."
Gonzalez -- who had the blister going into the game -- left shortly after Davis, throwing 80 pitches, two of which left the ballpark and resulted in all three runs. Mark Trumbo started the second with a homer and Mike Trout connected for a two-run shot in the fifth. Gonzalez struck out five and allowed six hits before he was pulled prematurely and the Angels plated another run off lefty Troy Patton in the seventh.
"It all started in the fourth inning and it just got worse and worse," Gonzalez said of the blister hampering his grip. "It was a little tougher at the end, but the good thing was my command was there. I was happy with that."
"I thought Miggy pitched really well," Showalter said. "Too bad he had to come out with a blister. I think he could have finished the game but [Vargas] is one of those guys. You know what he's going to do coming in and he's got great command on both sides of the plate with the changeup and he mixed in a breaking ball. He's very athletic and I thought when they made the acquisition in the offseason, it was one of the better ones maybe under the radar. I hate being right about it."
Vargas kept the Orioles in fits with J.J. Hardy's two-out, fifth-inning single Baltimore's lone hit through the first six innings. Adam Jones opened the seventh with a double, losing his balance rounding second in hopes of taking third, and was later caught trying to score on Matt Wieters' groundout, squandering the team's best chance to score.
"Definitely the less pitches you can throw the better," Vargas said. "I guess I take more satisfaction in the way we played the game and the way we were able to be so efficient out there and not really give them an opportunity to put together a big inning. The plays that we made out there early, late, in the middle of the game, they just really set us up for success."
Brittany Ghiroli is a reporter for MLB.com. Read her blog, Britt's Bird Watch, and follow her on Twitter @britt_ghiroli. This story was not subject to the approval of Major League Baseball or its clubs.