Vargas twirls shutout, holding Orioles to three hits
Trout homers on three-RBI night; Trumbo also leaves yard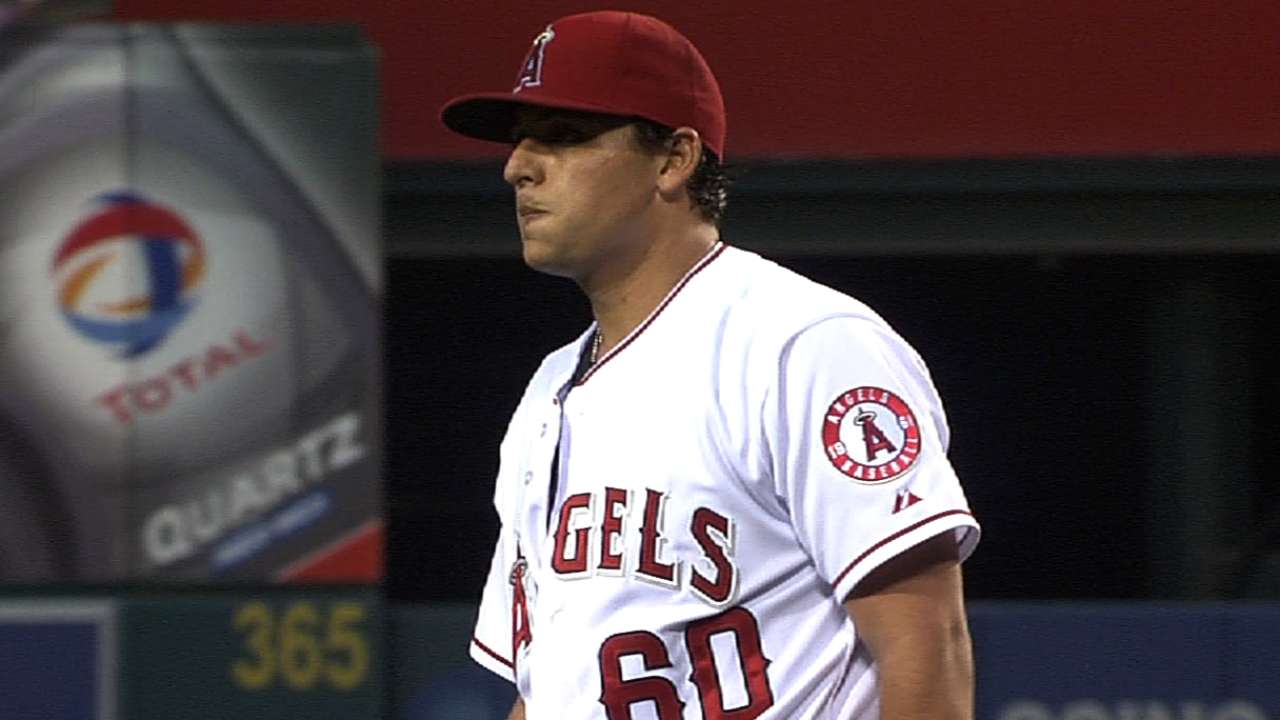 ANAHEIM -- When the Angels swapped Kendrys Morales for Jason Vargas in December, they banked on receiving a quality, mid-rotation starter with the ability to pitch deep into games and, when the night was right and his stuff was crisp, even dominate an opponent.
Finally, they're seeing it.
On Friday night, Vargas pitched the first shutout for an Angels rotation that went through a collective funk for the first three weeks, limiting the Orioles to three hits and two walks and, perhaps of equal importance, keeping a short-handed bullpen bored in a 4-0 win at Angel Stadium.
Vargas has now technically hurled back-to-back complete games, after throwing eight innings of two-run ball during an outing in Seattle that the Angels lost, and has dropped his ERA from 6.75 to 3.72 over his last three starts -- a stretch in which he's given up a combined five runs in 24 innings.
"I thought when they made the acquisition in the offseason, it was one of the better ones maybe under the radar," O's manager Buck Showalter said of the Dec. 19 trade with the Mariners. "I hate being right about it."
One night after the offense totaled two runners in scoring position in a series-opening loss, Mark Trumbo hit a solo homer in the second -- his team-leading seventh on the year and his third in four days -- and Mike Trout added a two-run shot to straightaway center field in the fifth, giving the Angels (11-18) a three-run lead that was more than enough for Vargas.
"His tempo was amazing; it was incredible," Trumbo said after starting in right field. "And because of that, there were some nice plays behind him. It's much easier as a defender when the tempo is being pushed like that, with all the strikes being thrown."
True to his track record, which has seen him average only 5.7 strikeouts per nine innings, Vargas recorded only one punchout through the first eight frames. Instead, the 30-year-old left-hander pounded the strike zone, starting ahead on 19 of the 32 hitters he faced, while recording 14 groundouts and displaying the kind of pitch-efficiency that has eluded this much-maligned rotation all year.
Vargas needed only 107 pitches (70 of them strikes) to throw his fourth career shutout, the first by an Angels pitcher since Jered Weaver last August.
"There's no doubt that he's throwing more strikes," Angels manager Mike Scioscia said of the difference in Vargas' outings these past three starts. "I think he's not letting counts get as deep, and when he has a chance to put hitters away, he's making a pitch."
Six days ago, he had the fourth-highest WHIP in the Majors, allowing a combined 44 hits and walks through his first 21 2/3 innings -- a stretch that followed a rough Spring Training. But last time out, Vargas was a pair of late solo homers away from shutting out his former team.
This time, he got his first win of the year, moving his ERA to 1.65 in seven career starts against the Orioles.
"I take more satisfaction in the way we played the game and the way we were able to be so efficient out there and not really give them an opportunity to put together a big inning," Vargas said. "The plays that we made out there early, late, in the middle of the game, they just really set us up for success."
It isn't just Vargas who has turned the corner lately. Really, it's the rotation as a whole.
The last three turns through, Vargas, Joe Blanton, C.J. Wilson and Tommy Hanson (two starts) have combined to post a 2.93 ERA, as the Angels have received six quality starts in their last seven games. And because of that, a bullpen that has been beset by injuries has received some much-needed down time (a 19-inning game on Monday night notwithstanding).
"I think the outlier was more the way they were pitching in the first month of the season," catcher Chris Iannetta said. "That's something you didn't expect from these guys. They've had such a long track record for pitching deep into games and throwing up quality start after quality start.
"Ultimately, you know what, it was a bad stretch. We weathered it, hopefully, and now we can start a new stretch of doing what they do best, and that's pitch deep into games, control counts, keep hitters off balance -- and hopefully it contributes to a lot of wins."
Alden Gonzalez is a reporter for MLB.com. Read his blog, Gonzo and "The Show", and follow him on Twitter @Alden_Gonzalez. This story was not subject to the approval of Major League Baseball or its clubs.