Headley's running, Alonso's homer lift Padres
RBI double, hard sprint to second help outlast D-backs' rally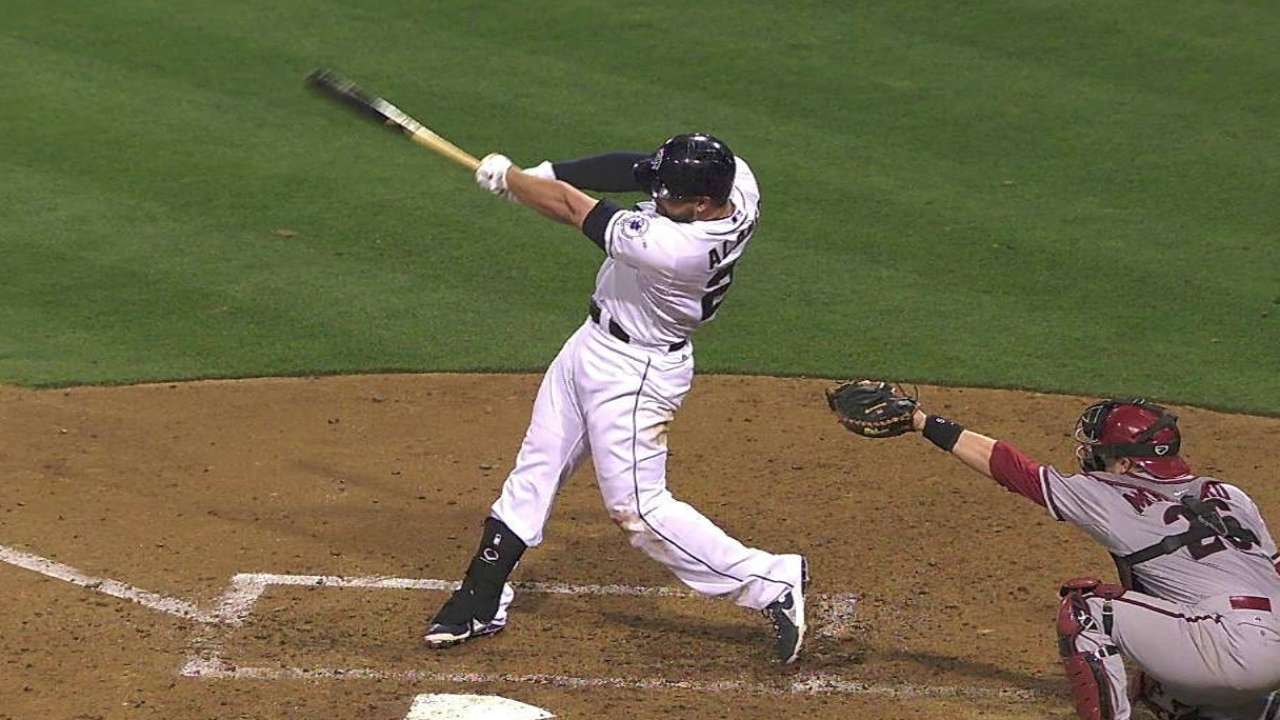 SAN DIEGO -- The occasions in which Chase Headley can change the direction of a game with one swing is not considered uncommon by any means.
It is a far different story when he does so with his feet.
Sure, it was a run-scoring double by Headley in the eighth-inning Friday that proved to be critical, as the Padres held on for a 7-6 victory over the D-backs in front of a crowd of 31,223 at Petco Park.
But one can certainly make a case that the play Headley made on the basepaths in the fifth inning was of equal or perhaps greater importance.
Trailing 3-2 and with Headley on first base after a walk, Jesus Guzman grounded a ball to the right of the D-backs' shortstop, Cliff Pennington, who bobbled the ball briefly before throwing to second base in hopes of starting a double play.
Headley went in hard to second, uprooting second baseman Martin Prado, which caused his throw to arrive late to first base. Two batters later, Yonder Alonso hit a two-run home run that gave the Padres (12-17) the lead for good in a game that got interesting late.
"That was critical," Padres manager Bud Black said.
After the game, Headley -- who led the National League in RBIs (115) a year ago -- sounded almost incredulous to the impact of the play.
"I don't know if it caused him to not [turn] a double play or not, but you play the game hard and go in there and try to disrupt the play from being made."
The Padres needed every one of those runs, as the D-backs (15-14) got back into the game with one big swing in the top of the ninth inning, as Gerardo Parra hit a three-run home run over the fence in center field off closer Huston Street to make it a one-run game.
But Street managed to close out the game for his seventh save of the season, saving a victory for Jason Marquis (3-2), who allowed three runs on four hits in six innings. He walked five and struck out five.
"He battled and made some pitches," Black said of Marquis. "I don't think it was any one pitch [that led to the walks]. When he had to make some pitches, he did."
Like in the third inning, when, with one out and a runner on first base, right fielder Kyle Blanks started an unlikely 9-3 double play to double-up Prado off first base. Prado was running on the play.
In the fifth, with one out and two baserunners on, Marquis got Jason Kubel to bounce into a 4-6-3 double play to end the inning.
"They helped me out with some double plays," Marquis said of his defense.
The Padres chased D-backs pitcher Wade Miley (2-1) after five innings, dinging him for four runs on nine hits. Miley walked three and struck out four.
There was debate during and after the game whether Alonso's home run to deep right-center field would have been a home run last season, before the Padres moved the fences in 11 feet in that right-center area.
Arizona catcher Miguel Montero, who hit a home run in the second inning, did not seem to care one way or the other.
"It's what it is; I think that ball deserved to be hit out," he said. "He put a good swing on it. Probably off the wall at this place last year, but realistically in any other place the ball is gone. He hit the ball good, and it was just a bad pitch, and bad pitches deserve to be hit like that."
And as for Alonso?
"I'll take them all," he said, smiling.
The Padres finished with 14 hits, marking the eighth time this season they have reached double-digits in hits. It took them 29 games to reach that mark a year ago.
"I've sensed us starting to swing the bats better the last few weeks," Black said. "[Let's] sustain it, keep it going."
After starting the season 5-15, the Padres have now won seven of their last nine games.
Corey Brock is a reporter for MLB.com. Keep track of @FollowThePadres on Twitter. This story was not subject to the approval of Major League Baseball or its clubs.