Despite late push, D-backs fall to Padres
Parra's late homer makes game close but isn't enough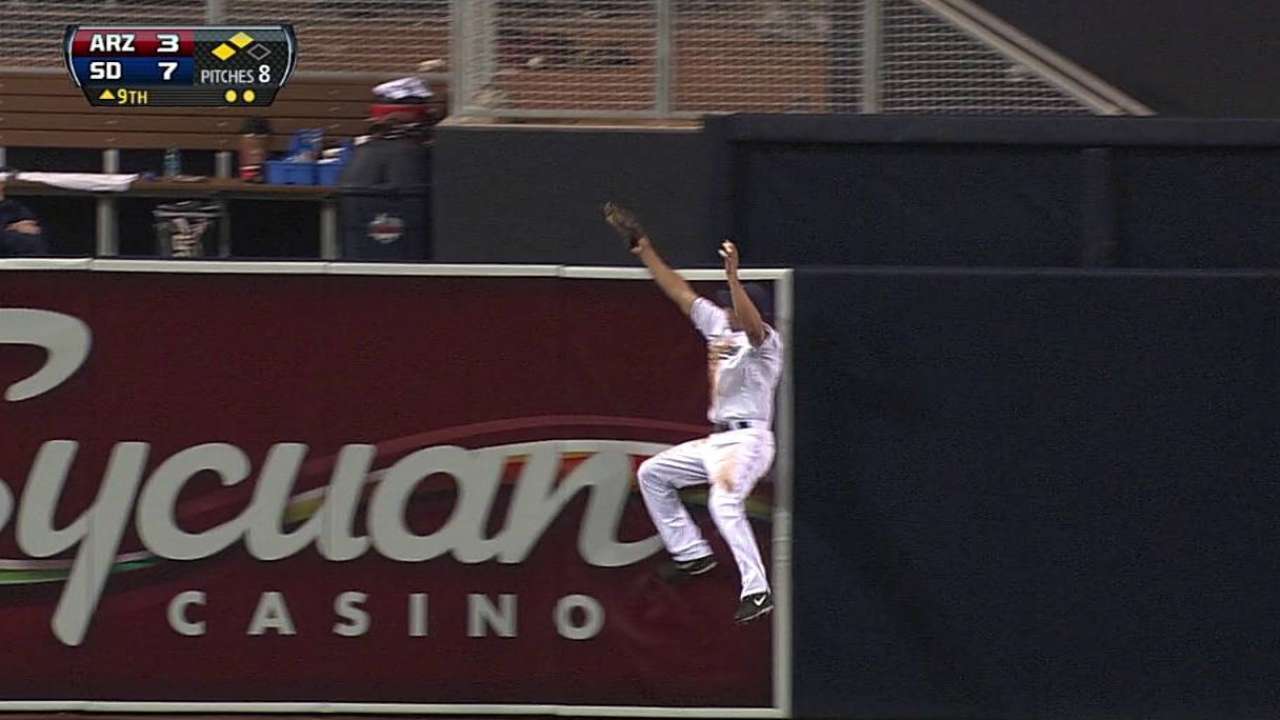 SAN DIEGO -- As catcher Miguel Montero said, the D-backs have been in every game they have played.
Being close, though, does not count in the win column, and the frustrating losses are starting to pile up.
The most recent setback was a 7-6 loss to the Padres on Friday night at Petco Park.
The loss was the fourth straight by the D-backs, who were swept in a three-game series by the Giants at home before visiting San Diego.
"It is frustrating," Montero said. "It's tough. We're going through a tough stretch right now."
So is starter Wade Miley, who did not seem to have his good stuff for the second straight outing.
In his previous start, Miley walked seven in just 4 1/3 innings, but he did not allow a run. He was not as fortunate Friday.
Miley (2-1) allowed four runs on nine hits with three walks and four strikeouts in five innings Friday.
"Just one of those days, two [starts] in a row now," Miley said. "Just trying to battle. I felt all right, I just wasn't executing pitches. I've got to watch some video tomorrow and go from there."
The D-backs' offense gave Miley two leads, neither of which he was able to hold. Arizona led, 1-0, after Montero led off the second with a homer. After the Padres scored two in the bottom half of that inning, the D-backs scored twice more in the fourth to take a 3-2 lead.
That advantage vanished with one swing of Yonder Alonso's bat.
Alonso smacked a 2-2 fastball over the wall in right for a two-run homer in the fifth to put the Padres up, 4-3.
The homer by Alonso most likely would not have gone out under the previous dimensions of Petco Park, but the Padres moved the fences in by 11 feet in right field and lowered the wall to eight feet. Alonso's homer landed over the new wall and in front of what was the old right-field wall.
However, the D-backs were not about to complain, as Miley missed his spot trying to go down and away with the pitch and wound up leaving it up and over the plate.
"I think that ball deserved to be hit out," Montero said. "He put a good swing on it. Probably off the wall at this place last year, but realistically in any other place the ball is gone. He hit the ball good, and it was just a bad pitch and bad pitches deserve to be hit like that."
Location was an issue throughout the evening for Miley.
"His velocity was down; I was a little concerned about that," D-backs manager Kirk Gibson said. "He said he felt fine, just really not able to locate as good as he wanted to; that's kind of the big thing."
Montero said he felt like Miley might have been overthinking on the mound and guiding his fastball rather than just throwing it, which could explain the drop in velocity.
"Sometimes today he was around 87 mph, so I think he was just trying to get a feel for it and trying to probably make the perfect pitch," Montero said. "He's not that type of guy. He's the type of guy that gets the ball and throws the ball and sees what happens."
The Padres continued to add insurance runs against the Arizona bullpen, with an RBI single by Kyle Blanks in the seventh and another two runs in the eighth to go up, 7-3.
As it turned out, every run would be crucial.
The D-backs put together a rally against the Padres' bullpen in the ninth after Montero led off the inning with a single and Eric Chavez drew a walk.
The Padres brought in closer Huston Street, and after retiring the first two batters he faced, he allowed a three-run homer to Gerardo Parra to close the gap to 7-6. But that was as close as the D-backs would get.
Steve Gilbert is a reporter for MLB.com. Read his blog, Inside the D-backs, and follow him on Twitter @SteveGilbertMLB. This story was not subject to the approval of Major League Baseball or its clubs.