Miller delivers sharp outing to lift Cards over Crew
Holliday, Beltran go deep as young pitchers stymie Brewers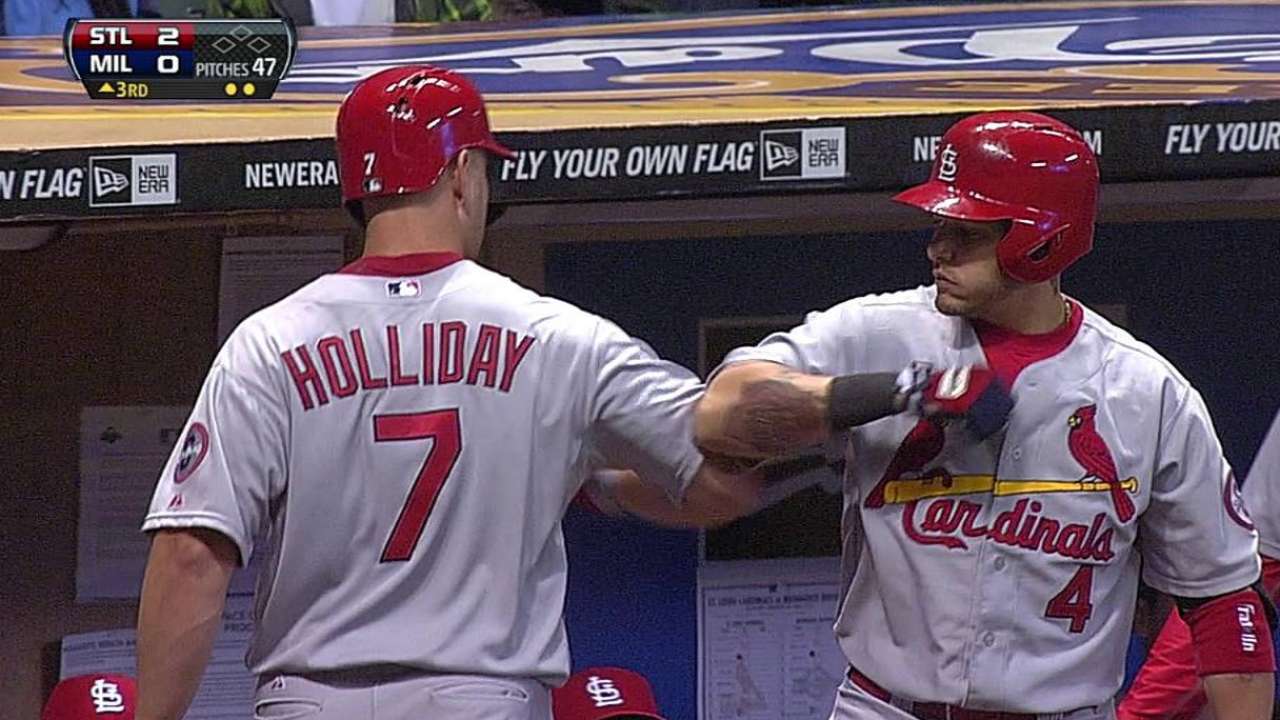 MILWAUKEE -- The Cardinals sent their top two pitching prospects and their reigning Minor League Pitcher of the Year to the mound to face the Brewers Friday night, and the results couldn't have been better for St. Louis.
Rookie Shelby Miller bested former Cardinal Kyle Lohse for the second time in three weeks and Matt Holliday homered to snap an 0-for-10 skid, and St. Louis beat the Brewers, 6-1, at Miller Park.
Miller, the team's No. 2 prospect, is only 22 years old, and he was replaced to start the seventh by 21-year-old Carlos Martinez, the team's No. 3 prospect. Martinez, whose contract was purchased from Double-A Springfield earlier in the day, pitched a scoreless inning.
He was followed by Seth Maness, 24, the team's 2012 Minor League Pitcher of the Year, also making his Major League debut with a scoreless inning.
The infusion of the young arms on the Cardinals roster excited David Freese, who had his second consecutive two-hit game.
"I'll tell you what, I'm a hitter but I have more fun watching these pitchers," Freese said.
"They're fun to watch, and they're going to keep coming," he said. "We've got guys up and down the organization who can throw the ball."
Martinez said before the game that he cried when he found out he was being summoned to Milwaukee. Maness, who was recalled from the Minors on Monday, had to wait a few days to make his debut but made it a successful one.
"It was a tremendous adrenaline rush," said Maness, who needed only six pitches to retire the Brewers in order in the eighth. "When that gate opened, come out the steps and run out on the field and it just kind of hits you all at once. You have to settle down."
Miller (4-2) allowed only one run in six innings, three weeks after beating Lohse and the Brewers by limiting Milwaukee to just one hit in seven shutout innings in a 2-0 Cardinals win.
"It's fun to watch and it is different seeing younger guys come in when I feel young on the team," Miller said. Manager Mike Matheny was pleased that two of his sluggers -- Holliday and Carlos Beltran -- hit homers while his young pitchers stymied the Brewers.
"Just a good day all the way around, and obviously, getting the offense, showing some of the power, it was just a good day," Matheny said.
The St. Louis bullpen came into the game with a 5.90 ERA, the worst in the Majors, but Martinez, Maness and Fernando Salas, who pitched a scoreless ninth, held Milwaukee in check after Miller allowed a run in the sixth.
While the debuts of Martinez and Maness had the locker room excited after the game, it was Miller's performance that set the tone for the pitchers. The right-hander allowed seven hits and a walk while striking out five, throwing 106 pitches.
"I pitched against them in the second game of the year, so I kind of knew what our focus was to be," Miller said. "The biggest thing was executing it. I got a little wild in the end and threw a lot of pitches in the sixth, but at the end of the day I thought I threw the ball well."
It could have been a bigger margin of victory for St. Louis, but the Cardinals were tagged out on plays at the plate by Brewers catcher Jonathan Lucroy three times (Allen Craig twice and Freese once).
Lohse (1-3), who signed as a free agent with the Brewers at the end of Spring Training after spending the past six seasons in St. Louis, allowed four runs on 11 hits and a walk while striking out three in five innings. "They just never gave me an opportunity to settle in," Lohse said. "They kept getting those leadoff guys on base, and it was really a battle for me all night."
Holliday homered on Tuesday night against Cincinnati's Bronson Arroyo, then went hitless in his next 10 at-bats before hitting a 3-2 pitch from Lohse off the scoreboard to score Matt Carpenter and give the Cardinals a 2-0 lead in the third.
The home run was estimated to travel 458 feet, but Freese said that measurement was inaccurate. "If they say it's less than 500 feet they're wrong," he said with a big laugh. "He pounded it. You just want it to go over the fence but he put a good ride into it. That's further than 450."
Joe DiGiovanni is a contributor to MLB.com. This story was not subject to the approval of Major League Baseball or its clubs.