Veras blows save as Astros fall to Tigers
Closer unable to hold lead after Houston rallies in seventh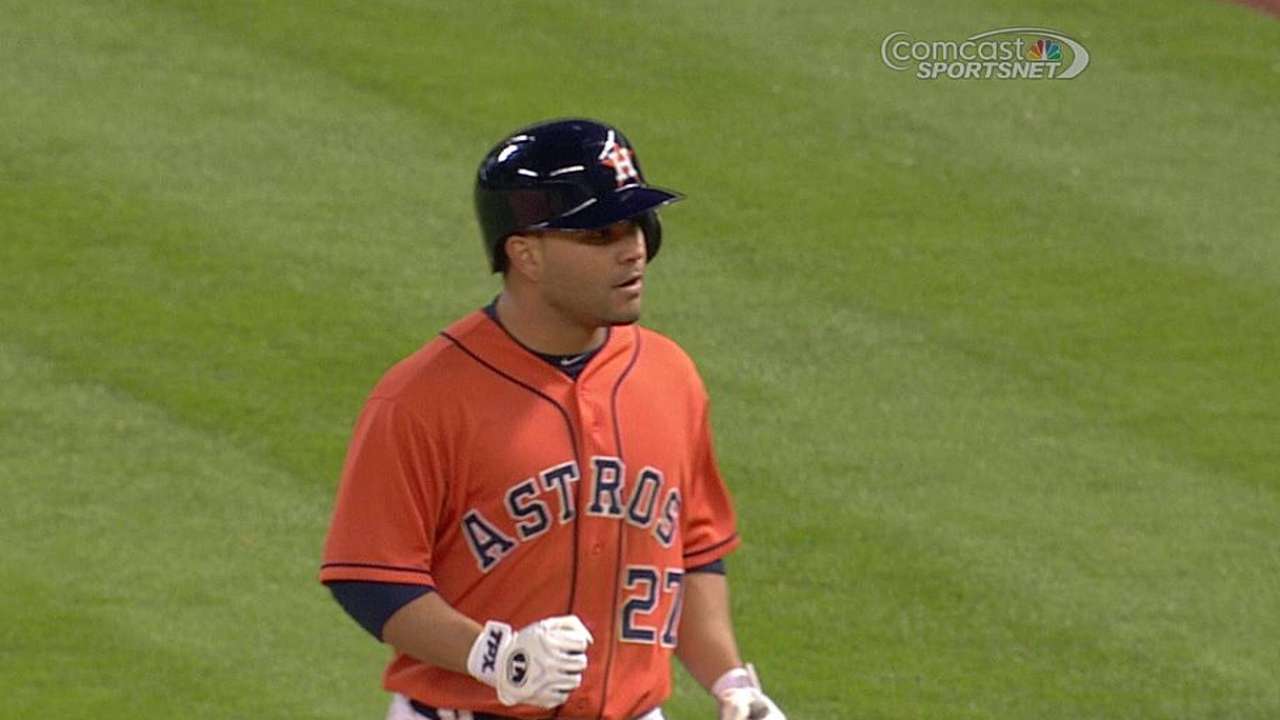 HOUSTON -- Everything was in place, or so it seemed.
Astros starter Bud Norris turned in his second consecutive quality start at a time when the bullpen found itself depleted from Thursday's 14-inning loss. Houston's ace threw seven solid innings, holding the Tigers to two runs on five hits while striking out a season-high seven batters.
The Astros rallied from a 2-0 deficit with a three-run seventh to take a 3-2 lead to the ninth inning for closer Jose Veras.
But Tigers catcher Alex Avila had other plans. His two-run homer with one out in the ninth inning snapped a personal 0-for-8 streak at the plate and gave the Tigers a 4-3 win over the Astros in front of 16,719 at Minute Maid Park.
"Bud Norris did what a No. 1 starter does," Astros manager Bo Porter said. "When his team is light in the bullpen after a 14-inning game, he goes seven innings and held one of the best offensive teams in our league to two runs."
Tigers manager Jim Leyland recognized the efforts of not only Norris, but of the entire Astros staff, which for the most part has held down Detroit's potent offense in two games.
"Norris pitched really good," Leyland said. I was impressed. We don't see these guys much. They throw good pitchers at you."
"I went out and executed some pitches and the guys played defense behind me and had a great ballgame," Norris said. "We came out on the short end of the stick, but these guys fought for nine innings. It was a tough one to lose, for sure, but I know we played hard and that's a positive for us."
Third baseman Matt Dominguez started Houston's seventh-inning rally with a leadoff double. Rick Ankiel singled and Marwin Gonzalez sent a grounder off the glove of Tigers second baseman Omar Infante. It was ruled an error, but Gonzalez received the RBI when Dominguez crossed the plate with Houston's first run.
"It kept us in the game," Dominguez said of Houston's productive inning.
Robbie Grossman tied the game at 2-2 with an RBI single, scoring Ankiel and extending his hitting streak to five games, and Jose Altuve's infield single chased home Gonzalez with the go-ahead run.
"It was impressive because it wasn't home runs, it was quality at-bats," Porter said. "We kept the line moving. The balls were hit back up the middle to drive runs in. I thought the guys did a tremendous job of locking in during those at-bats with men in scoring position and getting the job done."
Altuve went 3-for-5 on the night, the fifth time this season the Astros' second baseman has tallied at least three hits in a game.
But in what has become an all-too-familiar outcome, the Astros couldn't hold the lead.
"Losing is tough, any time," Porter said. "But from last night's game to tonight's game, you take away that this is the defending American League champion, and one play here, one play there, and both of these nights we're going home victorious. Unfortunately, that didn't happen.
"We've played good baseball. We've had some misfortune along the way. But the tide is going to change and a lot of these plays are going to go our way and we're going to hit our stretch of winning these type of ballgames."
What the Astros did manage to do Friday was to break Detroit's consecutive game streak of 10-or-more strikeouts. Tigers pitching recorded just six strikeouts, and the seven-game streak -- an AL record -- came up one shy of the Major League mark set last year by the Milwaukee Brewers.
First baseman Carlos Pena also extended his season-long hitting streak to six games with a bunt single in the sixth inning. He is one of just three active players with at least 25 bunt hits and 250 homers, joining Derek Jeter and Carlos Beltran.
However, Jason Castro went 0-for-5 as Houston's designated hitter, which snapped his career-high nine-game hitting streak.
Glenn Sattell is a contributor to MLB.com This story was not subject to the approval of Major League Baseball or its clubs.