Avila's homer in ninth lifts Tigers over Astros
Previously struggling catcher breaks out with clutch go-ahead hit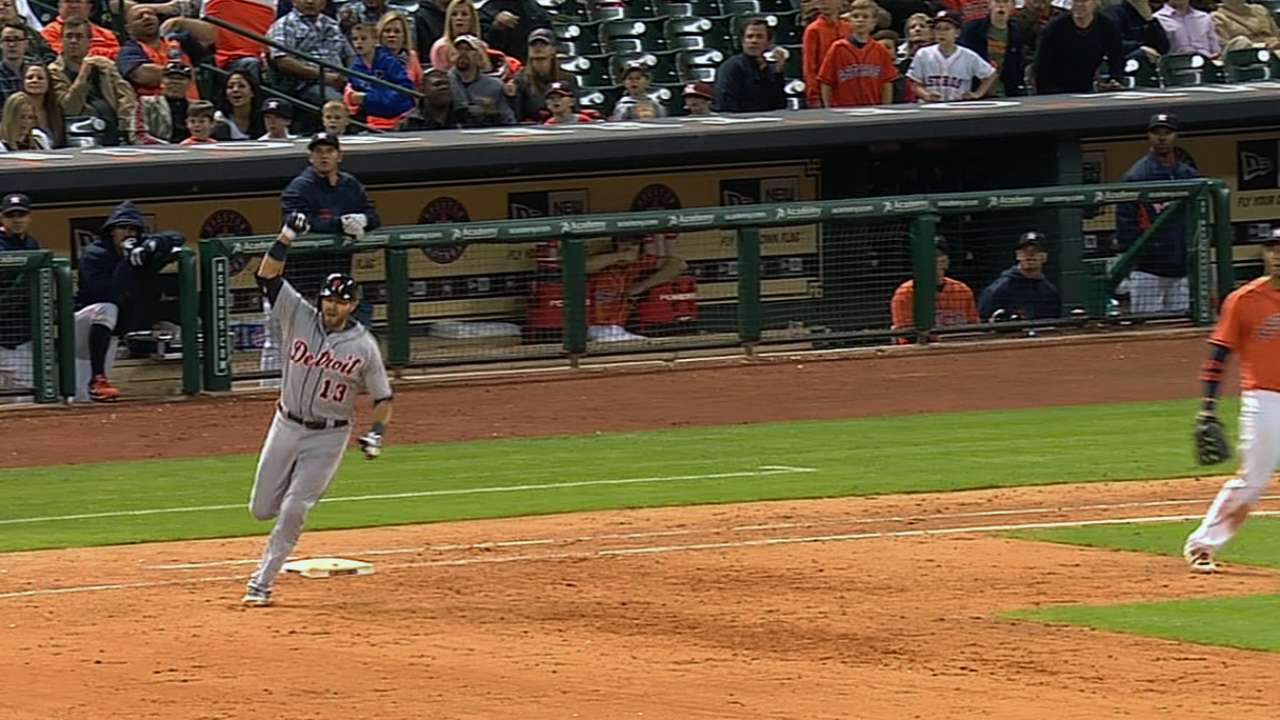 HOUSTON -- Alex Avila came into Friday's game batting .176 with three RBIs. Suffice to say he had been struggling.
In the clubhouse after the game, however, the Detroit catcher wasn't talking about his struggles. He was discussing his go-ahead ninth-inning two-run home run off Houston closer Jose Veras. That homer lifted the Tigers to a come-from-behind 4-3 win over the Astros at Minute Maid Park.
"It felt amazing," Avila said of his fourth home run of the season that scored Don Kelly. "I'm sure my expression on the field said it all. When you're struggling and you do something good on the field, it feels good."
Avila wasn't the only contributor for the Tigers (17-11), who led 2-0 in the seventh inning. Drew Smyly (2-0) limited Doug Fister's damage in Houston's three-run seventh inning and earned the win. And Jose Valverde worked around a walk for his third save in as many chances. He has not allowed a run since joining the team on April 24.
With Detroit trailing, 3-2, Kelly led off the ninth with a walk off Veras (0-2), who had his second blown save as the Astros fell to 8-22. One out later, up stepped Avila, who had gone 0-for-3 with three strikeouts on Thursday against Houston.
Veras fell behind 3-0 to Avila, and at 3-1, the Tigers catcher was looking for a fastball.
"I was looking to drive the ball somewhere hard," said Avila, who was hitless in his previous eight at-bats. "I knew he was going to come at me again with another fastball. I knew that if I took a pitch [at 3-0] he was going to have to come again and throw another strike, because he wouldn't want to walk me to put the tying run in scoring position.
"I was feeling confident I was going to get a good pitch to hit 3-1, and I was able to go yard."
Avila's home run to right-center stunned the crowd at Minute Maid, but not Tigers manager Jim Leyland.
"I don't think anybody was shocked he hit a home run," said Leyland. "It came at the right time. Hopefully that will give him confidence and get him going."
Spotted a 2-0 lead by the fourth, Fister hung zeros for the first six innings, pitching around trouble before it all began to unravel in the seventh.
The first five Astros batters reached base in the frame, including a fielding error by second baseman Omar Infante, and just like that, the Tigers trailed, 3-2. Fister was lifted for Smyly after Fister allowed an infield RBI single to Jose Altuve.
Altuve's third single of the game gave the Astros a 3-2 lead, with runners at first and second and no outs. Smyly limited the damage by retiring the next three batters, which set the stage for Avila's heroics in the ninth.
"You got to keep it close," said Smyly. "They had a chance to break it open. We had to keep it close. A one-run game in the ninth, anything can happen. That home run was awesome."
Valverde, who pitched for Houston in 2008-09, came into the game in the ninth. His lone base runner was a walk to Robbie Grossman, who was stranded at second base when Jason Castro flied out to Kelly in left field to end the game. Valverde was aided by a sparkling fielding play by Infante, who ranged to his left to throw out Altuve for the second out.
With the win, Detroit improved to 7-1 in its eight games. Tigers pitchers struck out only six Houston batters, snapping their streak of seven straight games with 10 or more strikeouts, an American League record.
Fister, who had won his first four decisions, allowed three runs -- two earned -- and nine hits in six-plus innings. He struck out four with one walk.
Detroit took a 1-0 lead in the second inning as Jhonny Peralta's soft liner single scored Kelly. The Tigers went ahead, 2-0, in the fourth on Victor Martinez's RBI single off the right-field wall that scored Miguel Cabrera, who led off with a double. The play was upheld after a review.
Prince Fielder drew three walks, increasing his total to an AL-best 24.
Richard Dean is a contributor to MLB.com. This story was not subject to the approval of Major League Baseball or its clubs.