Homers hamper Nolasco, Marlins in Philadelphia
Solano's dinger not enough to pick up righty, who allows three shots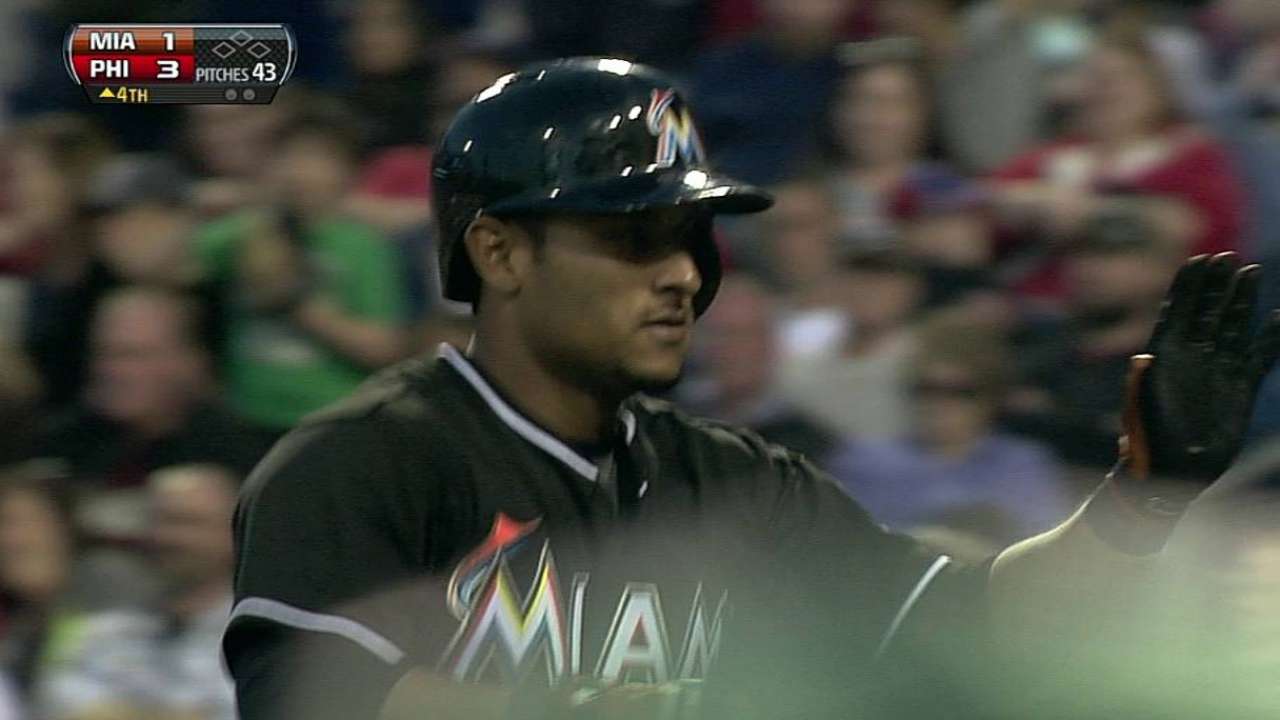 PHILADELPHIA -- Hitter-friendly Citizens Bank Park had never really been a problem for Ricky Nolasco in the past. The Marlins right-hander had given up a total of five homers in 48 1/3 career innings at the Phillies' home.
It was a different story for Nolasco on Friday night.
Ryan Howard, Chase Utley and Domonic Brown each connected on solo shots off Nolasco, and the Phillies secured a 4-1 victory over the Marlins in front of 36,292.
"I thought Ricky did a nice job," Marlins manager Mike Redmond said. "He kept us in the game. He executed his pitches and he gave us a chance. We've got to do a better job of putting some runs up. It's tough for our pitching when we're just getting one run a night. We've got to find a way to put some crooked numbers up on the scoreboard."
The Marlins have dropped the first two in their four-game set at Philadelphia, and three straight overall.
"I love pitching here," said Nolasco, who lost at Philadelphia for the first time since 2006. "I think, if this stadium doesn't get you going and amped up, there is something wrong with you. I've always liked pitching here. The crowd is always nice. They get into the game and stuff like that. It's fun to pitch here. Today, I just didn't make those quality pitches when I had to. They got me when they needed to. That's what that lineup does."
Donovan Solano belted a solo homer off right-hander Jonathan Pettibone, who gave up one run on five hits in 6 1/3 innings.
With its short dimensions, Citizens Bank Park is a test for any pitcher to keep the ball from clearing the fences. Nolasco, until Friday night, had a history of doing just that.
"That is the challenge," Redmond said. "But at the same time, too, you kind of know that coming in. You know there are going to be some home runs hit in the series. Hopefully we could answer them. We've hit a couple of home runs. We just haven't been able to match their runs. They put up four pretty easy runs. We are scrapping for one run and having opportunities and looking for big hits, and we're just not getting them. Pretty simple."
Nolasco was charged with four runs on eight hits with four strikeouts in six innings. The string of solo homers, though, resulted in the veteran falling to 6-2 with a 3.31 ERA in his career at Citizens Bank Park.
Generally, solo home runs don't hurt a pitcher. But three of them were too much for Miami's sputtering offense, which was 0-for-9 with runners in scoring position, to overcome. The three shots each happened to lead off three straight innings.
"Obviously, when you give up a homer, you want it to be a solo," Nolasco said. "You don't want to give up [homers at] any time. I just didn't make good pitches, and that's what good hitters do, especially in this ballpark."
Howard's blast opened the second, while Utley led off the third and Brown's drive got the fourth inning started.
"Howard is being more patient," Phillies manager Charlie Manuel said. "He is starting to get some balls to hit, and he's staying on the ball better."
Utley's homer was the 205th of his career, moving him into solo possession of eighth place in Phillies history, ahead of Dick Allen.
The left-handed-hitting slugger jumped on Nolasco's first pitch.
"The one to Chase, I feel like he changes his approach against me," Nolasco said. "He's a very patient hitter. I had a feeling he was going to try to jump me, and I made a bad decision to throw that pitch. It wasn't the wrong pitch, it was just bad location. Chase, when he's looking for a pitch in a certain area, he doesn't miss it too often."
After falling behind by three runs, Miami chipped back into it on Solano's homer to left-center to open the fourth inning. The drive was his first of the season and third of his career.
Howard's second home run in as many days highlighted a two-run second inning. Howard laced a liner over the right-field wall for his fifth homer of the season, and the 36th of his career against the Marlins. The slugger now has 99 RBIs lifetime vs. Miami.
Ben Revere's two-out single scored Carlos Ruiz, who singled and stole second, for the Phillies' second run in the inning.
Miami had a chance in the seventh inning, loading the bases with one out. But lefty reliever Antonio Bastardo struck out pinch-hitters Austin Kearns and Matt Diaz -- who was making his Marlins debut -- to end the threat.
"I think we're getting in some good counts," Redmond said. "It's just not happening. We're not getting the hits. We're getting in good counts, and we're not able to drive those guys in, for whatever reason. We're having a tough time scoring runs. We had opportunities again, bases loaded. We're just not able to get that big hit."
Joe Frisaro is a reporter for MLB.com. He writes a blog, called The Fish Pond. Follow him on Twitter @JoeFrisaro. This story was not subject to the approval of Major League Baseball or its clubs.