Hurting Dodgers lose on Giants' walk-off homer
Kershaw gets no-decision despite gem; Hanley hurts hamstring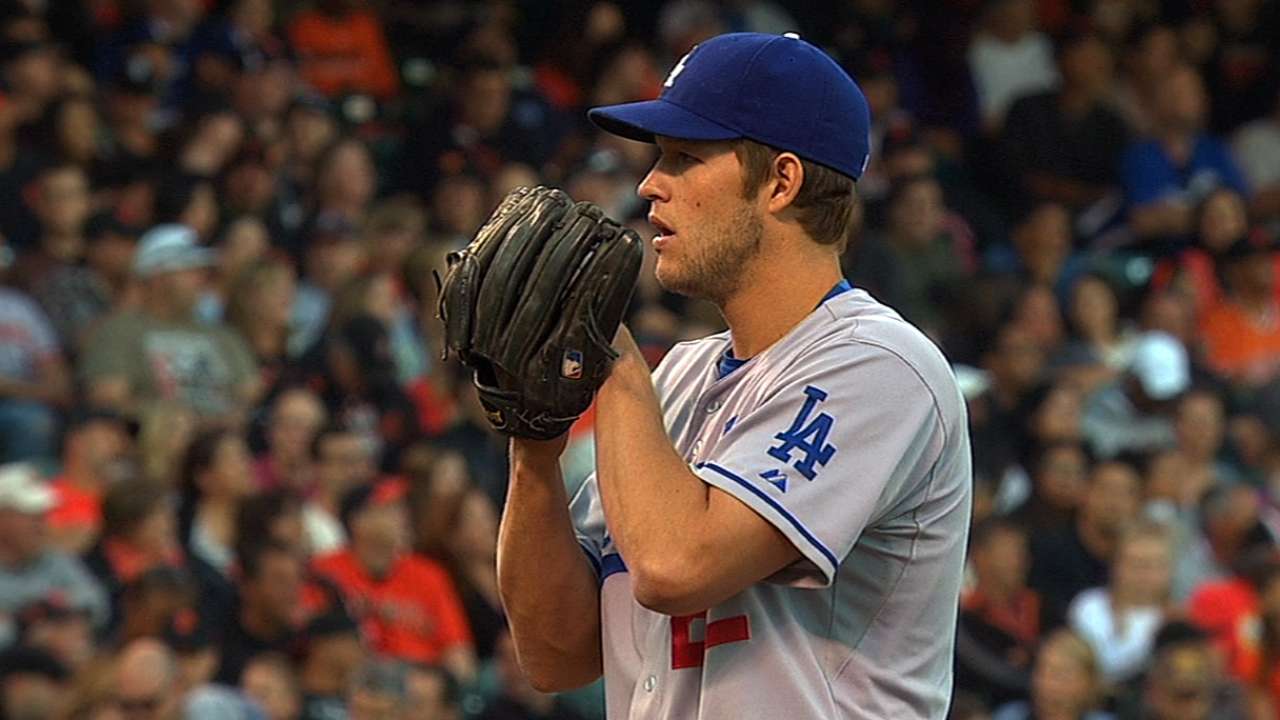 SAN FRANCISCO -- The Dodgers' injury epidemic reclaimed shortstop Hanley Ramirez on Friday night, and the left-on-base epidemic continued, too, as they stranded 13 more and lost the series opener to the Giants on Buster Posey's walk-off homer leading off the bottom of the ninth, 2-1.
Ramirez was lost to a serious left hamstring pull suffered while thrown out going from first to third on an A.J. Ellis single in the sixth, three starts after returning from a thumb injury suffered at the same AT&T Park during the World Baseball Classic.
"I still feel like it's going to end OK," said besieged manager Don Mattingly. "It's not going to keep going like this. We can't lose guys at this rate or we'll be playing [with] the [Class A Great Lakes] Michigan team."
The Ramirez injury further decimated an already shorthanded roster, and not even Clayton Kershaw could overcome it, though he couldn't have done much more.
Activated after a bereavement leave for the death of his father, Kershaw lost his no-hitter on Marco Scutero's one-out triple in the sixth and lost his shutout on a Posey RBI double two batters later. Hunter Pence (1-for-28 against Kershaw) followed with a single to center, but Matt Kemp threw out Posey at the plate.
Kershaw allowed one run on three hits with five strikeouts and three walks in seven innings, making 104 pitches. He said he was able to maintain his normal between-starts regimen by working out with his high school team that was in the Texas playoffs.
He came into the game with the all-time lowest ERA against the Giants (1.28) and a 0.66 ERA at AT&T Park. He shut out the Giants on four hits Opening Day in a 4-0 win at Dodger Stadium.
But he settled for a no-decision and Posey won it for the Giants with a homer off a Ronald Belisario 3-2 sinker, even though Posey had been 0-for-6 with five strikeouts against Belisario coming in.
Even before Ramirez's injury, the Dodgers were playing with a short deck. First baseman Adrian Gonzalez was a late scratch with a stiff neck, joining second baseman Mark Ellis (quad) and Carl Crawford (hamstring) on the sidelines. Counting Chris Capuano (strained left calf) and Ted Lilly (strained rib-cage muscle), Ramirez makes five soft-tissue injuries in the last two weeks.
"It's amazing how many guys have been hurt, and our big guys," said Kershaw. "But we can't make excuses; Donnie says that. We just have to find guys to go up there that are healthy. It definitely is amazing how many we've had."
Crawford, however, pinch-hit for Kershaw with two out in the eighth and the go-ahead run on second base. Sure enough, he was required to leg out an infield single and did just that, beating the throw of shortstop Joaquin Arias with an awkward landing on first base, but appeared uninjured.
Mattingly said afterward that Crawford should have been safe anyway on catcher's interference, because his bat hit Posey's glove on the swing. But with runners on the corners, Jerry Hairston popped out.
The Dodgers had the leadoff hitter reach base in seven of the nine innings. They lost despite outhitting the Giants, 11-4, while also drawing seven walks, undermined in part by double-play grounders from Ramirez, Luis Cruz and Kemp.
As imperfect as all that was, Kershaw was perfect through three innings, walking Angel Pagan leading off the bottom of the fourth. Two outs later, with Pagan on third, Kershaw walked Posey intentionally and struck out Pence.
Kershaw, who homered against the Giants on Opening Day, finally took charge of the offense, too. He culminated a nine-pitch at-bat against Barry Zito leading off the fifth inning with a double down the left-field line. He was bunted to third by Hairston and, with the infield up, scored on Nick Punto's seeing-eye single off Arias' glove.
Andre Ethier kept Kershaw's no-hitter intact after a one-out walk to Andres Torres in the fifth. Ethier outran Brandon Belt's towering fly and hauled it in over his shoulder on the warning track in deep right-center for the second out.
Ramirez was injured after leading off the sixth inning with a walk. Ellis singled to right, and as Ramirez rounded second base and reached the shortstop position, he felt the first tug of the hamstring and his stride began to shorten, but he was determined to get to third. He felt it go a few strides later and slid awkwardly while being tagged out by third baseman Pablo Sandoval, popping up and grabbing the back of his left leg just above the knee.
He was helped back to the dugout by head athletic trainer Sue Falsone and bench coach Trey Hillman.
"Sounds like he got it pretty good," said Mattingly. "Usually when they get it pretty good, we went through it with Matt [Kemp] last year [he missed 51 games], we know what that ends up looking like. He won't be back in a couple of days."
Ken Gurnick is a reporter for MLB.com. This story was not subject to the approval of Major League Baseball or its clubs.