Rockies show some power, but fall short in 10th
Homers from Cuddyer and Rutledge not enough to sink Rays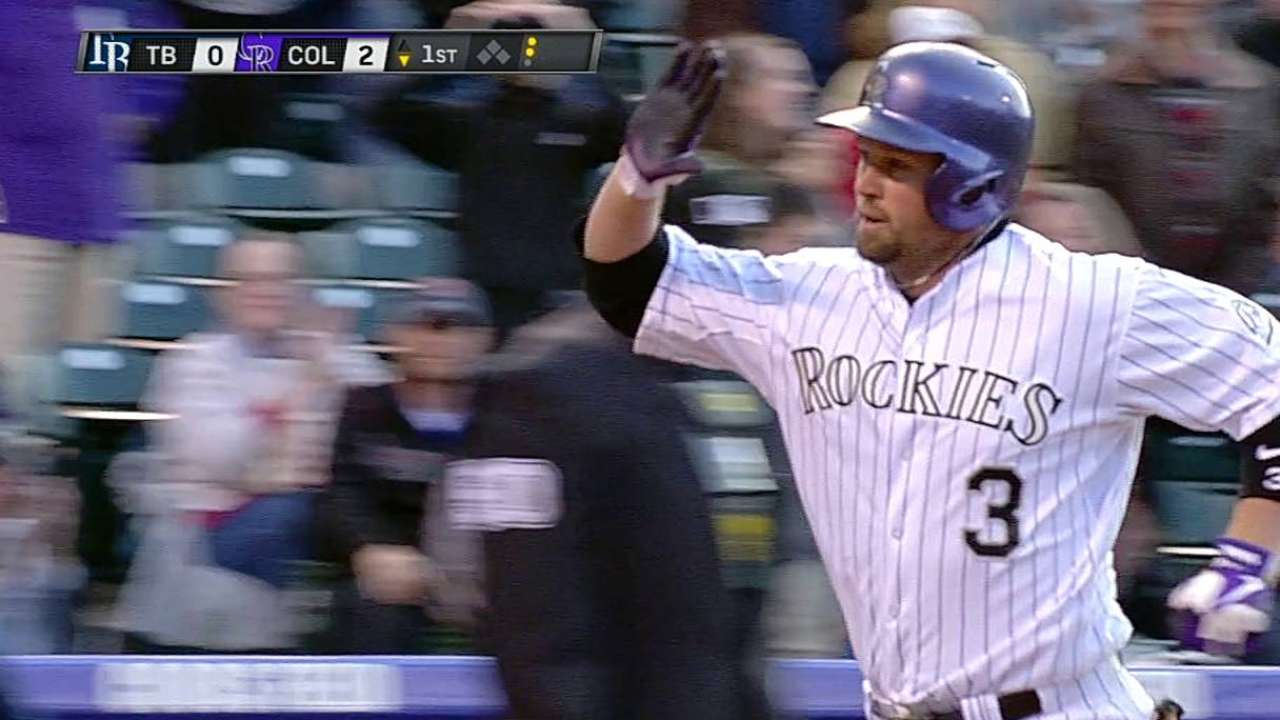 DENVER -- Rockies relief pitcher Matt Belisle wore the usual postgame ice pack on his pitching arm. Usually, there is a smile to make up for the sting of the ice.
Figuratively, he placed the weight of a 7-4, 10-inning Interleague loss to the Rays at Coors Field on Friday night on both his broad shoulders -- even though there were quite a few players who were willing and deserved to help with that burden.
Belisle gave up four hits, including Evan Longoria's RBI single and Kelly Johnson's two-run homer, which accounted for the first earned runs off the Rockies bullpen in 34 2/3 innings.
"This is where I like to pitch in that type of situation, so I'll be ready for it tomorrow," Belisle said. "I've got nothing to say except that was a very poor job tonight. I can't explain it any better. There's just no excuse."
But the Rockies could have won long before that. They touched unbeaten Rays starting left-hander Matt Moore for four runs -- equaling the number he'd given up in five previous starts -- and seven hits in five innings. Michael Cuddyer's sixth homer of the season accounted for two runs in the first inning, Josh Rutledge led off the second with his fourth homer, and rookie Nolan Arenado's second double on his 3-for-5 night tied the game at 4 in the fifth.
Beginning when Moore was in the game and continuing through a bullpen effort that was just a little stronger than that of the Rockies, Colorado hitters went 0-for-9 with five strikeouts with runners in scoring position.
It's not the type of clutch hitting that can keep the Rockies winning. The loss dropped them into a first-place tie with the Giants in the National League West.
"We had a few opportunities to win that game, but we didn't get the hit, or even a productive out," Rockies manager Walt Weiss said.
The night also was literally painful.
The Rockies didn't start shortstop Troy Tulowitzki because of tightness in his legs, although he pinch-hit in the eighth and was walked intentionally. Center fielder Dexter Fowler, after extending his hit streak to a career-best 11 games in his first at-bat, left with right hip flexor soreness in the fourth. Both are candidates to return Saturday in the second game of the three-game set.
But the inability to finish off Moore and cash in on their chances against relievers stung the Rockies.
Moore walked Jonathan Herrera and Rockies starting pitcher Jeff Francis to open the bottom of the fourth. Fowler was hurt when he collided with Rays first baseman Sean Rodriguez at first base after he had bunted on his own accord. Moore then struck out Jordan Pacheco and Carlos Gonzalez.
Eric Young Jr., who replaced Fowler, struck out three times, once against Jake McGee with one out and the bases loaded in the eighth and against Fernando Rodney to end the game with runners at second and third. Kyle Farnsworth earned the win with a clean ninth with one strikeout.
Rays right-hander Brandon Gomes struck out Pacheco looking on a low slider to end the eighth with the bases loaded.
A game that started with a well-carried-out plan against Moore ended with execution lacking.
"We were looking for [Moore's] fastball," Rutledge said. "He had never really pitched here before, so we went in looking for his fastball and if he went to his off-speed pitches, we'd have to battle.
"Some of the opportunities with runners in scoring position just got away from us, but we'll come back tomorrow."
Francis controlled the Rays early, but wound up with similar numbers to Moore -- four runs and five hits in five innings. Some of the hits were big -- consecutive doubles by Ryan Roberts and Ben Zobrist in a two-run third and Desmond Jennings' fourth homer of the season for two runs in the fifth.
"I felt like if I'd made some better pitches, we could have been ahead and won this game," Francis said. "I missed with a couple of pitches and it cost me some runs."
Belisle's troubles in the 10th came after a solid bullpen effort. Adam Ottavino in the sixth and seventh and Rex Brothers in the ninth were barely touched. Wilton Lopez faced two on and one out in the eighth, but worked Johnson into a bouncer to the mound and threw out Longoria at the plate, then extracted a fly ball from Yunel Escobar.
Thomas Harding is a reporter for MLB.com. Read his blog, Hardball in the Rockies, and follow him on Twitter @harding_at_mlb. This story was not subject to the approval of Major League Baseball or its clubs.